New Wonder of Architecture Will Environmentally Cool the Brickell City Centre
Mar 10, 2015 March 10, 2015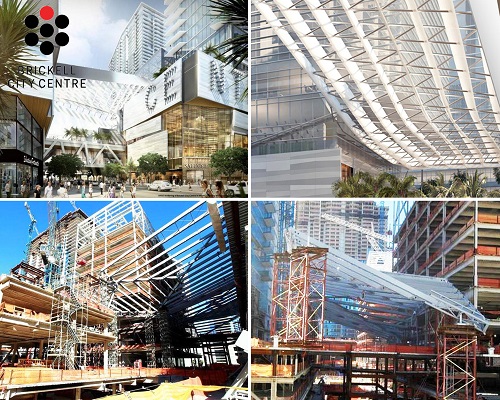 A newly invented thousand-foot length of steel, glass, and fabric will cool down the guests of the Brickell City Centre megaproject.
The one-of-a-kind wonder of architecture, known as the "Climate Ribbon" will keep the weather away from shoppers, as well as let natural light in and capture the breezes of Biscayne Bay. The Climate Ribbon will cost developer Swire Properties $30 million, but they hope it will give an "open air experience" to their future guests. In addition, it will provide environmental benefits for the City Centre itself, saving on air conditioning and electricity.
The ribbon is being designed and engineered by Hugh Dutton Associés of Paris with the help of the universities of Carnegie-Mellon in Pittsburgh and Cardiff in the U.K.
"We challenged ourselves to think about what that meant. To think about the definition of urban retail in Miami," Stephen Owens, president of Swire Properties said, "What should it be? Miami is really about its environment. That's what people come to Miami for. So why build a large box that we would have to air-condition and that could be in Dallas or Atlanta or anywhere else?"
The canopy will gather approximately five million gallons of water every year. It will also cover the distance of four city blocks. Some say that it will set the Brickell City Centre apart from other competitors like the Miami Worldcenter.
Source: therealdeal.com
Photo credit: Brickell City Centre - miamiherald.com
Share your thoughts with us
Sign up now
Get news and updates delivered to your inbox