No Underline, Less Infrastructure, And Other Projects Dead Thanks To Gov. Rick Scott
Jul 25, 2015 July 25, 2015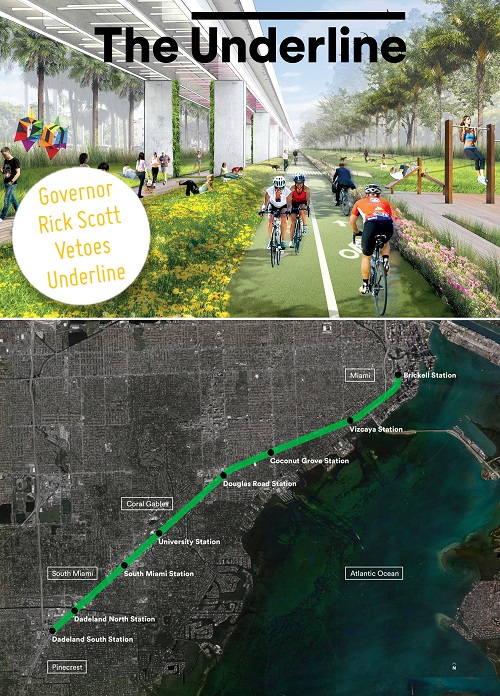 Governor Rick Scott has vetoed $461 million from the state budget in the course of a week, much of this was contributing to projects, such as the relocation of the Miami International Boat Show, and the Underline linear park planned for the area.
Meg Daly, founder of the Friends of the Underline, said that she saw the $2 million cut in funds coming. "I'm sort of one of those who believes you don't count on it until you have the check," she said, "We already were looking at a diversified base for funding."
The Underline is hosting many public meetings this week, which will be aimed at educating the community on the project. Daly believes that the public wants the amenities that it comes with, but the challenge is to balance the design with the cost.
In addition to the Underline, Governor Scott denied $5 million in funding to the Florida International University to move the Miami-Dade Youth Fair. He also vetoed $3 million for the infrastructure improvements to South Miami's Ludlam Trail Corridor, the 6.2 mile trail that starts in West Flagler, and goes to U.S. 1 near Dadeland covering about 72 acres.
Several others were denied the funding, here is a short list of notable mentions:
Bay Harbor Islands sewer manhole lining project: $100,000
Coral Gables Miracle Mile and Giralda Avenue drainage: $200,000
Doral stormwater improvements: $325,000
Miami Beach stormwater project: $750,000
Biscayne-Everglades Park-to-Park greenway trail: $1.5 million
Dixie Highway roadway improvements: $650,000
City of Miami-Miami Design District public infrastructure improvements: $1 million
City of Fort Lauderdale rapid re-housing project: $800,000
Holocaust Memorial Miami Beach: $300,000
Museum of Contemporary Arts: $49,000

Vizcaya Museum and Gardens Trust: $400,000
Source: therealdeal.com
Photo credit: therealdeal.com
Share your thoughts with us
Sign up now
Get news and updates delivered to your inbox