One of America's Previously Most Expensive Homes for Sale Now on the Auction Block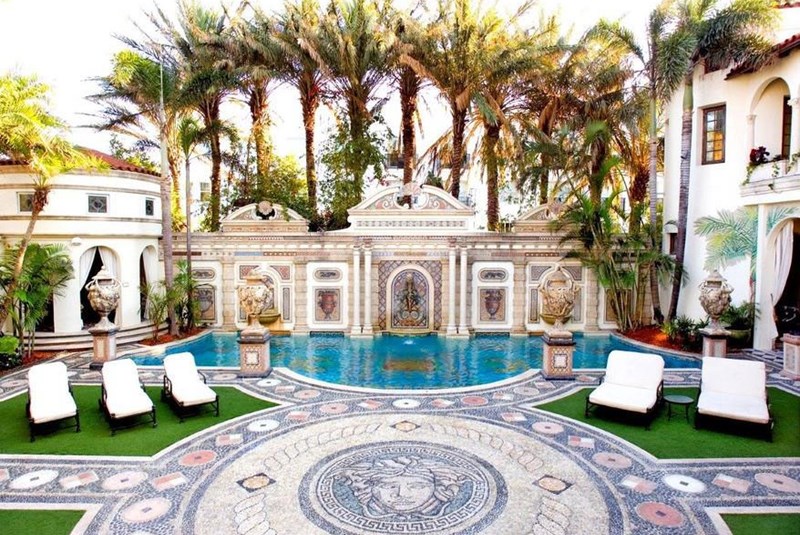 Aug 26, 2013 August 26, 2013
It has happened before in the luxury real estate market and will almost certainly happen again that a shockingly high priced, high-profile property will sit on the market until the weight of its own complications brings its price tumbling down at auction. So it is for the Casa Casuarina, more popularly known as the Versace Mansion, located at 1116 Ocean Drive in Miami Beach, which has recently been approved by a federal bankruptcy court to be sold at auction in Miami. As recently as June 2012, the mansion held a place on the Forbes list of most expensive homes in America, at $125 million, only to be put up on the auction block on September 17 of this year.
The creditor's initial bid for the South Beach property is $25 million, though it retains the right to raise that bid to as much as $32.7 million, indicated that prospective buyers must surpass these bids in order to acquire the manse. Even with an initial bid at the staggeringly steep 80 percent discount, potential buyers will be required to provide a $3 million deposit by September 12 and prove access to funds of at least $40 million just to enter the bidding pool. These bidders will have the option to purchase the property as a residential unit or as a commercial venue.
The decision to auction the house off is the culmination of nearly two years of law suits and a Chapter 11 bankruptcy entered into last month to avoid foreclosure. The foreclosure was filed in December 2011 after an allegation that the majority owner of the property, entrepreneur Peter Loftin, had defaulted on a $25 million mortgage note. Property taxes have also not been paid for over three years.


Photo credit: vmmiamibeach.com




Photo credit: vmmiamibeach.com
---
More Pictures Available Here
Pictures available here
Pictures available here
Pictures available here
Pictures available here
Pictures available here
Share your thoughts with us
Sign up now
Get news and updates delivered to your inbox