One Thousand Museum Site Purchased, Construction Will Begin Soon
Sep 10, 2014 September 10, 2014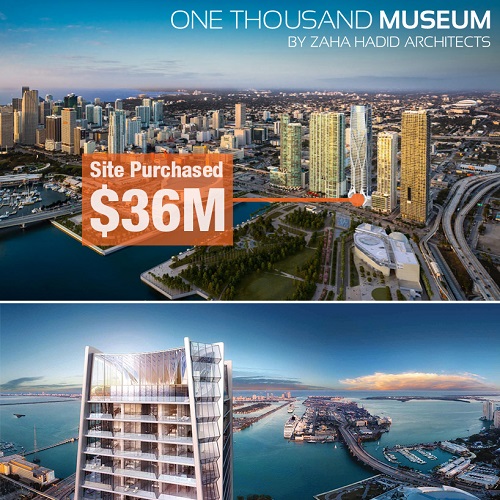 Developers of the One Thousand Museum purchased its site in downtown Miami, and has asked Regalia Group to partner up.
1000 Biscayne Tower LLC, owned by Louis Birdman and Gregg Covin, purchased the double-property site for $36 million in cash. The 83-unit One Thousand Museum will stand at 62-stories, and will be the first skyscraper on the Western Hemisphere designed by renowned architect Zaha Hadid. Condo sizes will range from 4,600 to 10,000 square-feet and up.
The partnership between 1000 Biscayne Tower and Regalia Group began in May. Regalia has recently finished a luxury condo tower in Sunny Isles Beach.
"The Regalia Group had the capital and resources to enable it to successfully complete Regalia," Birdman said, "With the added strength of Regalia's financial resources and experience in the luxury high-rise market, One Thousand Museum's successful completion of the Zaha Hadid-designed tower is assured."
Harvey Daniels of ONE Sotheby's International Realty is the handling the sales for the One Thousand Museum, and is not allowing any additional third party sales. Already, the project is over one-third pre-sold. Construction is expected to begin as soon as this coming fall.
Source: therealdeal.com
Photo credit: 1000 Museum - 1000museum.com
Share your thoughts with us
Sign up now
Get news and updates delivered to your inbox