One World Trade Center is taller than Chicago Willis Tower
Nov 12, 2013 November 12, 2013
An expert committee of architects on Tuesday announced that the structure atop the new One World Trade Center in New York City is a spire and not a broadcast antenna, bringing the building to a height of 1,776 feet.
The determination by the Height Committee of the Council on Tall Buildings and Urban Habitat -- the final arbiter of building heights around the world -- means Chicago's Willis Tower is officially the second-tallest building in the nation.
The needle atop One world Trade Center, measuring 408 feet tall, was installed in May atop the building, with an LED light seen from miles away and a beacon to ward off aircraft.
With the needle, 1 World Trade Center is a symbolically important 1,776 feet tall. Without it, the building would have stood 1,368 feet tall, the height of the original World Trade Center, but well short of the 1,451-foot Willis Tower.
At stake was more than just bragging rights in two cities that feast on superlatives and the tourist dollars that might follow: 1 World Trade Center stands as a monument to those killed in the 9/11 attacks, and its architects had sought to capture the echo of America's founding year in the structure's height.
But Willis Tower has 108 floors -- four more floors than the WTC, which some people said should count for something.
"You've got to go by more floors," Chicagoan Rob Reiner said. "Otherwise you could just keep putting towers on top of towers -- a big pole."
Tuesday's decision wasn't the only time the Willis Tower's height status had been threatened.
When the Sears Tower, as it was called then, was built in 1974, it was the highest building in the entire world, but has since been supplanted by a building in Dubai that tops out at 2,700 feet.
If the WTC's antenna had been ruled out, the building's ranking would have dropped all the way back to third place, shorter than even Chicago's Trump Tower, which rises to 1,389 feet.
Daniel Safarik, an architect and spokesman for the nonprofit council, said it might consider amending its height criteria. Such a move would have much broader implications that could force a reshuffle in the rankings of the tallest buildings in the world.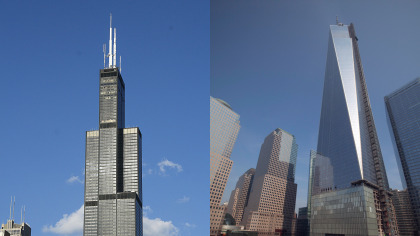 The Willis Tower (left) lost its title as tallest building in the U.S. to the new 1 World Trade Center tower in New York City (right), after the Council on Tall Buildings and Urban Habitat determined the WTC spire is a permanent part of the building.
(Credit: STR/AFP/Allan Tannenbaum-Pool/Getty Images)
Source: nbcmiami.com
Share your thoughts with us
Sign up now
Get news and updates delivered to your inbox