Oolite Arts' Save the Bay Initiative Commissions Miami Filmmakers to Help Preserve Biscayne Bay
Aug 09, 2021 August 09, 2021
Oolite Arts, one of Miami's most prominent and supportive arts organizations, wants to help Miami preserve one of its most important and impressive assets - Biscayne Bay. Through their Save the Bay initiative, a locally-made film and video campaign to raise awareness of ways to preserve Biscayne Bay, Oolite is funding innovation and community-building while reminding us of the precious treasure that so much of Miami centers its life around. 
Cinema, often called the seventh art, is unique among all other artistic disciplines. While our constant exposure to media saturation and infinite supply of film and video content may leave us taking the persuasive power of the moving image for granted, the capacity for cinematic media to sway the perspective and opinions of its viewers is unmatched by any other art form. A film has the capacity to not only immerse its viewers in situations and perspectives outside of their own, but also to awaken new insight, consciousness, and understanding in audiences about issues affecting their lives and communities.
This power inspired Oolite Arts, a Miami Beach-based alternative arts organization that mobilizes and supports local artists, to hold a contest inviting some of Miami's most talented filmmakers to make one-minute public service announcements (PSA's) for Save the Bay, an initiative to raise local awareness on ways to protect and preserve Biscayne Bay and its varied ecosystems.



Five five competition winners were selected and each was awarded $2,500 to produce their PSAs.  Another five artists received Honorable Mentions and $1,000 awards for their proposals. 
To celebrate its efforts, Oolite presented a YouTube Live broadcast showcasing a total of eight PSAs that are currently in competition for the People's Choice Award. The public is invited to watch these films at the Oolite website and vote for your favorite by August 11. The winner of the People's Choice Award will be announced on Aug. 13 and receive an additional $1,000.



The five winning artists include Alexa Caravia, Helen Peña, Jayme Gershen, Milly Cohen and Shireen Rahimi, as well as Honorable Mentions Alec Castillo, Chris Molina, Christian Perry, Colin Foord, and Nicolas Quintairos.
In an interview published by The New Tropic, the five winning filmmakers commented on such topics as the social responsibility of art, the significance of protecting and preserving a fragile ecosystem such as Biscayne Bay, and what Miamians can do to contribute to the conservation and protection of this major natural resource that defines so much of our South Florida lifestyle.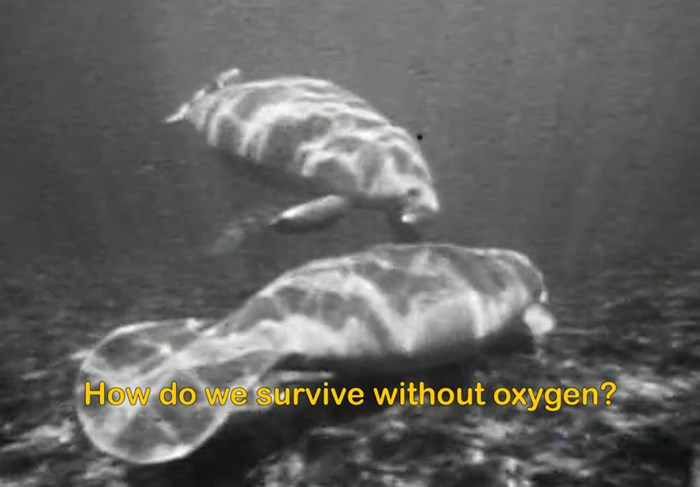 Still from 

Alexa Caravia's "Video Letter"

In discussing the ways that art – and film in particular - can help to inspire people and conversations around such pressing issues as conservation and climate change, finalist Alexa Caravia, whose work spans across documentary, short stories, fashion, and instructional videos, commented:
"At best, I think art encourages us to empathize with one another. It has the power to bridge gaps and connect us more deeply to each other and the world around us. From there, a space for conversation is created. In my PSA, I wanted the viewer to see that life underwater is sustained similarly to life above water. Just like us, marine creatures need food and oxygen to survive. And I wanted to show that we're directly connected to their supply. It's a crucial and powerful responsibility."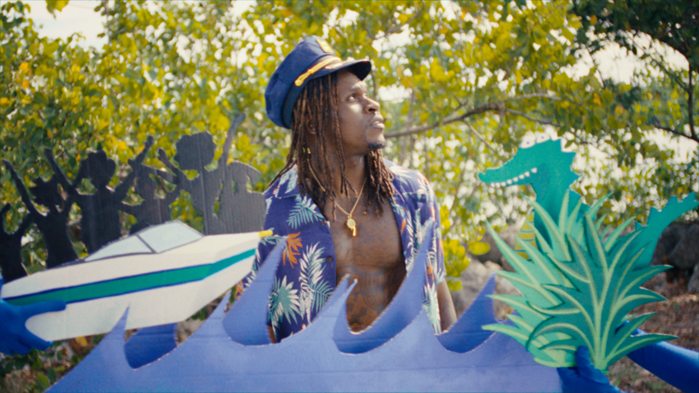 Still from 
Jayme Gershen's "Captain Baywatch"

Jayme Gershen, another of the five finalists, is an Emmy award-winner who often uses humor in her cinematic work, described the artistic concepts that inspired and informed her idea, and how she wanted to relay the message of what we can do as locals to protect Biscayne Bay and its varied life forms.
"For my PSA, Captain BayWatch, I wanted to make a PSA that was as inclusive as possible. The bay's issues ultimately affect all of us, and I wanted the short to reach tourists and locals alike. Captain BayWatch, played by Jeano Michel, is such an excellent character for that purpose... He's charming and fun, speaks English, Spanish, and Creole, and gives our audience clear, actionable steps that they can do."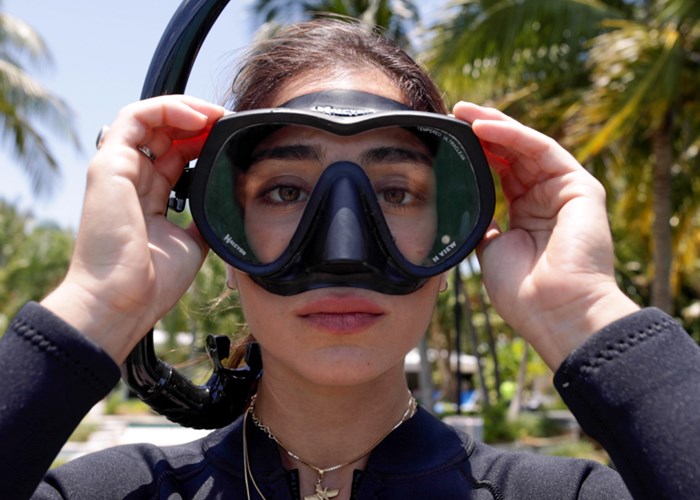 Shireen Rahimi, "What Happened to the Bay?!"

Shireen Rahimi, who is also an environmental scientist, free-diver, and National Geographic explorer as well as a filmmaker, commented on how her life is personally affected by the Bay, and what Biscayne Bay means to her personally, as well as what it means to the local community.

"I live in Miami, so my life revolves around the bay. I go kayaking in the bay; I go running by the bay; I SCUBA dive in Biscayne Bay National Park; I drive over the bay with my windows rolled down, blasting Afrobeat and watching the sunset behind the Miami skyline, awed by this beautiful city and the underwater ecosystems managing to survive at its shores. The bay is one of the many natural environments that cradle metropolitan Miami, supporting its infrastructure and the livelihoods of all of us who live here. I am grateful for the bay and all of the beings living with it."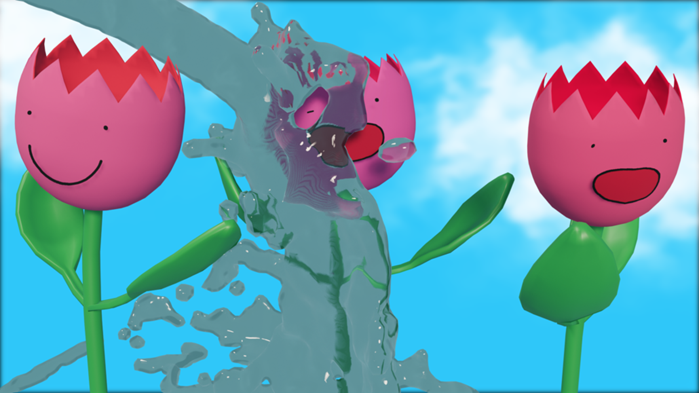 Milly Cohen, "Save the Bay"

Fellow winner Milly Cohen, who works in animation, shared some ideas about how to raise local consciousness regarding the protection and preservation of the Bay, and what local efforts can be made to achieve that goal.
"It's important to keep in mind that all things that happen on land eventually end up in the water. So we need to immediately stop polluting the land and leaving harmful things like fertilizer and dog poo lying around," said Cohen, whose animated film reflects a similar message. He also suggests looking into the Biscayne Bay Task Force and their accompanying recovery plan. "They are the leading team tackling the recovery of the Biscayne Bay in Miami-Dade County, and their initiative lays out the solutions for water quality, governance, infrastructure, habitat restoration, marine debris, education and outreach, plus funding that is all required for a long-term plan to restore Biscayne Bay."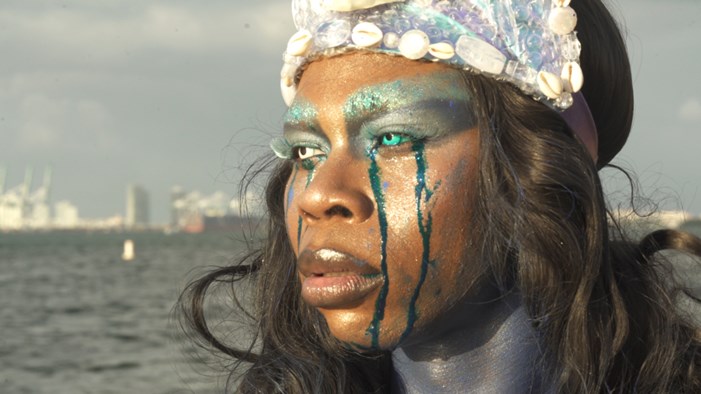 Helen Peña, "The Siren"

Helen Peña, a mixed media artist and community activist, was inspired by the work of other artists and activists, and the importance of taking a stand on the issues that one is passionate about. Especially standing up for those issues that affect our quality of life and the world that we want to build for future generations. "We have to be active participants in shaping the world we want to see. No one is coming to save or rescue us. It's up to us." 


---

Don't miss the creative energy of these and other Save the Bay award winners whose work will be available for view through August 11, and don't forget to cast your vote for your favorite PSA and the winner of the People's Choice Award.

Cover photo: 
STB_Captain_BayWatch_Jayme
Share your thoughts with us
Sign up now
Get news and updates delivered to your inbox