Paramount Miami Worldcenter's sales gallery to make its debut
Apr 29, 2015 April 29, 2015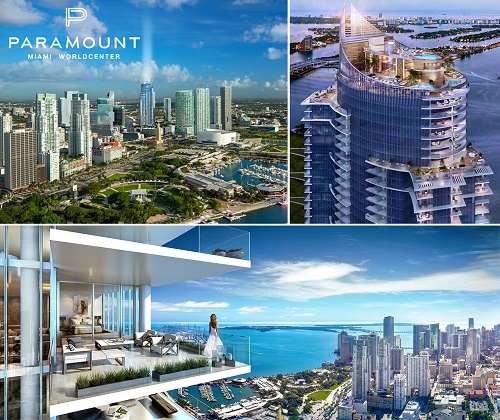 As the Paramount Miami Worldcenter is beginning its launch, developers have made for some astounding developments for its sales gallery.
Paramount will be a 60-story condo tower that will be placed directly on top of the Miami Worldcenter Mall.
Developers of Paramount are getting ready for its unveiling. They have created 3-D videos on 36 screens which is the backdrop of a scale model of Paramount, along with the world's largest disco ball at 20 feet in diameter.
On the first public sight of the scale model, there were many portions of it that had notable features. One of which is a recreation deck on the ninth floor, which will be nine-acres of space, and will include a soccer field, two tennis courts, a pool, a vita course, and many two-story villas near the pools designed in a Balinese style.
This scale model was the final piece of the $2 million puzzle that is the sales building. All of these unveilings and new advertisements were part of a 6,000 square-foot sales gallery that developers say are supposed to give "the experience, the style of what is about to be here."
Paramount began sales in November and has already reserved 25% of their units. Buyers are from 20 different countries, being led by Brazil, Mexico, Argentina, and Venezuela. However, there have been a few buyers from China, which Miami is receiving a lot of interest from there recently.
Source: therealdeal.com
Photo credit: Renderings - paramountmiami.com
Share your thoughts with us
Sign up now
Get news and updates delivered to your inbox