Plans to Develop Four 60-Story Condo Towers on the Miami River Revealed
Jun 04, 2014 June 04, 2014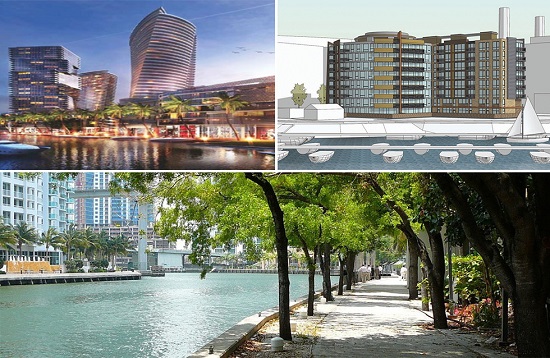 Developers plan to build four 60-story condo towers on the Miami River, which would include a marina, hotel, and 1,449 condo units.
The plan to develop these four towers was reviewed on May 14 by the Urban Infill & Greenways Subcommittee of the Miami River Commission.
The Miami Riverwalk would cluster the many condos and hotel rooms on 6.5 acres of land. The plan also gives room for retail space, office space, a riverfront restaurant, a public walk along the river, a small marina, a few parking garages, and some environmental preservation measures.
The development is said to be surrounded by the river and run along Southwest Seventh Street, Southwest Third Avenue, and Southwest Second Avenue.
Chetrit Group, the New York-based developers of the project, recently hired a landscape architect as well as an organization to assess the seawall.
There is some work still to be done before all decisions are finalized, but the committee will be updated as time progresses.
Source: therealdeal.com
Photo credit: Marina - southwestquadrant.blogspot.com, Marina(1) - goldenduskphotography.com, Miami River - metro1.com
Share your thoughts with us
Sign up now
Get news and updates delivered to your inbox