Proposed 10-Mile Park Gets New Name and a Ceremony
Sep 26, 2014 September 26, 2014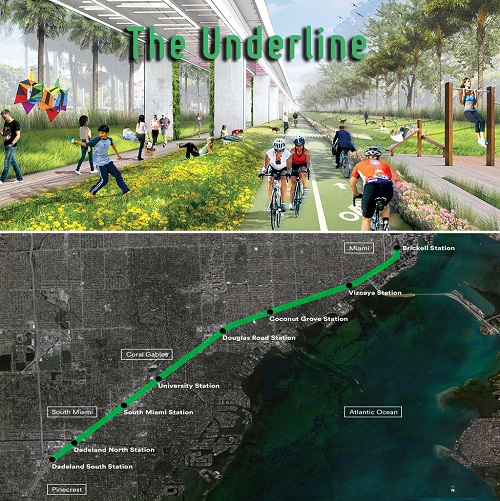 The 10-mile long Greenlink Park, the longest linear park in Miami, stretching from Brickell to Dadeland under the Metrorail, has received a new name.
The linear park is changing its name from Greenlink to the Underline, and is being branded as such.
Followers of the Underline enterprise want to change the unused land under the Metrorail into the 10-mile park, which will include walkways, bicycle paths, commuter routes, and exercise trails.
Officials from Miami, Coral Gables, South Miami, and the Village of Pinecrest all agreed to allow the project to happen, noting the possible economic increases to the community, as well as the health increases for the 400,000 residents within the area.
"The Underline's new name, logo and website are all 'Wow,'" said Meg Daily, founder of the Friends of the Underline organization, she believes that they "reflect the iconic nature of the vision and scale of the project."
As long as everything keeps going according to plan, sources say that construction could start in a year, and finish in five to 10 years.
To celebrate their success, HistoryMiami is hosting a branding ceremony at 101 West Flagler Street titled, "The Underline: Make It Yours." The exhibition will be in its Community Gallery from Tuesday, September 16, until Sunday, November 16. The exhibition will showcase the key components of the initiative, such as a 20-foot wide trail, park spaces, and transit station development.
Source: CBSlocal.com
Photo credit: Map - theunderline.org,
Share your thoughts with us
Sign up now
Get news and updates delivered to your inbox