Rail Station Funding Finished, Construction Will Begin Immediately
Aug 18, 2014 August 18, 2014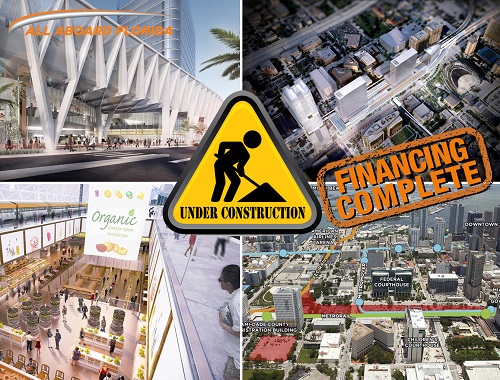 All Aboard Florida has completed a $405 million bond sale, and will finally begin construction on the Miami-West Palm Beach line.
The first phase of the Miami station will cost about $150 million in construction costs. The Fort Lauderdale and West Palm Beach stations will be about $30 million for each, additional tracks and bridges will cost $95 million, and upgrades to crossings and signals will be about $105 million.
In total, the Miami-West Palm Beach line will cost around $800 million, plus an extra $44 million, which might be acquired by government grant, to connect the line to a commuter rail.
Prices for tickets have been determined at $30 for coach and $36.60 for business class.
The West Palm Beach to Orlando line is estimated at $1.4 billion, which will be financed by other means.
Source: exmiami.org
Photo credit: Under construction - pudumaipen.org, Logo- planhillsborough.com, Station - exmiami.org, Map - wlrn.org
Share your thoughts with us
Sign up now
Get news and updates delivered to your inbox