Rail Systems May Connect All the Way to American Dream Miami
Feb 19, 2016 February 19, 2016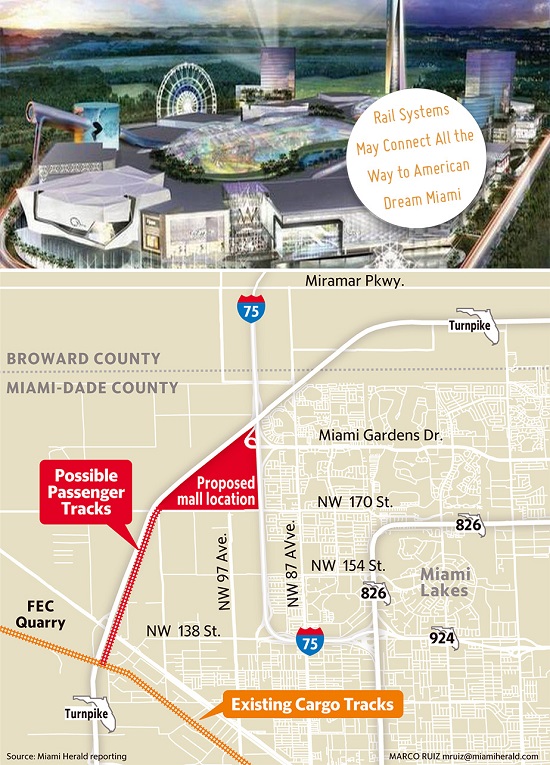 Officials of the County of Miami-Dade have been determining if adding a new track to the Miami railway system to go to the American Dream Miami mall will occur.
The discussion starts with cargo trucks serving mining quarries in western Miami-Dade extending north along the Florida Turnpike until they are close enough to serve American Dream. There is a cargo rail that already connects to other rail lanes going up to the Miami International Airport, which is a hub of Metrorail and Tri-Rail, both of which run throughout that area.
Officials are not willing to talk specifics yet, as there is much to sift through, but as Jose "Pepe" Diaz, the County commissioner, said, "It's not to the mall only. It's to the whole northwest region. We need to make sure we stop building roads upon roads, and start moving people in a faster, better and more efficient way."
Al Maloof, a lobbyist who specialized in transportation, said that most rail systems charge about $5 per trip, but they would most likely lose money in Miami-Dade. "You're essentially talking about a trip to a theme park," Maloof said, "Conceivably, you could pay a $20 or $25 fare."
The American Dream Miami mall itself will be a 200-acre complex with shopping, entertainment, and the largest mall in the United States.
Source: miamiherald.com
Photo credit: miamiherald.com
Share your thoughts with us
Sign up now
Get news and updates delivered to your inbox