Tao Restaurant Planned for Edgewater's Historic Miami Women's Club
Feb 12, 2020 February 12, 2020
Want to know what Miami's next favorite restaurant will be? Here it is...
Sitting on Biscayne Bay, right next to Edgewater's gorgeous Margaret Pace Park, is a gem of a historic Miami building. You know the one, the luscious Mediterranean Revival villa-like one, that was long abandoned and clearly a prime Miami waterfront location. Well, Miamians and Miami-lovers alike, wait no longer.  A new luxury restaurant and relaxed, verdant lounge is set to open at the site of the historic Miami Women's Club, overlooking the waters of Biscayne Bay.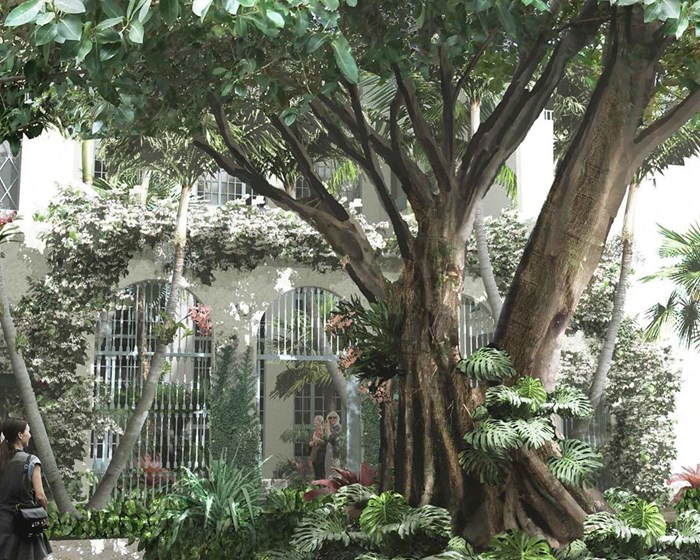 Rendering courtesy of Kobi Karp

A partnership between Groot Hospitality and Tao Group, which operates restaurants in New York, Las Vegas, Los Angeles, Chicago, Singapore, and Sydney, will convert the waterfront property into a high-end restaurant seating 558 diners, including 250 indoors and 308 on an open-air terrace at 1737 North Bayshore Drive. The new restaurant, which has yet to be named, will also feature three full bars, a relaxing outdoor water feature, and a valet parking lot accommodating 75 vehicles. Per documents filed with the city of Miami, the new restaurant will be open 7 days a week, from 11:30 AM until 3:00 AM.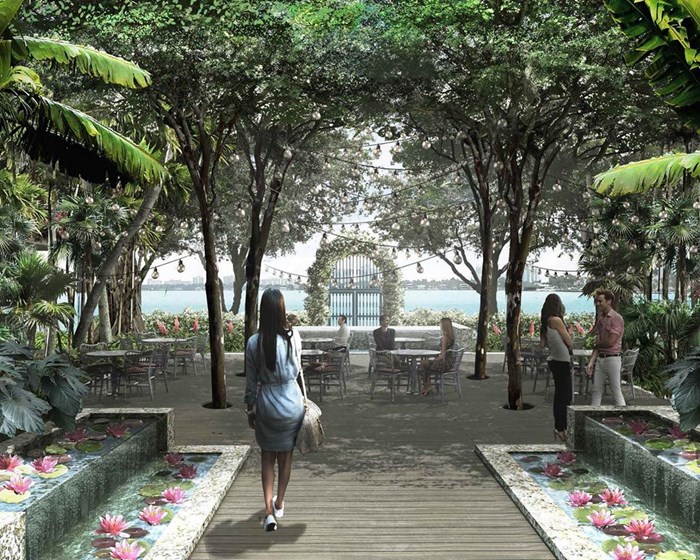 Rendering courtesy of Kobi Karp

We can reasonably expect the renovation of this historic property to be nothing short of spectacular, with local starchitect Kobi Karp as the architect on board, along with noted San Francisco interior designer Ken Fulk and the famed Raymond Jungles working his Midas touch in landscape design. The historic restoration of the building, which dates back to the early 1900s, will be supervised by Richard Heisenbottle. It's hard to argue that this won't be a game-changer for the quiet and understated pocket of Edgewater that's becoming more and more a desired, luxury community. 
The Miami Woman's Club was originally founded as "The Married Ladies' Afternoon Club" as a cultural group for women to meet, read and discuss literature. In 1923, having become the largest woman's club in Florida, the Miami Woman's Club moved from its original location at Royal Palm Park and purchased the property at Bayshore Drive and NE 17th Terrace for its new building. The current building and future site of the restaurant was designed by architect August Geiger and opened in 1926 as the Flagler Memorial Library and Woman's Club. The site was added to the U.S. National Register of Historic Places in 1974.



We can assume that, as charming as the original site is, the renovated location will certainly be picturesque and instagram-worthy, taking advantage of its refreshing waterfront location and amazing proximity to South Beach, Downtown and Wynwood. We can't wait to watch this renovation bring this historic Miami building back to life and add another Miami waterfront restaurant to our list of favorites.
 
---

Want updates on this historic renovation in Edgewater? Sign up to receive the latest Miami real estate and lifestyle news, weekly or monthly.
Share your thoughts with us
Sign up now
Get news and updates delivered to your inbox