The 11 Most Walkable Neighborhoods in Miami Beach
Apr 17, 2019 April 17, 2019
Walking through Miami Beach and its Art Deco-filled streets is the best way to experience this vacation destination, especially if you're planning to live here. But, do you know which parts of town are more easily navigable on foot compared to the others? Take a look at the rankings below to figure out where you can go carless in Miami Beach, whether you come to stay or vacay!
All scores have been sourced from walkscore.com. To arrive at the most accurate scores for residents, we've picked the most centrally located condo building in each neighborhood to power our search.


Walk score: 37



Although Bal Harbour is one of the most upscale neighborhoods in Miami, it is the least walkable according to walkscore. Residents need to be car-dependent to navigate much of the neighborhood. Most condo buildings come lined up along the ocean, east of Collins Avenue. This residential neighborhood is also home to a handful of resorts, exclusive beaches and the ultra-luxury Bal Harbour Shops, which are the only source of top-of-the-line retail and entertainment. Residents generally have to head out of town or west to the retail shops in Bay Harbor Islands for other errands and conveniences.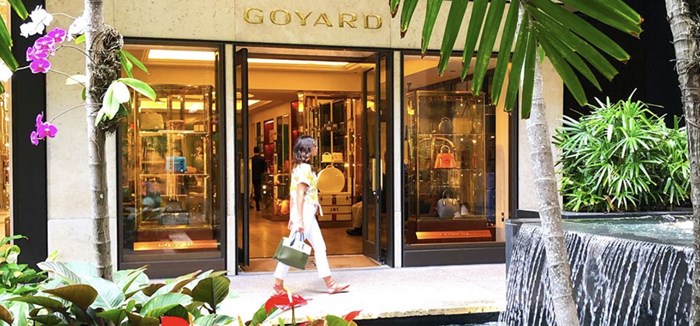 Oceana Bal Harbour
Walk score: 57



Residents find themselves being more car-dependent in this friendly beach town. Most of the condos and hotels come sprinkled across the beachfront and east of Collins Avenue, with the rest of the residences to its west. There's only a limited stretch along Harding Avenue/Highway A1A, which is home to restaurants like Flannigan's Seafood Bar and Grill, 26 Sushi and Tapas, The Harbour Grill, and conveniences such as the Surfside Plaza plus Publix. Except for the town's community center and quiet beaches, residents have to head to nearby neighborhoods for most of their business, shopping and entertainment needs.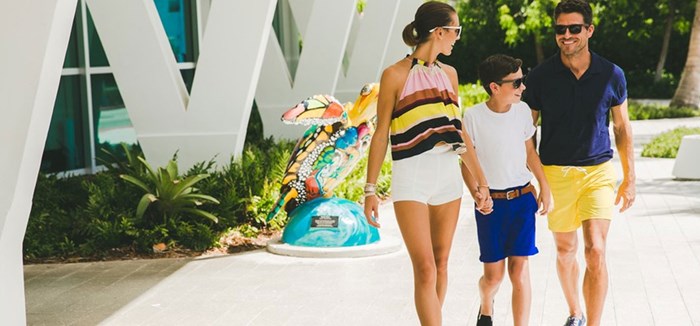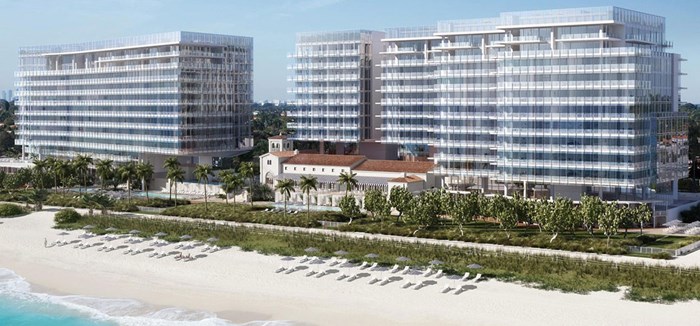 The Surf Club Four Seasons Hotel and Residences
Walk score: 78



Even though the neighborhood has a good collection of global eats, white sand beaches and Metrobus stops, it is only somewhat navigable by foot for the sheer distance between these. Collins Avenue is the main artery where you will find a conclave of eateries like the Manhattan Bakery, Matryoshka Deli, Kalinka Euro Deli, Thunderbird Café, Neomi's Grill, Sumo Sushi Bar and Grill, El Tayta Peruvian Bistro, along with a host of banks and conveniences such as Walgreens, 7-Eleven and Publix.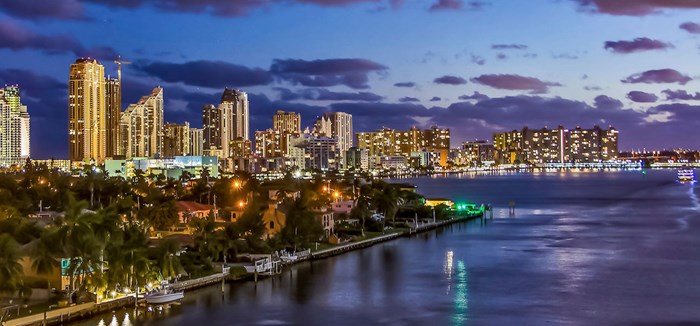 Sunny Isles Beach Boardwalk. Photo credit: Sunny Isles Beach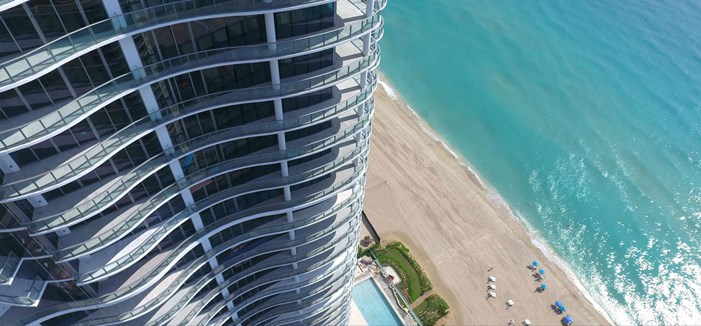 Chateau Beach Residences
Walk score: 83



One of the biggest reasons the Venetian Islands rack up a good walkability score is because of their dedicated jogging paths. All six islands feature pedestrian-friendly streets with splendid views of the Bay. Belle Isle and Biscayne Island are the only two isles that feature condos, while the rest of them house single family homes. Plenty of Metrobus stops make it easier to hop across town for shopping, eats, errands and entertainment to the neighboring South Beach or Arts & Entertainment District.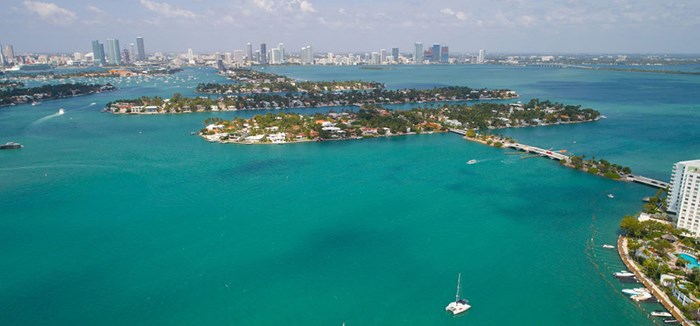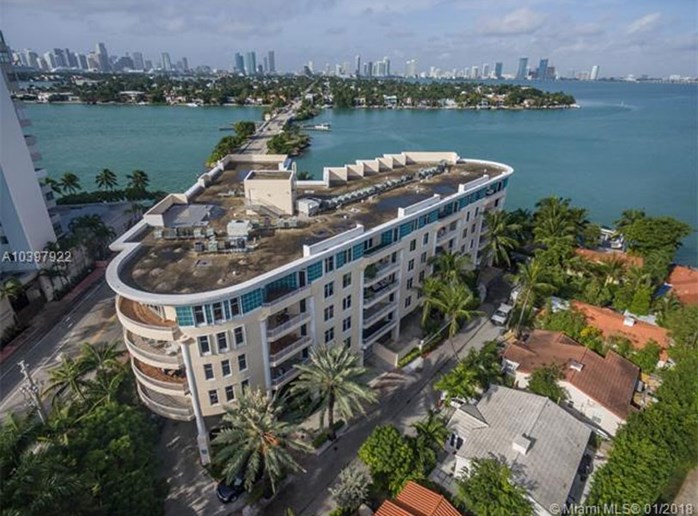 The Vistas

7. Faena District - Mid-Beach
Walk score: 86



This southern part of Mid-Beach (up to the Fontainebleau) has become one worth exploring by foot, especially after the development of the six-block-long Faena District. Part of this now illustrious district are the Faena House condos, the Casa Faena and Faena Hotel Miami Beach with their famous five bars and Pao restaurant, the landmark Faena Forum cultural center, Faena Theater for performing arts and the upcoming retail complex of Faena Bazaar. Its main artery of 41st street runs across from the condo-rich waterfront sliver to the single-family home cluster, ending at the Mt. Sinai Medical Center and features popular restaurants and conveniences including a Walgreens.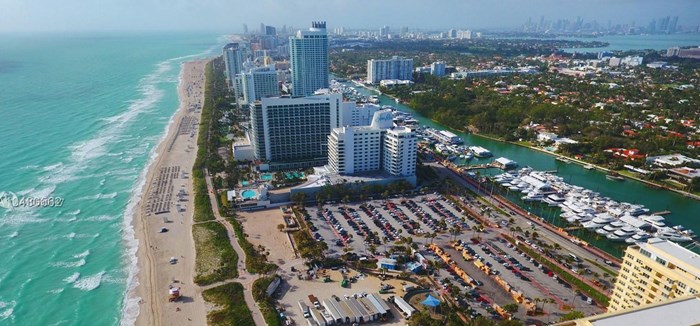 Mid-Beach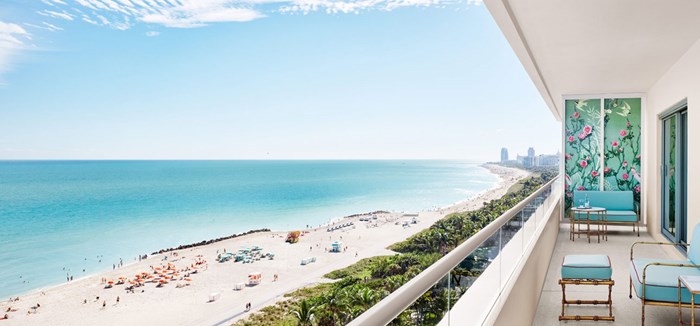 Faena
Walk score: 88



This little neighborhood comes tucked in the western corner of South Beach, just north of Dade Boulevard. Very easily navigable on foot, you can walk to popular hangouts such as Panther Coffee, Purdy Lounge and the Pubbelly Noodle Bar, along with two grocery stores (Publix and Fresh Market), Walgreens, the Sunset Harbour Yacht Club, a handful of trendy exercise spots, a beautiful waterfront park, some boutique retail and other conveniences. Frankly we don't understand why the walkability score is lower for this neighborhood since this mini-neighborhood has so much condensed into just a few square blocks that you never really have to leave.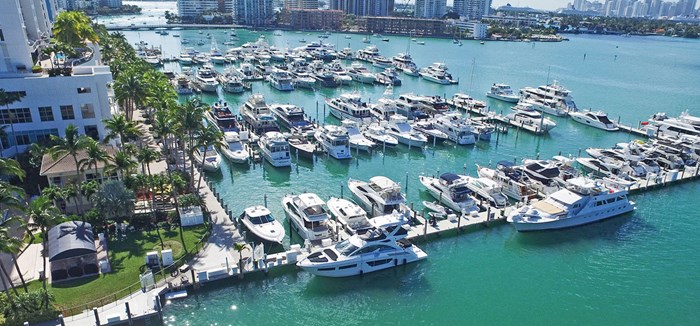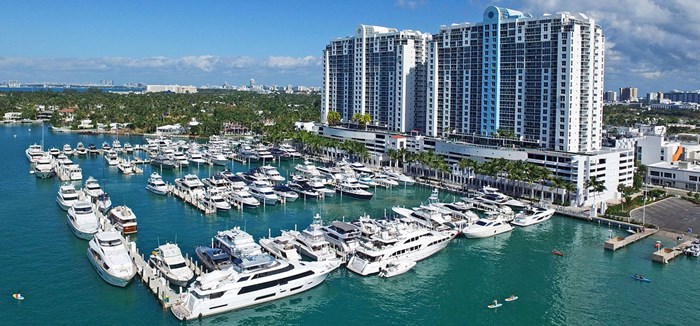 Walk score: 90



This residential mixed western corridor that extends from 5th Street to 17th Street is easily navigable on foot. You will find quite a few restaurants such as CVI.CHE 105, Drunken Dragon, Semilla French Bistro & Wine Bar and Oliver's Bistro, plus a sprinkling of spas, hotels, a Whole Foods, Flamingo market and lots of other conveniences nearby.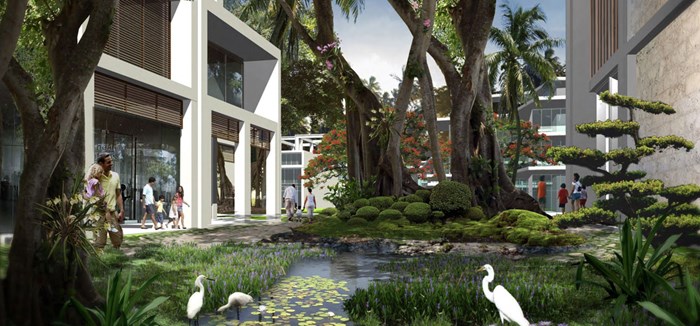 Concept rendering of the green corridor as shown in the overhead view above. Photo credit: ReMiamiBeach


Monad Terrace
Walk score: 91



This northern stretch of Mid-Beach, right from the iconic Fontainebleau up till W 63rd Street is mostly walkable. The water bound sliver comes fronted by laidback beaches, and is lined by luxury condos, historic hotels like the Eden Roc Miami or The Confidante, boasts of the LIV nightclub, a sprinkling of restaurants like Hakkasan or Scarpetta and a handful of conveniences. Aside from the hotel restaurants, there is not much in terms of retail unless you walk to 41st street and walk west, which is probably why this scores a tad lower on walkability. Frankly, we would rank this area lower on walkability than walkscore did. The rest of the neighborhood west of Collins ave features single-family homes and the expansive La Gorce Golf Course.


Mid-Beach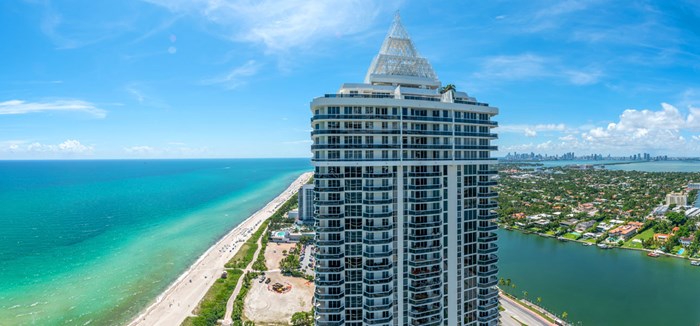 Blue Diamond
Walk score: 93



Lincoln Road mall is one of the most pedestrian-friendly venues in Miami with lots of trendy retail, eateries and eye candy. Close by are the iconic Fillmore Miami Beach, Soundscape Park, New World Center and Miami Beach Convention Center. A little down south and into the residential side of the neighborhood bound by Alton Road, Washington Avenue and 5th Street, you will find the Flamingo Park, Pool and Baseball Stadium along with single-family homes.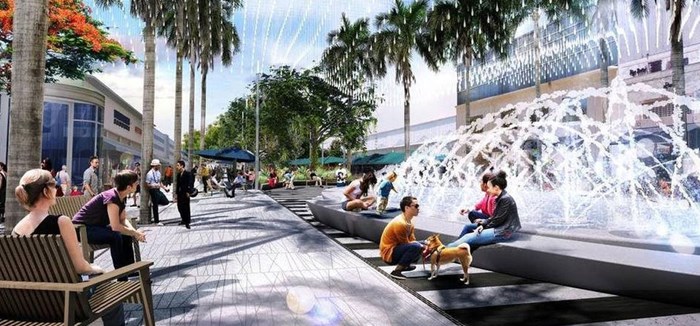 Lincoln Road Mall. Photo credit: Lincoln Road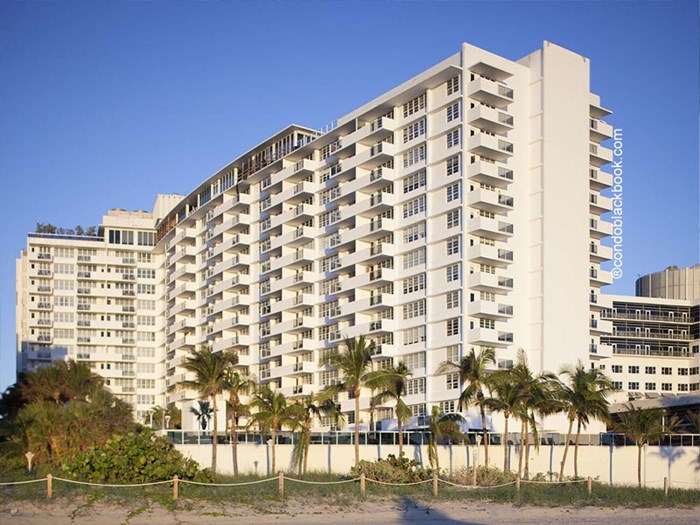 Decoplage
Walk score: 94



This hip, historic and tourist-oriented district gives you plenty of reasons to walk. On one side is the sand, and on the other is everything else South Beach has to offer. Straddling Ocean Drive comes the Art Deco District, world-famous Lummus Beach (the biggest tourist beach destination in Miami Beach), historic hotels like Loews Miami Beach, Beacon and The Hotel of South Beach, along World Erotic Art Museum, and a wide variety of restaurants, bars and legendary nightlife options. The Miami Beach Trolley further gives you a free reign to explore the city without a car.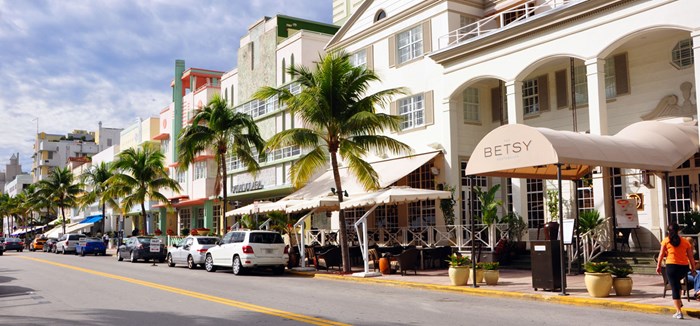 Ocean Drive: Photo credit: Chensiyuan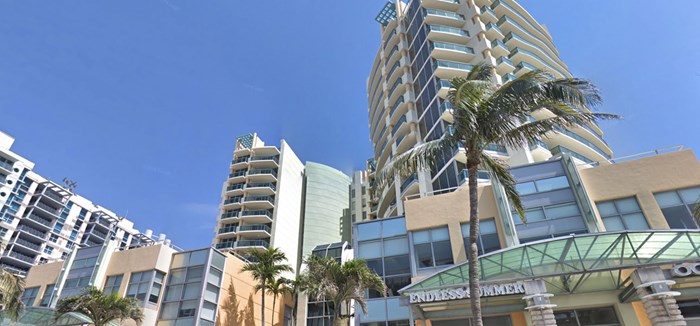 Il Villaggio Condo
Walk score: 94



Everything south of 5th street to the Atlantic Ocean makes up this walkable neighborhood. Starting from the southernmost tip, the South Pointe Beach and Pier attracts morning-walkers and dog owners with its local-friendly vibe. Walking inwards from the beach, you will find an entire cluster of excellent eateries, nightclubs and accommodations like Joe's Stone Crab, Smith & Wollensky, Story nightclub, Nikki Beach, Prime 112 and Il Mulino New York-South Beach, all accessible on foot. The Shops at 5th and Alton give you much of what you would want in terms of shopping options, with Whole Foods just 5 blocks north of that.The Miami Beach trolley helps getting around town even more pedestrian-friendly.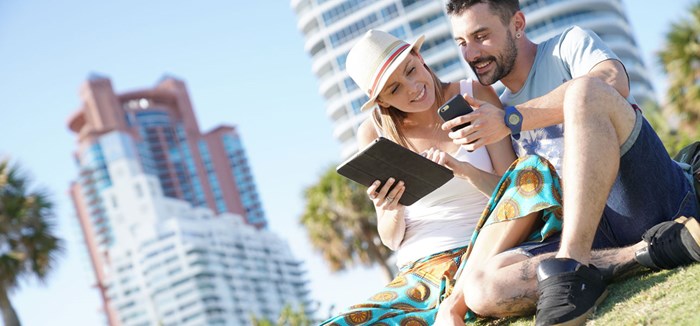 Is Miami Beach Walkable?
As you can see, most of the beach neighborhoods are pretty walkable, and frankly I would bet that if most of them weren't bordered by the water on one or both sides, that we would find their walkability scores even higher. So add up the water and walkability and you really have some of the most walkable neighborhoods in the U.S.
Share your thoughts with us
Sign up now
Get news and updates delivered to your inbox