The Best Miami Beach Neighborhoods: Sunny Isles vs North Beach
Aug 16, 2021 August 16, 2021
Miami has plenty of options for those who want to live near the water and enjoy the benefits of direct beach access and balmy coastal breezes. Two neighborhoods that offer two very different flavors of coastal living are Sunny Isles Beach and North Beach, the northernmost section of Miami Beach, sometimes referred to as North Shore or NoBe. 
Both of these locations provide Atlantic beach access, are conveniently close to Bal Harbour Shops, South Beach, Downtown Miami and the Design District, and within easy driving distance to airports and other areas in greater Miami, but these two seaside communities are very different from one another.  
While Sunny Isles Beach feels like a luxurious seaside resort community, North Beach feels like a small beach town, although newer waterfront condo tower developments along Collins Avenue are gradually giving the area a more sophisticated urban feel.

Lifestyle: Sunny Isles vs. North Beach (Miami Beach)

Sunny Isles Beach is a much newer and recently developed neighborhood than North Beach. So, the two areas differ considerably in architecture and lifestyle. Sunny Isles is populated with larger more luxury-focused, resort-condominium towers with spectacular ocean views and happy hours on the premises, while North Beach is known for some of Miami's most interesting Mid-century Modern (MiMo) architecture, featuring small multi-unit dwellings with catwalks, punctuated with Art Deco details.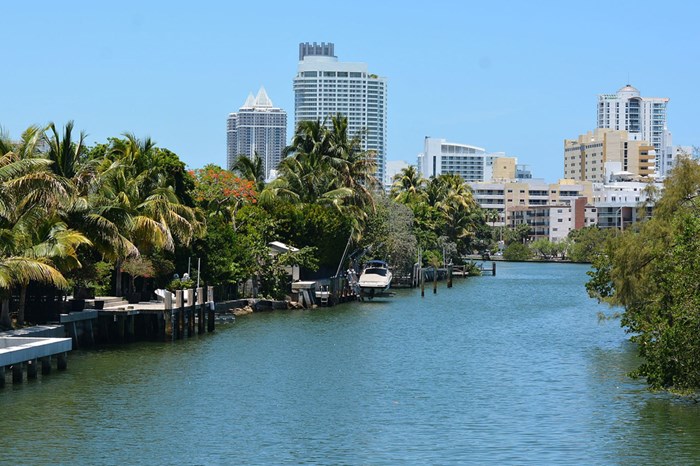 Both neighborhoods offer benefits for families, but North Beach feels more like a traditional small-town community, with excellent family programming at North Shore Community Center, which offers sports, fitness, workshops, and other community activities for local residents of all ages. 

Business: Sunny Isles vs North Beach (Miami Beach)
Sunny Isles is a resort community that attracts a lot of tourists and long-term visitors who want to feel like they're escaping the corporate rat-race. For this reason, Sunny Isles is not a prime location for corporate business offices. While there are some small service professionals in the area, the neighborhood is known for its retail and restaurant offerings, as well as hotels and resort services such as spas, salons, and fitness centers, as well as high-end retail.
North Beach is a low-key residential community that attracts families, retirees, snowbirds, and out-of-town investors, so it also is not a hub for corporate offices. However, you'll find plenty of local professionals such as accountants, jewelers, attorneys, and health care providers, as well as a gamut of spa and salon services.
In both areas you'll find high-end restaurants and other elite small businesses in the lobbies of some of the condo resort buildings and hotels in the area.

Walkability and Transportation: Sunny Isles vs North Beach (Miami Beach)
Both Sunny Isles Beach and North Beach have lots of commercial activity on Collins Avenue within walkable distance for local residents, and both are served by buses that run between the Beaches and the Miami mainland. 
In Sunny Isles, both the beach and plenty of commercial shopping areas are within walking distance, as are many local parks.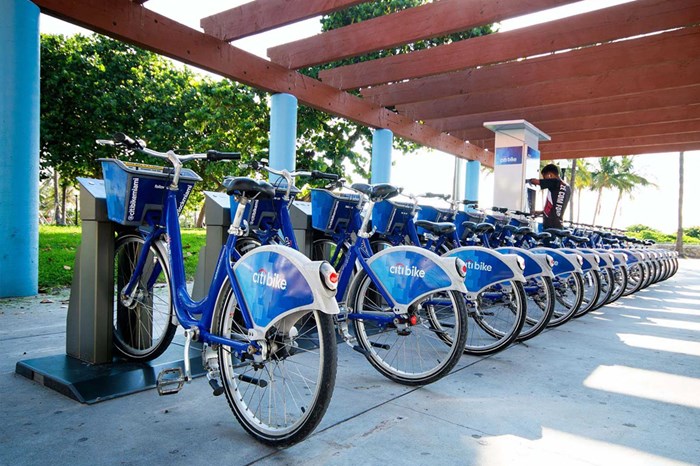 North Beach is also very walkable and plenty of local residents use their bikes to get around, as well as the local trolleys which can take you all over North Beach, or as far as South Beach for free and with a/c.
Getting around without a car is easy enough within both neighborhoods, and such essentials as Publix, Walgreens, and local businesses are within walking distance, but you'll probably need a car to commute daily if you work in locations such as Brickell or Downtown Miami. However, if you're commuting to Brickell or Downtown Miami for work, it's easily doable from both neighborhoods, but perhaps slightly easier from North Beach.



Parks and Greenspace: Sunny Isles vs North Beach (Miami Beach)
Both Sunny Isles and North Beach are coastal communities with direct beach access, and both provide ample green spaces where you can get out and enjoy the great outdoors. They are both winners in this category.
Sunny Isles is home to several parks, such as Heritage Park, a 4-acre oasis with two children's playgrounds and a dog park, and Senator Gwen Margolis Park, where you can play soccer or enjoy a picnic in the shade. Town Center Park features a fitness trail and gazebos where you can enjoy a shady picnic, and Gateway Park 5 spans five acres and features a butterfly garden and a performing arts stage for concerts and other performances.
At the beach in Sunny Isles, you can rent jet-skis, umbrellas, and lounge chairs, and enjoy food and beverage concessions in some areas. If fishing is your thing, the pier at Newport Beach is a favorite fishing spot among locals and visitors alike.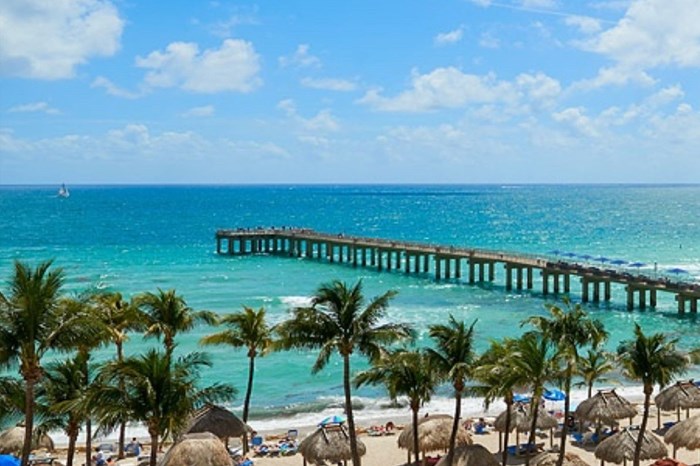 North Beach is also dotted with small neighborhood parks with kids' playgrounds and other facilities, such as North Shore Community Center, with active baseball and soccer fields and tennis courts, and Normandy Isle Park and Pool, an interactive water park with fitness classes, pools and water features for children of all ages, and more play space and tennis courts at the  Normandy Shores Park and Tennis Courts. 
The North Shore Open Space Park is a nature preserve in which native Floridian flora and fauna are protected amid shaded picnic tables with BBQ grills, a children's playground, two off-leash dog parks, and pavilions that you can rent for parties or other events, as well as direct beach access. If golf is your thing, the public Normandy Shores Golf Course is just next door.
The North Beach Boardwalk is one of North Beach's key features, and you'll find plenty of open spaces along the walk, with the beach to the east of you and plenty of open spaces to your west, including a kids' playground for children of mixed abilities, beach volleyball and beach tennis.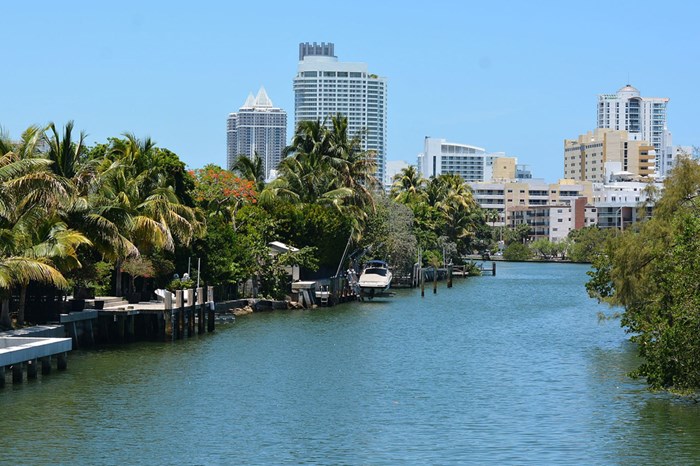 Arts and Culture: Sunny Isles vs North Beach (Miami Beach)
North Beach has an edge in this category. While Sunny Isles Beach presents a few cultural events annually, such as an Annual Jazz Fest and Concerts in the Park at Gateway Park, North Beach has considerably more cultural offerings, particularly with the popularity of the North Beach Bandshell as a venue for year-round open-air concerts that attracts some international talent.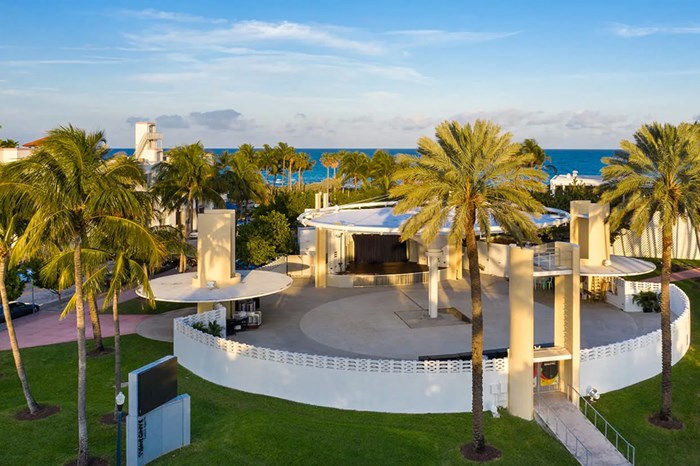 North Beach Bandshell - Photo courtesy of Miami and Beaches

North Beach is also closer to South Beach with its diverse cultural offerings and venues such as The Fillmore Miami Beach Theater, the Bass Museum, and the yearly Art Basel fair at the Miami Beach Convention Center, which draws millions of visitors, along with the world's most renowned art, to Miami Beach. 

Eating and Shopping: Sunny Isles vs North Beach (Miami Beach)
This is a toss up between the two neighborhoods and really comes down to your preferences. The good news is both neighborhoods have a ton of options. Among the great eateries in Sunny Isles, you'll find delicious Middle Eastern food at Chayhana Oasis, Argentinian steaks at La Barra, traditional Cuban food at El Tropico, and an assortment of quick, healthy options at Sproutz, and Miami Juice. For a delightful gourmet shopping experience, visit the Epicure Restaurant and Gourmet Market, a long-standing favorite among locals. And don't miss the Japanese fusion at the newly-opened Ke-Uh located inside the Acqualina Resort, and the Beach Bar at Newport Pier, where you can enjoy a refreshing afternoon cocktail or a relaxing nightcap.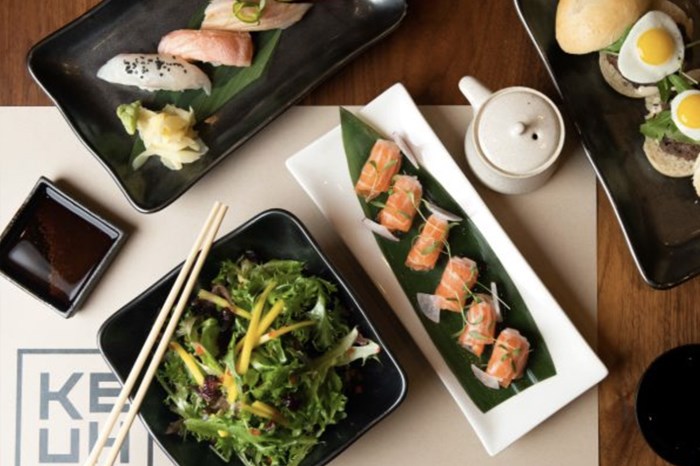 Surrounded by shopping options in nearby Bal Harbour, North Miami Beach, and Aventura, Sunny Isles has its share of shopping opportunities. In fact, many locals from North Beach drive to Sunny Isles to shop at the RK Village Plaza for more down-to-earth retail options than those at neighboring luxury branded Bal Harbour Shops.
Eating in North Beach is perhaps one of Miami's best-kept secrets. With easy street parking and a slew of affordable restaurants spanning the cuisine of the Americas, dining out in North Beach can provide a refreshing break from the higher-priced eateries of South Beach. A neighborhood of immigrants, North Beach provides opportunities for you to enjoy affordable, authentic Cuban, Argentinean, Brazilian, Colombian, Venezuelan, and even Indian food, alongside Kosher delis, Latin bakeries, and healthy vegetarian options.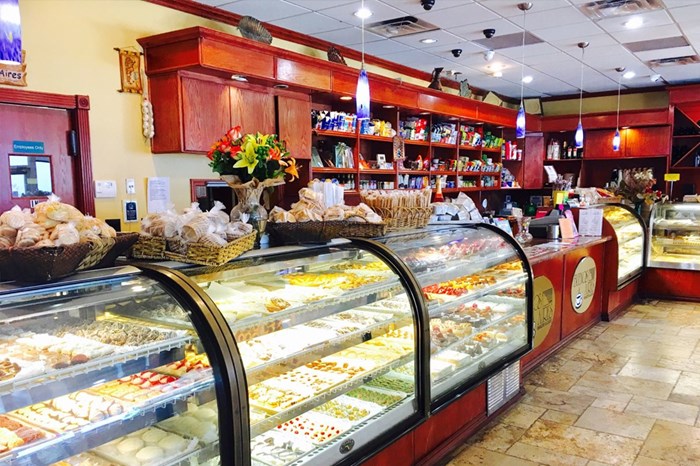 Try a breakfast pastry and omelet at Buenos Aires Bakery & Café, a burger for lunch at Burgers and Shakes, and a Caribbean seafood dinner at Sazón Cuban Cuisine or Fifi's on the Beach. Or try the Mediterranean offerings at George's, where you can get gluten-free pasta options, or the exquisitely exotic explosion of flavors at Taste Buds of India in Normandy Isle.
Shopping in North Beach, on the other hand, is quirky at best, with trendy shops and discount boutiques opening and closing regularly along Collins Avenue. While you can typically walk to Publix, Walgreens, CVS, and other necessary retail spots to keep yourself stocked up on essentials, you'll need to venture north to Bal Harbour or south to Lincoln Road to find more interesting shopping options.

Schools: Sunny Isles vs North Beach (Miami Beach)
Sunny Isles and North Beach residents both attend the highly-ranked public schools of Miami Beach. Elementary school students in Sunny Isles attend Bay Harbor Elementary School, while North Beach residents attend Biscayne Elementary. All public school students in both Sunny Isles and North Beach are zoned to attend Nautilus Middle School and Miami Beach Sr. High School in Miami Beach. Students in Sunny Isles wishing to attend private parochial schools may attend schools in nearby Aventura, North Miami, or Miami Beach.
North Beach, by contrast, is home to several private and parochial schools, including Lehrman Community Day School, Temple Menorah Jewish Montessori, and Mesivta Yeshiva Elementary School. Other private parochial schools in the area include St. Patrick's Catholic School in Mid-Beach, and the Hebrew Academy in South Beach. 

Architecture and Housing Options: Sunny Isles vs North Beach (Miami Beach)
Sunny Isles is a resort-style neighborhood that is seeing new developments and recent growth, even breaking property value and sales records recently. The area consists of several hotel-condominium communities where life is sprinkled with lavish resort amenities. Many of the newer condo towers offer state-of-the-art amenities, while older buildings with fewer amenities provide more affordable housing options with dazzling ocean views and direct beach access.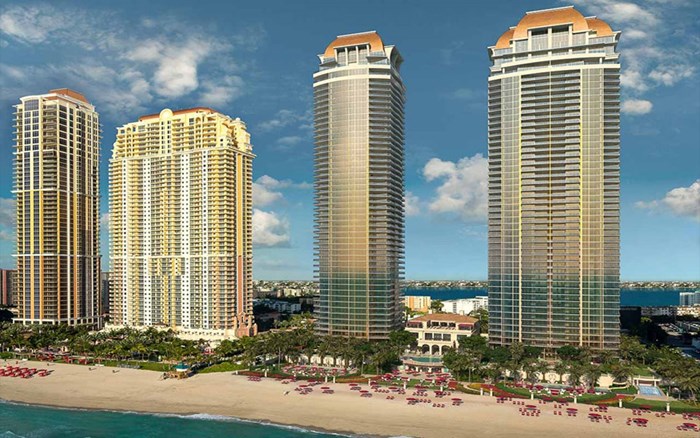 A stronghold of the popular MiMo-style architecture that expresses the hopeful optimism of the post-war period, North Beach is an older neighborhood of mid-century-modern apartment buildings, historic hotels, mid-rise condo towers, and newer oceanfront high-rises. While these newer high-rises line Collins Avenue, North Beach enclaves like Normandy Shores, Biscayne Point, La Gorce Island, and Park View Island feature an abundance of single-family, waterfront homes, private gated enclaves, as well as mid-rise residential condo towers. 

Cost of Living: Sunny Isles vs North Beach (Miami Beach)
Both Sunny Isles and North Beach are economically diverse communities that attract higher-end investors, the semi-retired, as well as coast-loving locals seeking affordable beach access. Particularly in North Beach, there are great variances in socioeconomic levels, with very affluent communities in isolated pockets such as La Gorce Island and less affluent communities in other areas.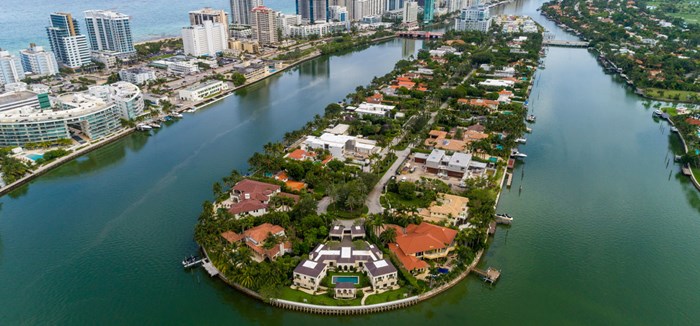 La Gorce Island

Residential listings in Sunny Isles Beach average around $1,277,888, or $514 per square foot, while higher-end listings have broken sales records, even as much as $172,500,000 or $22,959 per square foot. 
Listings in North Beach average about $822,309, or $586 per square foot, while higher-end listings can be as much as $39,900,000 or $5,022 per square foot. 

Which Neighborhood is Better? Sunny Isles Beach or North Beach?
Both of these beautiful beachside neighborhoods offer something for everyone. What will likely help you choose between Sunny Isles Beach and North Beach is more about the feel of the neighborhood you are looking for. 
North Beach is a bit older, has more garden style and low-rise condo buildings reminiscent of the "Old Miami Beach." It has many park spaces and an active community center with a decidedly neighborhood feel. 
Sunny Isles Beach is newer, more populated and boasts many luxury high-rise buildings. The shopping centers are also newer and offer a tad bit more convenience. To be certain, we suggest touring both neighborhoods and looking at some representative properties in both locations. If you want help to set up showings or want more information, just reach out. 
Check out some of our other Miami neighborhood comparisons: 
Since many of our clients are from out of town, we're here to help you discover your ideal neighborhood to call home in Miami. Let us walk you through our listings and share our local perspective with you.
Share your thoughts with us
Sign up now
Get news and updates delivered to your inbox