The Best Miami Golf Courses for City Living
Mar 10, 2020 March 10, 2020
From scenic public golf courses to invitation-only clubs, the Miami golf scene has something for everyone -- the tropical climate means that you can benefit from beautiful weather nearly all year round, and coupled with lush greenery that coats this tropical paradise, it's no wonder that the Miami is renowned for having some of the best and healthiest golf courses in the world. 
So for all you city lovers who long for the long putt, here's the CondoBlackBook.com list of the best Miami golf courses if you live in the city, whether you're looking to play a quick pitch-n-putt, hit the range or play a serious round of 18 holes. Each of these courses is within a "short chip" of a drive from Miami's main neighborhoods.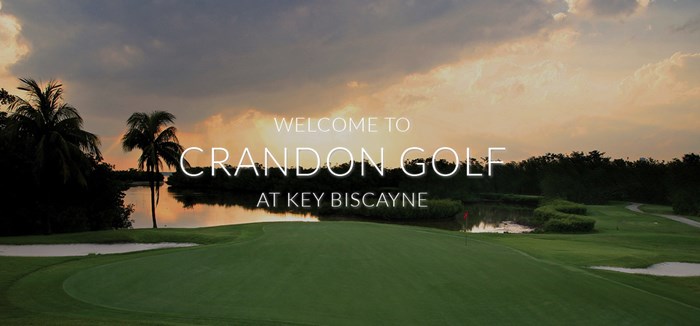 Often affectionately referred to as the most beautiful public course in the country, Crandon Golf Course is a sight for sore eyes. While the lush greens wrap shimmering Biscayne Bay with views that span the horizon, don't let its beauty fool you. Crandon is a technical course, and with exposed water on a lot of the holes, you can expect to lose a few balls. Being a public golf course is a bonus -- you don't need to dish out a lot in membership fees. But that being said, it's also an incredibly well-known course, so you'll probably find it to be reasonably busy. Also, in terms of value for money, Crandon comes out on top. Being that it is located on Key Biscayne, Crandon is only a 15-minute commute from Downtown Miami, and if you live in Key Biscayne, it is only minutes from your doorstep.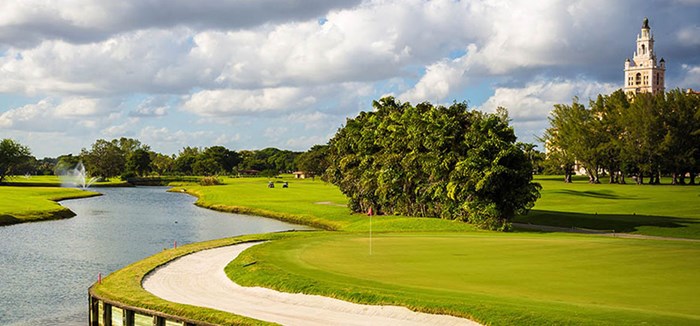 Photo courtesy of The Biltmore, Coral Gables

After an extensive renovation, the Donald Ross-designed course is better than ever. A reasonably technical course, the Biltmore Golf Course features deep bunkers and not-so forgiving fairways, and is the perfect spot for those looking to hone their skills and have a challenge. Located in beautiful Coral Gables and part of the historic Biltmore Hotel built in 1925, the Biltmore golf course has seen legends like Dwight Eisenhowe, Babe Ruth and Al Capone stay and play here. So it's no wonder it's still a legend course in Miami and a regular spot for locals. And with reasonable prices for members, it provides good value for money.


Miami Beach Golf Club,
South Beach

The Miami Beach Golf Club is world-renowned and a great option for visitors and locals alike,  the public golf course is located in the heart of Miami Beach, and after a hefty refurbishment in 2002 the course is a good knock for beginners and pros, the course also benefits from lake and sea views. Masterfully designed by Arthur Hills, most of the holes were created in such a way that the course would satisfy long hitters and sharpshooters. Miami Beach Golf Club is easily accessible from its location in South Beach, via car and public transport making it easy to reach even if you aren't local. It also has neighborhoods such as South of Fifth and Sunset Harbour in close proximity, making it a great regular spot if you are from the area.


La Gorce Country Club,
Miami Beach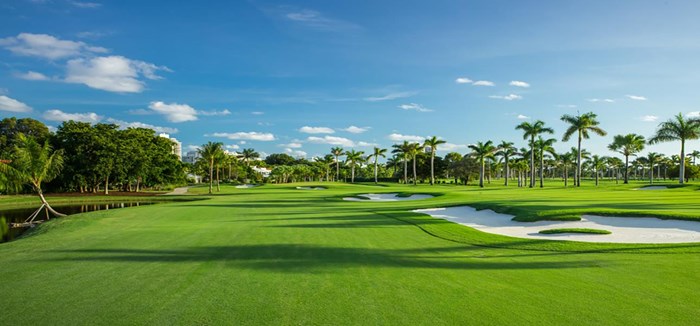 Probably the most prestigious course on the list, La Gorce Country Club is an invitation-only club. The country club features a vast array of amenities and an incredibly well-kept course nestled on La Gorce Island. All 18 holes are pristine with perfect fairways drifting over the horizon and merging with the Miami skyline - truly a sight to behold! Positioned in the center of Miami Beach and in close proximity to the Bay, La Gorce benefits from prime real estate. Its location makes it the perfect spot for Mid-Beach residents, and its prestige lures members from far and wide.


Miami Shores Country Club,
North Miami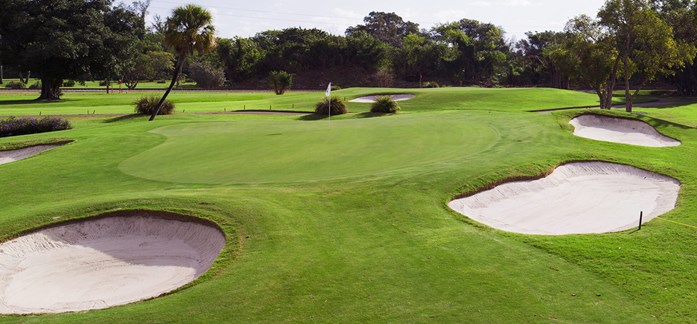 Located off of Biscayne Boulevard in North Miami, the Miami Shores Country Club is a classic in the area. Opened in 1939, almost 80 years ago, you can expect to find locals on the green who have been hitting there their whole lives. The 18-hole course is a par-71, but the club also offers tennis and a full-service restaurant and lounge. Located less than 15 minutes from downtown Miami, Miami Beach, and the Miami International Airport, it's a Miami favorite for its history, affordability, and easy access.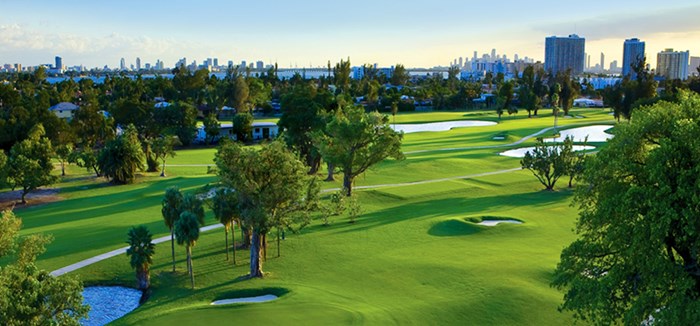 Located in North Miami Beach on Normandy Isle, Normandy Shores Golf Club opened for play in 1941. Normandy has been frequented by legends both past and present, with the likes of Arnold Palmer and Peter Thompson both making regular appearances. Known for some narrow holes, water hazards and challenging shot choices, but easy location off of the 79th Street Causeway, it's a great choice for those living on the beach or mainland Miami, alike. Plus, the club recently completed a $9 million facelift, making it an ideal shot for a knock.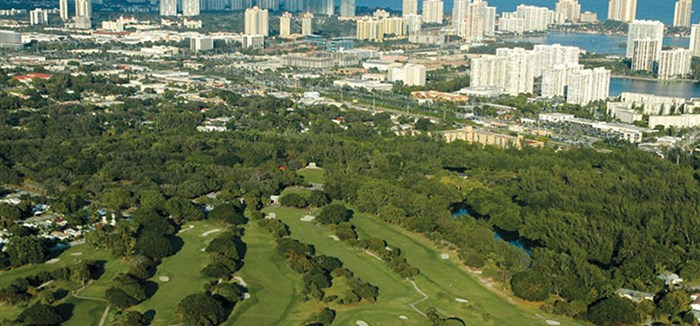 The Greynolds 9-hole course is reasonably challenging, with par sitting at 36 and with the course spanning over 3,100 feet, this can prove difficult for beginners. The real "birdie" of this course, however, is it's course fee. At only $13 a pop, Greynolds has some of the best value for money golf out there, especially when you don't have time to play a full 18. Its location in North Miami Beach also makes it a great option for Aventura and Hollywood residents alike.


Soffer and Miller Golf Courses at Turnberry Isle Country Club,
Aventura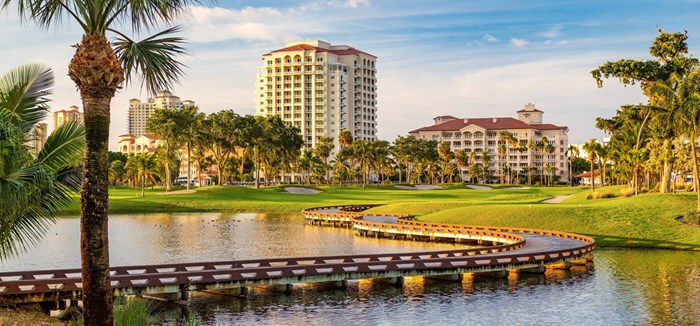 Photo courtesy of Soffer and Miller Golf Courses at Turnberry Isle Country Club, Aventura

Turnberry Isle Country Club is a golfer's oasis that's literally less than a mile from the beach. Between the Soffer and Miller courses, players have 36 holes (par 72 and 70, respectively) to work on their handicap, while there's also tennis, a waterpark and a spa. Soffer is known as the longer and more challenging course, at more than 7,000 yards from the back tees. But what most players note is the pristine fairways, lush vegetation and overall quality of play. 
And because Turnberry is so conveniently located, surrounded by many Aventura luxury condo buildings, nearby Sunny Isles, and the shopping at Aventura Mall, Turnberry Golf Course is one one of the most coveted of Miami residents.


---

Have another sport you'd like CondoBlackBook to feature? Interested in a Condo within a golf course community or with a course nearby? Reach out and let us know! Chat, write or call us anytime.


Cover photo courtesy of Soffer and Miller Golf Courses at Turnberry Isle Country Club, Aventura
Share your thoughts with us
Sign up now
Get news and updates delivered to your inbox