The Best Miami Neighborhoods: Edgewater vs Coconut Grove
Jun 29, 2021 June 29, 2021
If you're in the market for a new home in Miami you have many choices, with several great neighborhoods to choose from. Two of Miami's most desirable neighborhoods are Edgewater and Coconut Grove. While the two share some similarities, there are big differences between them. These differences can help you decide which of the two might be just right for you.
As part of our Miami neighborhood comparisons, in this blog, we are going to give you a local's tour of Edgewater and Coconut Grove in six key areas our clients tell us are important when considering moving. Let's take a look.

Lifestyle: Edgewater vs Coconut Grove
Edgewater is an area that has recently had a total makeover and renaissance. Once a sleepy and depressed area, over the last 15 years, it has been transformed into an upscale residential neighborhood on the shores of Biscayne Bay. With the renovation of the 8-acre Margaret Pace Park, Edgewater grew into its present identity as a beautiful waterfront enclave with plenty of shady greenspace, ideal for young families, and totally pet-friendly.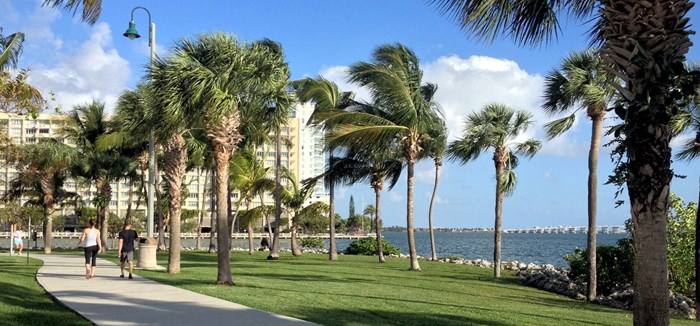 Margaret Pace Park in Edgewater. Photo by 

Ryan Healy

In terms of location, Edgewater occupies the area east of Biscayne Boulevard, a few blocks from the Downtown Miami Arts District, the Wynwood Arts District, and the trendy Design District. You also have easy access to Brickell, South Beach, and other areas. Centrally located and unbothered by tourism, Edgewater is the perfect spot for those seeking a laid-back urban lifestyle with access to the great outdoors and excellent proximity to all that Miami has to offer.
Coconut Grove was established in 1825 and is one of Miami's oldest neighborhoods. Its rich history and distinct Caribbean flavor have made it a favorite among artists, intellectuals, bohemians, families, and nature lovers. Its access to Biscayne Bay makes it especially appealing to sailing enthusiasts, and many sailing clubs and boating activities take place there. Coconut Grove is much larger than Edgewater and further from the center of the city, being located south of Brickell and east of U.S. 1.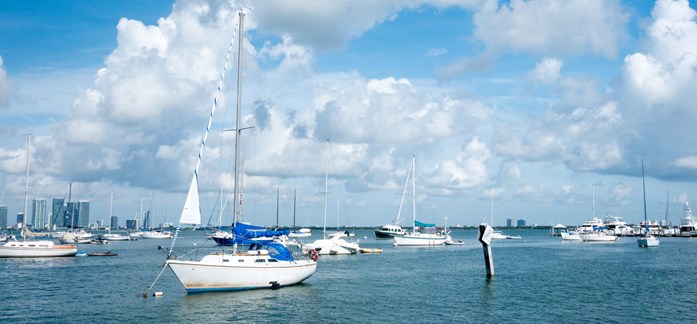 Coconut Grove Marina - FL

Its tree-lined streets are shaded by a lush canopy of stately grand poincianas, banyans, and other tropical trees. Among its iconoclastic inhabitants, you'll find an array of exotic bird species, including peacocks that roam the streets freely, and wild colonies of parrots and macaws that have escaped from the pet trade and made their home in the canopy. 

Business: Edgewater vs Coconut Grove 
Neither of these two areas are corporate hubs, as both are primarily residential neighborhoods.  
Despite its central location, Edgewater is smaller and quieter than the Grove, with fewer commercial offerings, though its proximity to Downtown Miami and other business centers makes it a great place to live if you work in the corporate world but want to escape to a quiet residential area at the end of the day that's still close to everything. You won't ever have to worry about a long commute living in Edgewater.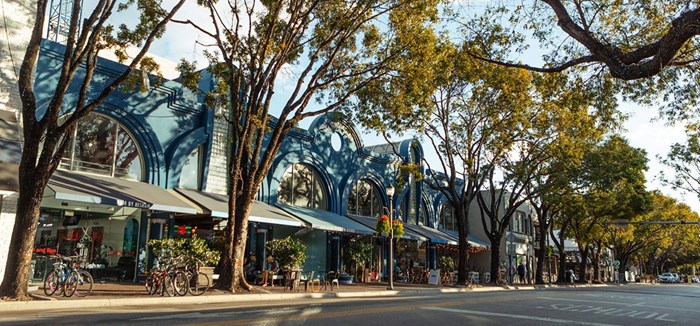 Coconut Grove is also primarily residential, but it does have a commercial district dotted with small private businesses and office spaces, retail shops and boutiques, and lots of restaurants. The streets are small in the heart of the Grove, giving it a European vibe. Coconut Grove's proximity to the University of Miami makes it an especially desirable location for both students and faculty, with a laid-back college-town flavor and many awesome inexpensive shops and eateries.

Walkability and Transportation: Edgewater vs Coconut Grove 
Edgewater is a great location for those who want to forego driving since it's easy to walk or ride a bike from Edgewater to many of Miami's most desirable areas. The Downtown Arts District, including the Perez Art Museum, Frost Museum of Science, and Adrienne Arsht Performing Arts Center are within walking distance, as is Bayfront Park and FXT Arena (formerly American Airlines Arena).


Miami MetroMover

The Wynwood Arts District and Design District are also easily accessible on foot or bike, while Brickell and Downtown Miami are just a hop on the Metrorail. Edgewater's proximity to MiamiCentral Station in Downtown Miami also lets you take advantage of the Metrorail and Brightline trains to easily connect to other Miami neighborhoods. The soon-to-be-completed Tri-Rail train service will provide access to locations both within the greater metropolitan Miami area and beyond. Several buses, as well as a Trolley, also serve the Biscayne Corridor with stops that serve residents of Edgewater.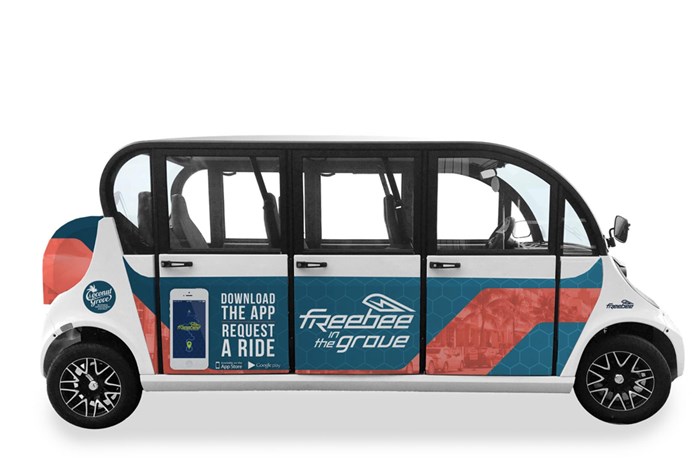 While Miami was largely developed as a city built for "car culture," Coconut Grove has always been one of the most walkable neighborhoods in Greater Miami. Bicycles are also a popular transportation option, and there's easy access to many great outdoor shops and restaurants you can access by walking or riding your bike. The free Coconut Grove Trolley is also available for getting around easily within the neighborhood. The Grove is less centrally located than Edgewater, so transportation to other areas of town may be less abundant, although you can get to and from the Grove using the Metrorail and free Metromover. The Coconut Grove Airport Shuttle can get you to Miami Airport for a nominal cost and there are buses that serve the Coconut Grove area and connect to greater Miami.



Parks and Greenspace: Edgewater vs Coconut Grove
The Edgewater community centers around Margaret Pace Park, a fabulously maintained greenspace with a walking path, mangrove forests, and direct access to the Bay. It's a great location for water sports such as kayaking or paddleboarding, as well as rollerblading or just walking your dog, which you'll make many friends doing. The park also has two dog parks, one for big dogs and one for small ones.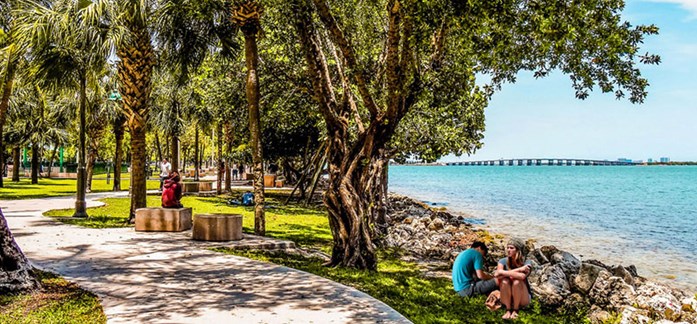 Margaret Pace Park in Edgewater

Coconut Grove is characterized by its lush tropical foliage and great parks such as Kennedy Park and Peacock Park, where residents can enjoy sports such as volleyball or kickball, and there are leash-free areas for dogs, as well as big and little pooch parks. Biscayne Bay access means you can go sailing, boating, kayaking, or paddle boarding pretty much any time you want. 

Arts and Culture: Edgewater vs Coconut Grove
Although Edgewater itself is a quiet neighborhood, the neighboring Downtown Arts District provides instant access to some of the city's most valued cultural venues, including the Adrienne Arsht Center, Ziff Opera House, FTX Arena (formerly AmericanAirlines Arena), Bayfront Park, and the beautiful Perez Art and Frost Science museums, as well as an array of smaller art galleries and artists' studios.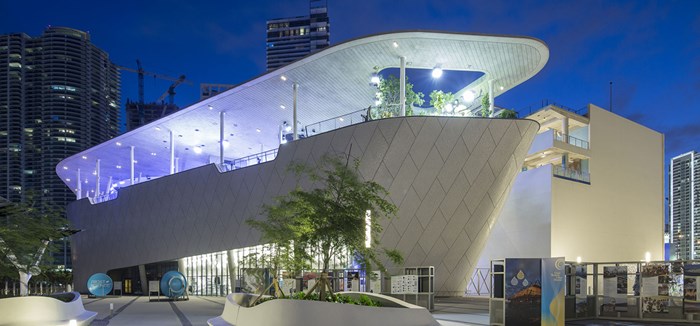 Phillip and Patricia Frost Museum of Science

Edgewater is also the perfect place to be during the famed Miami Art Week and Art Basel. It's walking distance from the Wynwood Art District as well as the Miami Design District and some of the area's most prestigious exhibition spaces, including the Moore Building, the de la Cruz Collection, and the Institute of Contemporary Art (ICA).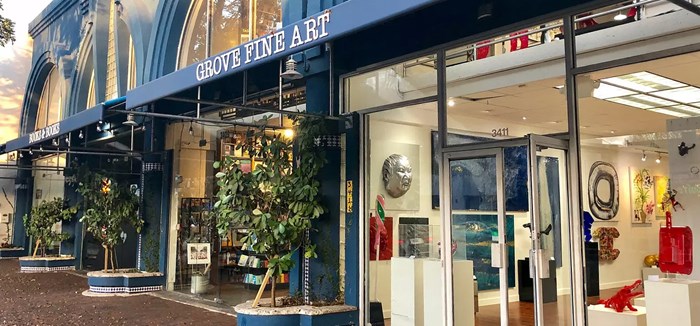 If spending an afternoon strolling local art fairs is more your speed, Coconut Grove is a good fit. The neighborhood is more geared toward neighborhood art fairs and laid-back cultural festivals such as the King Mango Strut, Goombay Festival, Coconut Grove Arts Festival or the Great Taste of the Grove Food & Wine Festival. There are also a few neighborhood art galleries and artists' studios and unique historic locations where culture, history, and nature converge, such as Vizcaya Museum and Gardens, and Barnacle Historic State Park.  

Eating and Shopping: Edgewater vs Coconut Grove
Edgewater has a growing number of its own praise-worthy restaurants, including the waterfront Amara at Paraiso, and more are coming as the neighborhood continues to grow and be developed. It's also close to some of the most popular spots in Downtown as well as Wynwood, including Kush, where you can grab a great burger and inexpensive lunch, and upscale Asian fusion at Kyu, or Uchi, where Japanese cuisine takes on surprising new forms. Edgewater has very little retail to speak of, but its proximity to Wynwood and the Design District mean plenty of shopping options.



Amara at Paraiso in Edgewater

Coconut Grove, by comparison, is known for its diverse outdoor cafés, sports bars, casual eateries, and chic hotel restaurants, as well as unique shops and boutiques. The recently renovated CocoWalk is an outdoor mall with food and entertainment options, retail outlets, and movie theaters. The Grove's eclectic eateries cover the gamut from vegan to sizzling steaks and an array of fresh seafood options, as well as street food vendors, and international food from around the world. Upscale favorites include Lulu or Ariete, as well as the authentically Indian fare at Bombay Darbar. A variety of Mediterranean flavors season your palate at Sapore Di Mare, Farinelli 1937, and the Peacock Garden Café. Try Spanish seafood at La Gamba, or Peruvian fusion at Jaguar Ceviche Spoon Bar, or enjoy authentic traditional French cuisine at Le Bouchon Du Grove.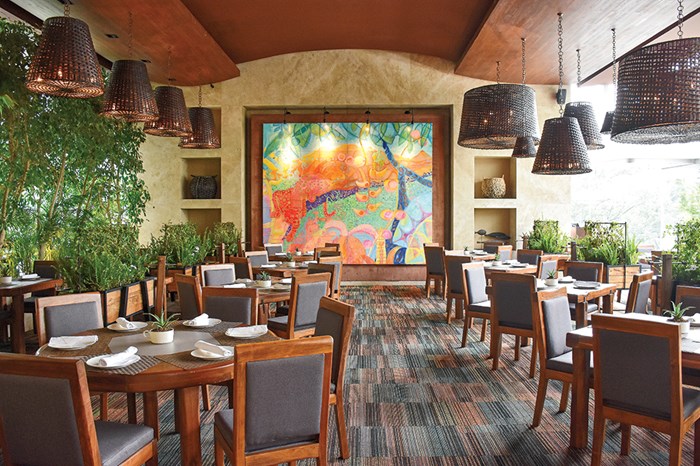 Jaguar Ceviche Spoon Bar. Photo courtesy of El Conocedor

Schools: Edgewater vs Coconut Grove
Both Edgewater and Coconut Grove are great places for families with children. Edgewater's central location makes it accessible to private schools such as St. Francis Xavier, Center of Life Academy, Metropolitan International, Jacobs Athletic Science, the Cushman School, ILEARN Preparatory, and the Interamerican Learning Center. The neighborhood is also served by public schools Eneida M. Hartner Elementary School and Jose De Diego Middle School, as well as the prestigious Young Men's Preparatory. High schools in the area include the highly-ranked, specialized Design and Architecture Senior High (DASH) and New World School of the Arts (NWSA), while neighborhood charter schools include Aspira and Bridge Prep Academy.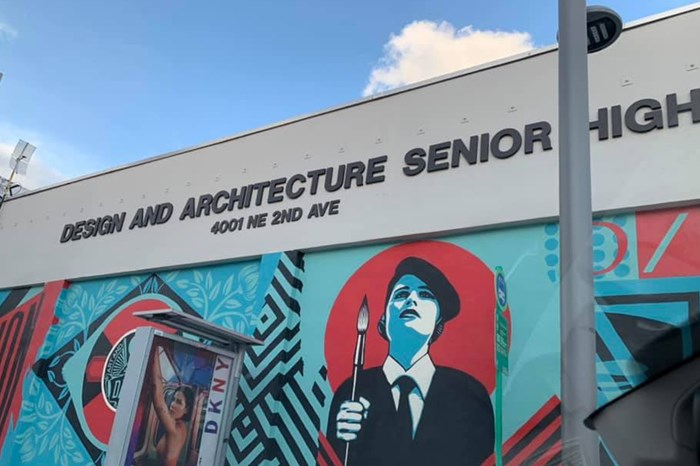 Design and Architecture Senior High (DASH)

In Coconut Grove you'll be close to some of Miami's most established and reputable public and private schools, including the nationally renowned Ransom Everglades and Carrollton School of the Sacred Heart, each with sprawling campuses and top-tier private education. Other neighborhood private schools include Saint Hugh, Saint Stephen's, Coconut Grove Montessori, the Vanguard School, and LaSalle High School.  The Grove is served by public schools such as Coconut Grove Elementary, Frances S. Tucker Elementary, and George W. Carver Elementary and Middle Schools.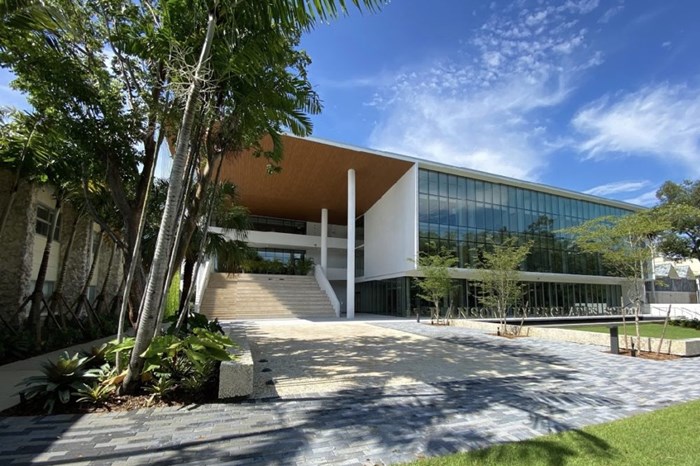 Ransom Everglades School - STEM Center. Photo courtesy of L'Union Suite

Architecture, Condos, and Homes: Edgewater vs Coconut Grove 
Prior to its makeover in the last decade, Edgewater was a neglected and run-down neighborhood of mid-20th-century bungalows, many of which were in disrepair. In recent years some of these older bungalows have been remodeled, and taller condominium towers have been erected among the existing older low-rise condo buildings. These new developments are making Edgewater highly desirable, each offering splendid amenities and gorgeous bay views.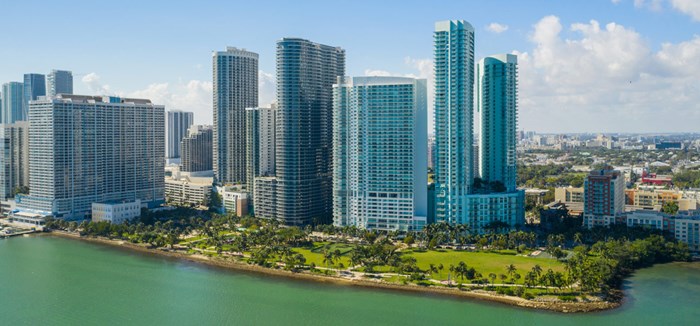 Edgewater high rise condos in front pf Margaret Pace Park

Coconut Grove is a beautiful blend of old and new, with a diverse variety of housing options, including new high-rise condos, older boutique condos, single-family bungalows and modern homes, and sprawling mansions. The area also contains historic structures and enclaves of villas.

Cost of Living: Edgewater vs Coconut Grove
Edgewater is a family-friendly area, with condo prices averaging around $421 per square foot and average residential units listing at around $730,040. Higher-end listings average about $10,800,000, or about $6,609 per square foot.
Coconut Grove is somewhat more affluent, with an emphasis on higher-priced properties. Average residential listings range around $1,278,068 or about $569 per square foot, while higher-priced listings can run as high as $20,000,000 or $1,987 per square foot.



Should I Move to Edgewater or Coconut Grove?
These two neighborhoods are distinctly different and their locations determine what you can expect from each. While Edgewater is a quiet out-of-the-way enclave surrounded by busy urban centers such as Downtown and Wynwood, Coconut Grove has more of a Caribbean village flavor and is further from the center of the city. Both neighborhoods provide plenty of access to nature, however, Coconut Grove is more about tree-lined residential streets, while Edgewater relies on Margaret Pace Park to provide a more urban outdoor experience. 

More Miami Neighborhoods
If you're interested in more of our neighborhood comparisons, check out these below: 
To get to know Miami a bit better, we invite you to sit down with us and we can share all the ins-and-outs of Miami's diverse neighborhoods so you can learn which areas might be most suitable for you. Text, call, or email us anytime.


Share your thoughts with us
Sign up now
Get news and updates delivered to your inbox