The Big Differences in Cost of Living Between Miami and New York
Aug 13, 2018 August 13, 2018
New York is one of the most expensive cities in the country, if not the world. If you're looking to relocate to Miami, you'll find a significant cost savings, and likely a raise in your standard of living even with an income cut. To take a comprehensive look at the costs of living in both cities, we quoted directly from a number of sources, each with their own takes on the cost differential.
Of course, cost of living is ultimately impacted by one's income, and incomes are known to be higher in New York than in Miami. In many situations, when one is relocating they will already know the adjustment they're taking to their salary, or not (perhaps you're a retiree or investor and your salary will hardly budge, or you're being transferred by your company), so for now, we chose to just look at the various costs of living between the two cities.
Housing
In Miami, the costs of rent and homeownership can vary significantly, depending on whether you want to live in a popular, expensive neighborhood like South Beach or Brickell, or one farther out in the suburbs, like Kendall or Doral. And even then, cost fluctuates based on the kind of home you're looking for.
According to RentCafe "The average rent for an apartment in Miami is $1,641, a 2% increase compared to the previous year, when the average rent was $1,612. Studio apartments in Miami rent for $1,200 a month, while 1-bedroom apartments ask on average $1,428 a month; the average rent for a 2-bedroom apartment is $1,784."
Interestingly, Investopedia had significantly higher numbers only a few years ago. And yet, a big silver lining, it also pointed out the surprising affordability of renting in Miami.
"As of May 2015, the average apartment in Miami rents for $2,660 per month. The average one-bedroom apartment rents for $2,025 per month. These averages may sound scary to a new resident, but remember, they include the exorbitant rents found in the city's wealthiest and most exclusive neighborhoods. An Internet search for Miami rentals under $1,000 per month yields pages of results, so options exist for renters on tight budgets."
And you've probably heard a lot about those million dollar Miami condos. However, it's still pretty easy to get a very nice place in Miami, in a great neighborhood, in the $300,000 or even $200,000 range.
According to Payscale.com:
"The Cost of Living in Miami, Florida is relatively affordable; overall, the cost of living in Miami is only 15 percent above the national average. As expected, the cost of housing will be your highest living expense in Miami. More reasonable costs of groceries, transportation, health care and utilities help level out the cost of living in this Florida city. When it comes to cost of living, Florida is much more reasonable than the cost of living in California, making this sunny peninsula the perfect alternative to the West Coast."
Meanwhile, New York is one of the most expensive cities in the country, if not the world to live.
According to a StreetEasy article on the cost of living in New York:
"In the immortal words of Jimmy McMillan, the rent is too damn high. Renting in New York City is insanely expensive, and recent data indicates little relief ahead. In 2017, the median annual asking rent in Manhattan clocked in at $3,150; in Brooklyn, it was $2,500. Over in Queens, renters can find some relief, but not much: The 2017 median annual asking rent was $2,175 per month. Although the cost of rent depends greatly on where you live, New Yorkers across the board bear a heavy burden in rent."
"According to a StreetEasy study from last year, "On average, asking rents in New York City increased by 33 percent from December 2009 through June 2017, an annual pace of 3.9 percent per year." The pace of rent growth far has outstripped the increase in prices for other goods, which "broadly forces renters in New York City to pay a greater share of their disposable income toward housing."
"The report also found that the pace of rent increases particularly impacts renters at the low end of the spectrum. Over the past five years, rents for the most affordable apartments in the city have grown at a faster rate than more expensive ones, with low-income earners bearing the brunt of the increases."
But what about buying? You'll have little relief there. More from StreetEasy:
"Much of what has been said about renting in New York City can also be said of buying. In 2017, the median asking price for homes in Manhattan easily surpassed seven figures, hitting $1,567,000. Asking prices in Brooklyn and Queens were more manageable, at $920,000 and $629,000, respectively."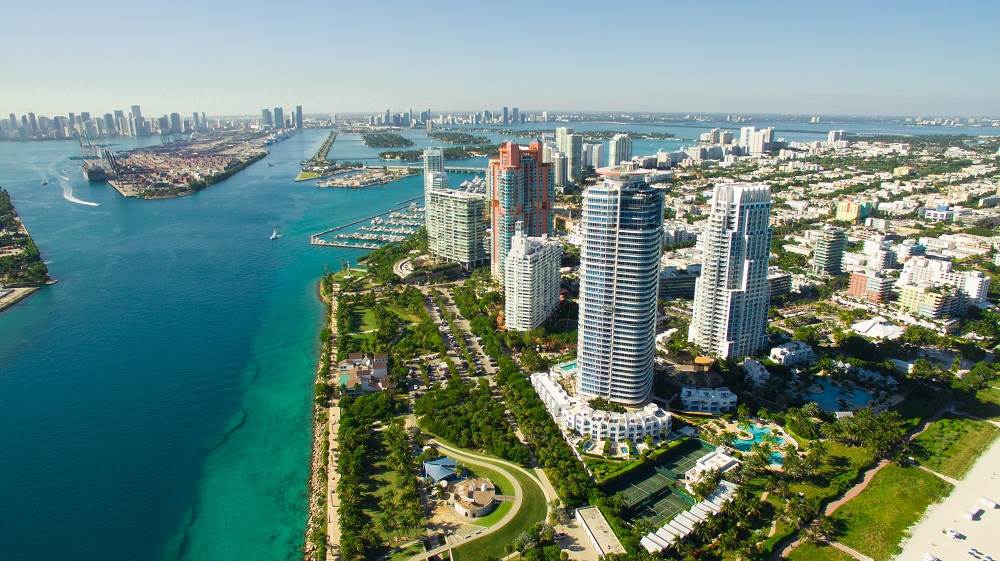 South of Fifth, South Beach
Food
According to Investopedia, food costs are slightly above average in Miami:
"Food costs in Miami are slightly higher than the national average. As of August 2015, a gallon of milk costs $3.46, a loaf of bread is $2.27, and a pound of chicken breasts costs $4.20. For residents who cook at home and avoid eating out, maintaining a healthy, fulfilling diet for $100 per week or less is realistic in Miami."
Meanwhile, according to StreetEasy, New York is one of the most expensive cities for food in the country:
"There's good news and bad news when it comes to the cost of food in New York City. Let's start with the bad news. According to the CNBC, a trip to the grocery store for the essentials like bread, milk and eggs will cost you double the national average. Going out to eat — no surprise — is equally expensive. According to Zagat, the average cost of a meal out in New York City is $48, which makes it the most expensive city for dining out in the country."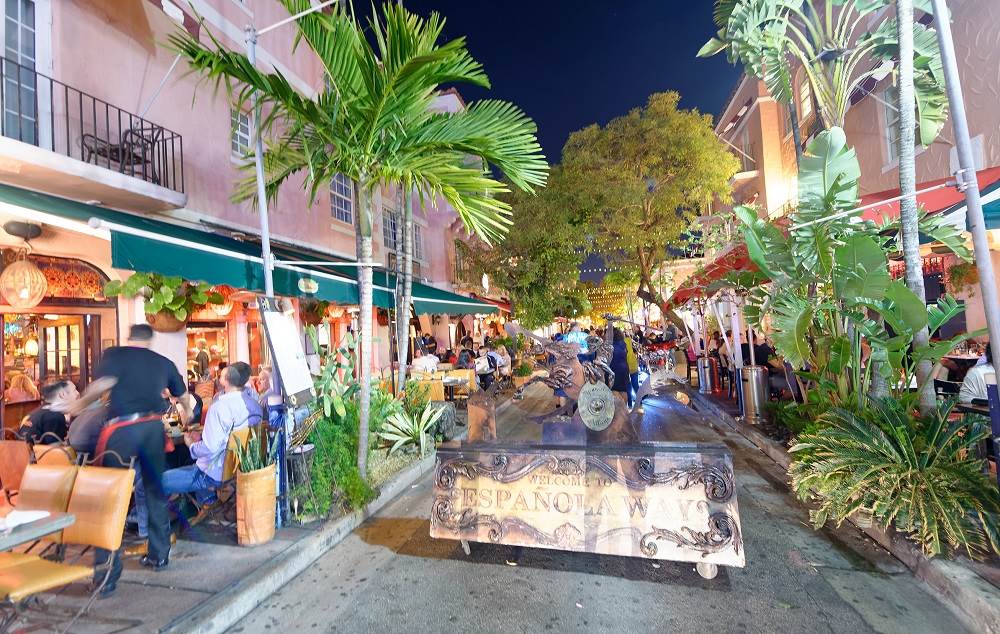 Española Way, South Beach
Transportation
In Miami, even though more and more people are forgoing car ownership, it's still extremely common to own a car, and many would say necessary.
In New York, most people don't own cars and a monthly subway pass is $122. Even though other transportation methods like Uber are more expensive, they're often not necessary. Add on a couple hundred bucks a month for taxis, and uber, and you're still spending significantly less than you would owning a car in Miami.
If you do own a car in New York, be prepared to pay a lot. According to StreetEasy:
"If you do own a car in New York City, be aware that you will face higher insurance rates than in other cities, as well the high cost of parking. In New York City, annual auto insurance rates often exceed $4,000, far above than the national average and even that of the state, which was recorded at $1,173 last year. Moreover still, a parking spot is quite literally another form of real estate in New York City, and is just as expensive. If you want to park your car in a lot, the rate in New York City averages about $400 per month, but can be as high as $500 or $600 in central Manhattan. Think of it as basically renting your car its own bedroom. These costs are about twice as high as they are in L.A., which is by no means a cheap town."
And that's just for parking at home. In Miami, parking is usually, but not always, included with your home.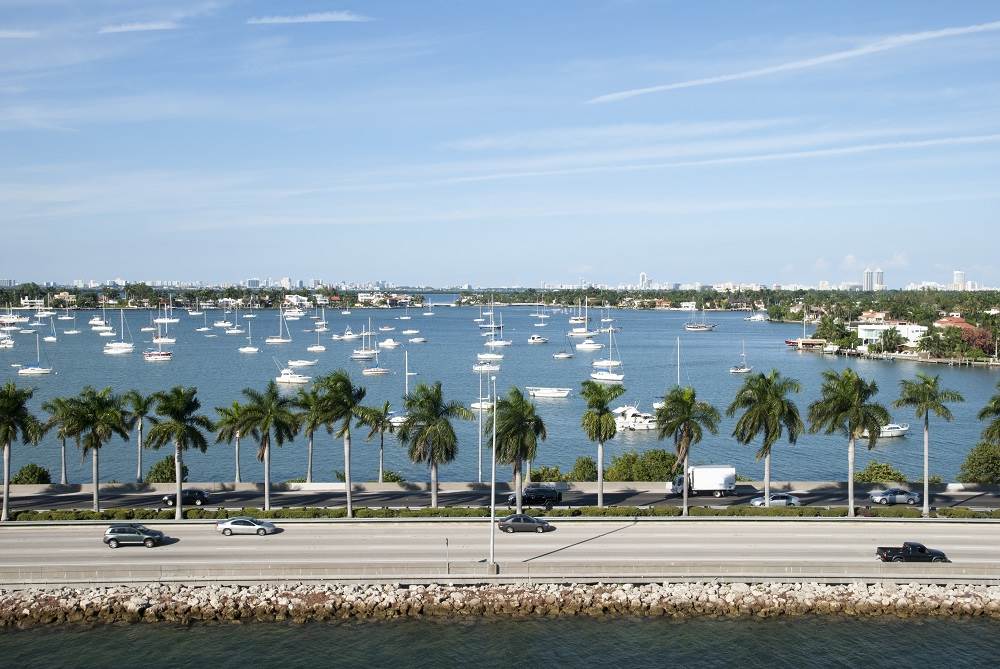 Miami road
Entertainment
In New York, entertainment can get extremely expensive, but so much entertainment is also free. Although that is true of Miami too and Miami is a fantastic cultural destination, it's honestly probably more true in New York, which has the greatest concentration of art and culture in the country.
However, for fun things that you do pay for, New York is more expensive. A ticket to a Broadway musical can run into the hundreds of dollars easily, whereas a ticket to the traveling production of the shame show is still expensive but probably half the price or less for the same seats.
According to NerdWallet, a 6-pack of Heineken costs ten dollars in Miami, twelve in Brooklyn, and fifteen in Manhattan. A game of bowling costs $7 in Miami, and $12-$13 in Brooklyn and Manhattan. Meanwhile a movie ticket costs $13 in Miami and Brooklyn, and $15 in Manhattan.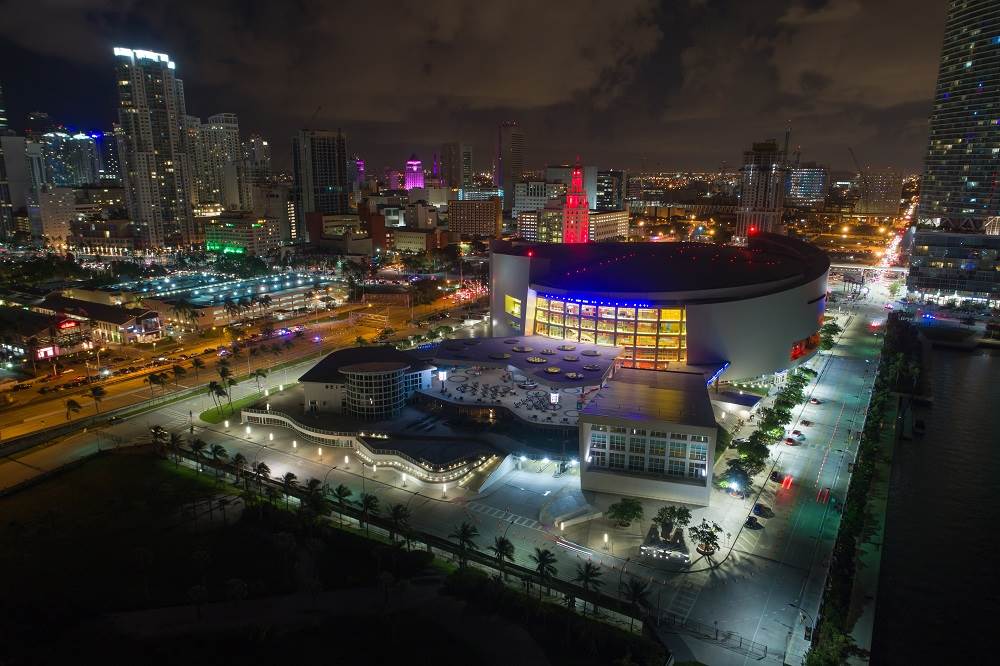 American Airlines Arena, Downtown Miami
Healthcare
According to NerdWallet, healthcare is fourteen percent more expensive in Manhattan and ten percent more expensive in Brooklyn than it is in Miami.
Utilities
According to Payscale.com, the cost of utilities is 22% lower in Miami than New York.
In Miami, utility bills vary by the season, and air conditioning is necessary through most of the year. Combining the heat with the humidity makes living without air conditioning unbearable in the summer. Heat is only really necessary a few days out of the year.
Investopedia estimates a utility bill on average of $150 a month but $200 in the summer for a 1,000 square foot apartment in Miami. It is not said whether they included internet in that. In New York, the same site estimates a utility bill of approximately $150 year round, with another $50 for internet.
Taxes
Check out our tax comparison of living in the two cities. The short answer is, New York's taxes are much, much higher across the board.
Share your thoughts with us
Sign up now
Get news and updates delivered to your inbox