The Condo Boom in Brickell Caused by Area's Attractions
Sep 08, 2014 September 08, 2014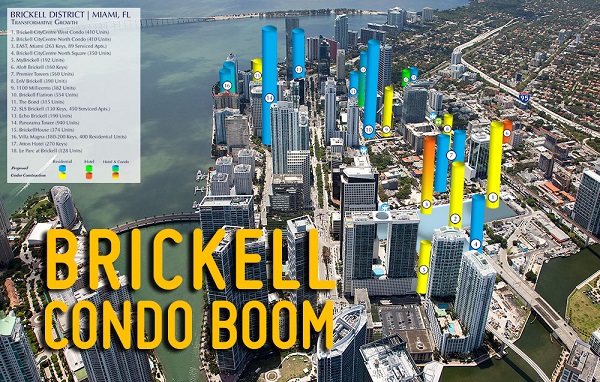 The properties on Brickell Avenue are becoming scarce, and condo developers are moving west. What is causing the boom in Brickell, and how far will developers go before they stop attracting condo buyers?
Peter Zalewski is a consultant with the real estate market, a licensed real estate broker, and a columnist for a real estate journal. Zalewski provided his in-depth answer to this question.
The Brickell Avenue area is the biggest and most active market in South Florida for new condo developments.
The number of new condos that are coming to Brickell is almost 30% of over 35,000 units in all of Miami-Dade, Broward, and Palm Beach counties.
Already, there have been 32 new condo towers, totaling over 10,000 units, announced for the Brickell area. This number is out of 61 towers with over 18,000 units in Greater Downtown Miami.
A few factors feed into the boom of Brickell, including new retail space, restaurants, and nightlife at places like Mary Brickell Village. The billion dollar project, Brickell City Centre, is also contributing to the area, which has many condo buyers excited for the Brickell area.
In 2009, condo re-sales in Brickell sold at an average of $225 per square-foot. During the same time this year, the average jumped 87% to $421 per square-foot.
Source: therealdeal.com
Photo credit: Brickell City Centre - brickellcitycentre.com
Share your thoughts with us
Sign up now
Get news and updates delivered to your inbox