The Miami Underline - Miami Public Transportation & Infrastructure Updates
Aug 24, 2021 August 24, 2021
Miami is undergoing a rapid expansion. Major tech companies, established investment and banking firms, start-ups, restaurant concepts, and more businesses are moving to Miami and the Tri-County area every day. The city's focus on improving its public transportation systems and infrastructure has never been greater.
With so many changes taking place and more in the pipeline, you can count on Condo Blackbook to be your insider resource for everything Miami – a one-stop portal where you can find all your updates on trains, planes, buses, golf carts, scooters, and every other transit system under the sun running in Miami.
Check these pages for the latest transportation updates and subscribe to receive other South Florida real estate, community, and lifestyle updates in your inbox.
Last updated August 21, 2021.


---
The Miami Underline
---

What is Miami's Underline System?
A 10-mile, phased project running underneath the Metrorail, planned to connect Brickell to the Dadeland South Metrorail station. This people-first urban trail is set to feature 120 acres of open spaces with restored natural habitats, improved pedestrian and bicycle pathways, recreational facilities, public art installations, and community programs. The public-private partnership is designed by James Corner Field Operations. The project is planned to be completed in 2025.

Start your day with a 🏃â€â™'ï¸💨 #RUN on 📍#BrickellBackyard. TAG US if you are, tell us your story. 👏 ✅✨ #UnderlinePhase1OPEN #TheUnderline #Miami
•••
💡#UnderlineCommunity STORYTIME: Lazlo is training for a running project with an incredible cause! ⬇ï¸
â  pic.twitter.com/Kq6zM9j9BD

— The Underline (@theunderlinemia) March 9, 2021
---
Miami Underline Updates 
---

August - Phase II is set to begin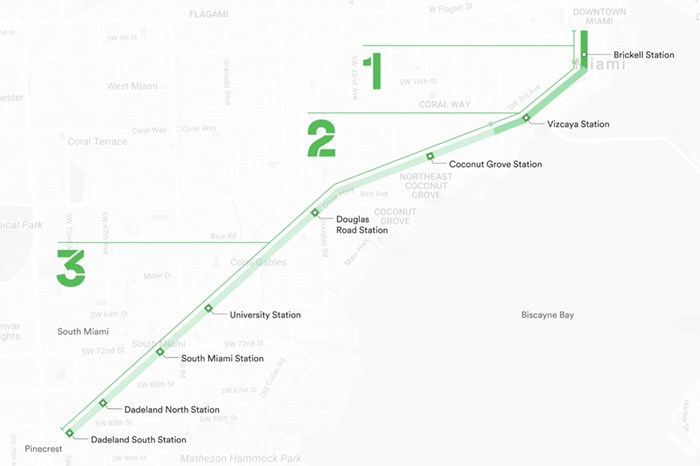 Phase II will extend from Coral Way to Southwest 19th Ave and will begin construction August 30.

February
First phase with 'Brickell Backyard' now open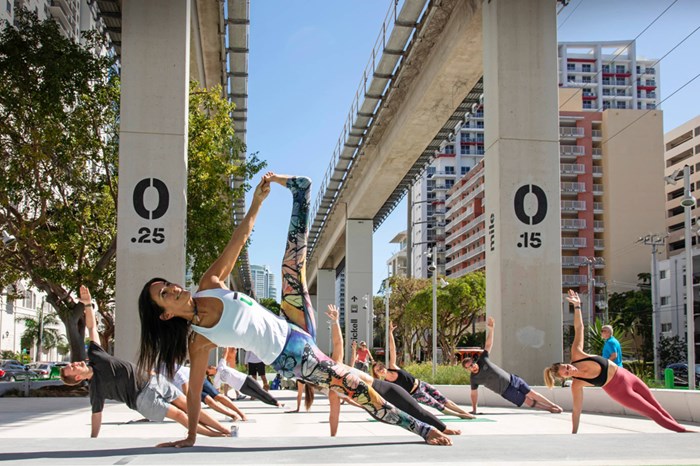 The Underline: Brickell Backyard - Photo credit: Robin Hill ©2021

Following 2.5 years of construction, the Underline's first phase is finally complete. Stretching half a mile, starting at the Miami River along SW 1 Avenue to SW 13 Street, here's what the 'Brickell Backyard' includes:
River Room

– Connects the Underline to the Riverwalk. Inclusive of an art gallery, dog park, and native landscaping.

Urban Gym

– Inclusive of a basketball half-court, soccer, and exercise areas. 

Promenade

– Features a movie screen, stage, 50-foot communal table, and tables for chess or checkers.

Station Grove

– Seating area at the entrance to the Brickell Metrorail station.

Oolite Room / Miami Limestone

– Deposited around 75,000 to 125,000 years ago during the Sangamon interglacial - includes four butterfly gardens, meditative spaces, and bedrock benches.

November
Brickell to Coconut Grove 'Second Phase' submitted for County review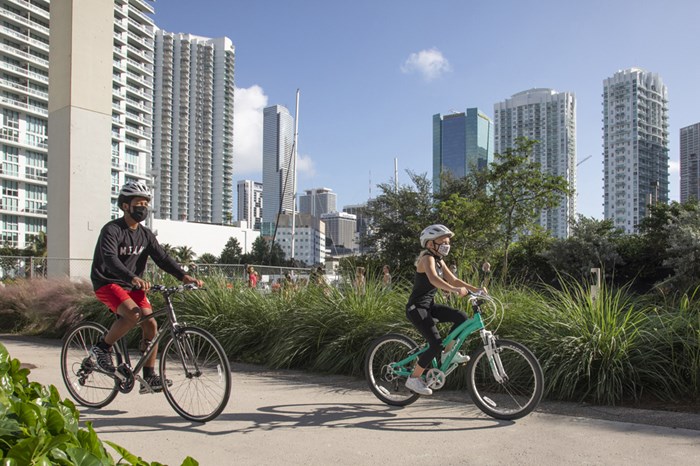 Separated biking and walking paths are great for a safe stroll, run or ride. Photo credit: Robin Hill ©2020

With the first phase nearing completion, plans for Underline's second phase connecting Brickell and Coconut Grove have been submitted for review to Miami-Dade County. The 2.1-mile project is planned to start at Southwest 13th Street in Brickell and end at Southwest 19th Avenue in Coconut Grove. It will also connect to Phase 1 and the Miami River Greenway, creating a safe loop for pedestrians and cyclists. Read here for more details.

October
50-foot dining table installed as construction nears completion in Phase 1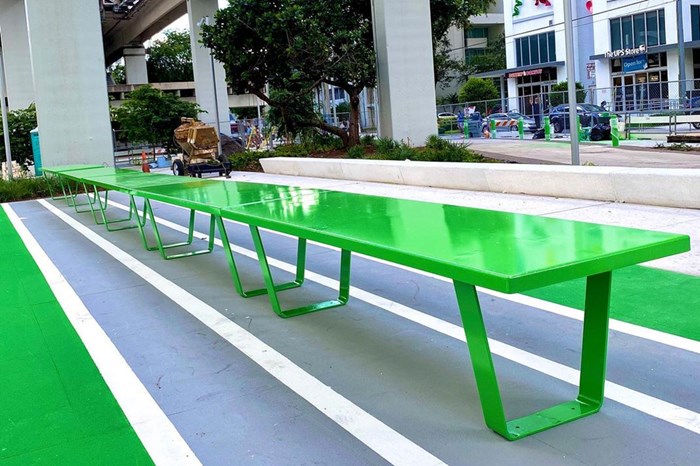 In front of the Mary Brickell Village Publix, phase 1 of the Underline now has a happy green, 50-foot, communal dining table in place for future visitors. Accommodating up to 56 people at a time, the dining area hopes to bring the community together as commuters board the Metrorail above. Further reading here.

Cover p

hoto credit: Robin Hill ©2021
Share your thoughts with us
Sign up now
Get news and updates delivered to your inbox