The Most Luxurious Condo Buildings in Downtown
Dec 09, 2019 December 09, 2019
In recent years, Downtown has quickly grown into one of the Miami's top neighborhoods, especially because of its central location to all that Miami has to offer. Developers are delivering world-class projects with unmatched luxuries in the core district. Today, a host of ultra-luxury buildings call Downtown home, and we've listed the 5 Most Expensive Condo Buildings in the neighborhood that set the bar for luxurious living. We've also included a few bonus pre-construction buildings that will soon give these a run for their money.


Why Choose Downtown?

Downtown is home to some of Miami's best art, culture, shopping, entertainment, and social hotspots. It not only ties for #1 on our 11 Most Walkable Neighborhoods in Miami report, but also is the best neighborhood in terms of offering public transportation options.
Living in Downtown, residents get easy access to the open-air Bayside Marketplace and Marina, lively AmericanAirlines Arena, iconic Perez Art Museum, Frost Museum of Science, HistoryMiami Museum, James L. Knight Center, expansive Bayfront Park, a Miami-Dade College Campus, plus a wide range of pocket-friendly to high-end restaurants. It's also right next door to the financial hub of Brickell plus the Arts and Entertainment District. Furthermore, the addition of the mega Miami Worldcenter with its 300K sq. ft. of retail, 500K sq. ft. of expo space, up to 500K sq. ft. of office space, will turn Downtown into an even more desirable place to call home.


The Best of the Best Condos in Downtown
 
Ten Museum Park – 1040 Biscayne Blvd, Downtown

Avg. list price $626 per sq ft



Sitting right opposite Museum Park, this dramatic, 50-story structure houses 200 luxury lofts in the feel of a boutique building. Units boast 10 or 20-foot ceilings with floor-to-ceiling windows. The exceptional list of amenities available for residents in this pet-friendly community include a 25,000 sq. ft. Clinique La Prairie-powered wellness center and pleasure garden, 10,000 sq. ft. restaurant and outdoor café, 3,000 sq. ft. Michael Capponi-inspired bar and lounge, along with a host of pavilions dedicated to aromatherapy, chromotherapy, massage, meditation, steam, and sauna. Several restaurants offer sumptuous fare right downstairs.


Avg. list price $633 per sq ft



This bayfront high-rise features 509 luxury condos in 63 stories designed by Revuelta Vega Leon and with interiors by Sam Robin, known for her understated elegance. Its hotel-style amenities include lap and resort-style pools, a 17th-floor observation deck, full-service spa, jacuzzi and sauna, 35-seat theater room, club room with billiards table, conference room and library, piano bar with kitchen, and a children's playroom.


Marquis – 1100 Biscayne Blvd, Downtown

Avg. list price $650 per sq ft



Built in 2009 and designed by celebrated firm Arquitectonica, this waterfront condo-hotel houses 292 exquisitely finished residential units across its 64 floors. Its hotel component is designed to be a European-style boutique establishment. Living at the Marquis, residents get access to the hotel services, an 8,000 sq. ft., two-story signature Rock Resorts spa and fitness center, sunrise-sunset pools, juice and snack bar, fine-dining restaurant, 14

th

floor open-air Sky Pool deck with Asian-inspired water gardens, whirlpools and towel service.


Epic Residences – 200 Biscayne Blvd Way, Downtown

Avg. list price $761 per sq ft



This waterfront condo tower rises 54 stories high and features 342 luxury residences ranging from 800-3,800 square feet not including sweeping balconies. Residents get exclusive access to "Epic-Link" that provides direct communication to the next-door hotel's amenities and services. Other amenities include signing privileges in the signature restaurant, bar lounge, pool, and spa, in-residence spa and salon treatments, children's playroom, private boat slips, pet services, in-residence botanical services, and many other attentive services by the trained staff of Epic hotel.


And the Winner of the Best Condo in Downtown in Terms of Luxury Goes To…
 
Avg. list price $2,638 per sq ft



Zaha Hadid's ultimate vision and her first (and sadly last) residential venture in the western hemisphere, this iconic scorpion-like structure houses 83 units within its 62 floors. Promising a six-star lifestyle, amenities here include custom scenting in common areas, a rooftop helipad with private lounge for residents, multimedia theater, triple-height Sky Lounge for private affairs, double-height aquatic center with indoor pool, two-level spa and wellness center featuring access to indoor-outdoor activity areas, the Sun & Swim terrace with towel service, plunge pools and a relaxation lounge, plus three parking spaces per unit.


Premium Pre-Construction Condos to Watch Out for in Downtown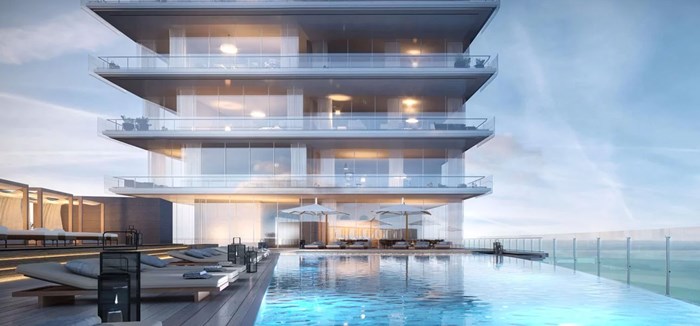 Powered by Bond's favorite car brand, this Aston Martin-branded tower features 391 ultra-luxury units within its 66 floors. Its standout feature is the use of Aston Martin-inspired colors, textures and finishes across the building. The superior set of amenities offered at this waterfront development includes an art gallery, teen center, business center and kids' playroom at level 52. Residents will find a bayfront fitness center, bar, a meditation room, full-service spa, beauty salon and barbershop on the 53rd level. Level 54 is home to two theaters, virtual golf and a secondary lobby. Level 55 is dedicated to an infinity-edge pool and deck, bar, spa, grand living room, secondary lounge, chef's kitchen and more. Other amenities at this outstanding structure include a superyacht marina, rooftop helipad, and an exclusive Aston Martin Club membership.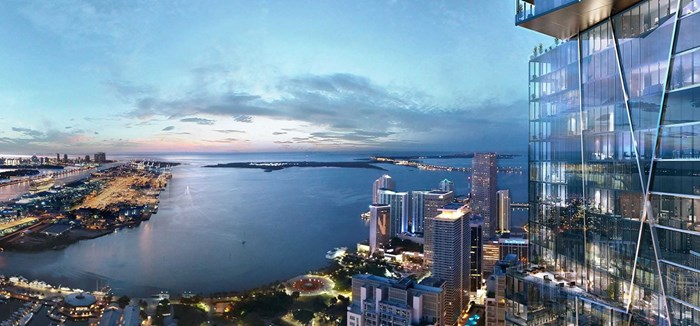 Bringing all of its signature 5-star luxuries and services to set the bar high for superior living, this astounding condo-hotel will accommodate 400 residential units within 88 floors. Aiming to be Miami's tallest building, residents can expect to find a pool and fitness center, world-class health spa, private screening room, ground-level atrium for shopping and dining as well as access to Waldorf's exceptional hotel services at this ultra-luxury, waterfront tower.
 
Okan Tower – 555 N Miami Avenue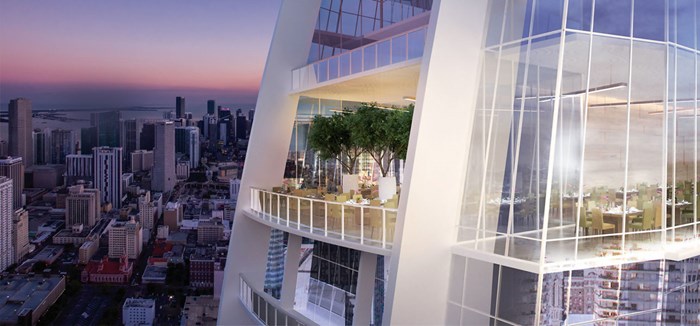 Rising 70 stories to offer unobstructed Bay and city views, the structure of the Okan Tower comes inspired by the grace of tulips and designed by local architects Behar Font. Housing 362 luxury condos along with hotel and office space, the tower brings with it amenities such as three swimming pools including a sky pool, pool bar with outdoor lounge, private screening room, full-service spa with Hammam, whirlpools and treatment rooms, party/event room, multipurpose room with chef's kitchen, fully-staffed kids' club, multiple on-site restaurants, in-home dining and spa treatments and much more.


How Safe is Downtown?

Like any high-density urban neighborhood, Downtown reports its fair share of crime. But, as this survey reports a 12% reduction in the year-over-year crimes from 2016 to 2017, it can be concluded that safety is being prioritized in this core neighborhood. The neighborhood is also safe enough to be ranked number 4 on the "Best Places for Young Professionals in Miami- Dade County," and number 6 on the "Best Neighborhoods to Raise a Family in Miami" on niche.com. It also ranked number 3 on the 2019 "Most Diverse Neighborhoods in Miami" survey on the same website, showing that it's one of the most desirable neighborhoods to live in Miami.


Best Restaurants in Downtown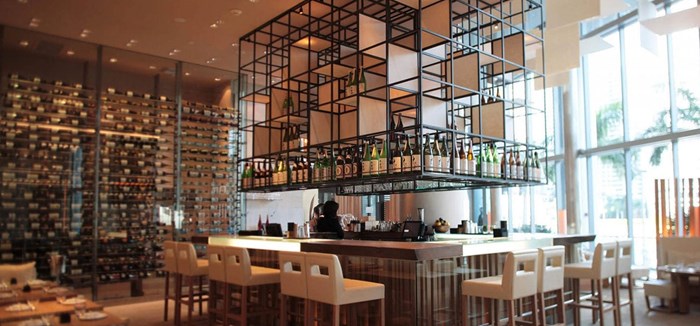 Zuma
at the EPIC hotel

Downtown is definitely one of the hottest dining destinations in Miami. With a restaurant for every kind of foodie and budget, here are some of the highest-rated eateries in the neighborhood:
Shopping in Downtown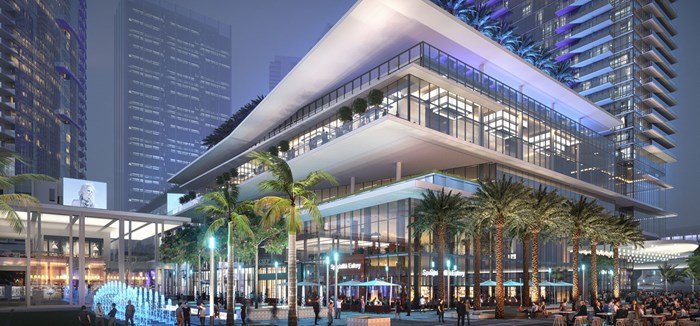 The shopping scene in Downtown Miami is quite diverse, offering a good range from mom and pop stores to major retail brand names, outdoor malls, and more than 280 luxury jewelers to choose from.
Flagler Street houses the main collection of diverse storefronts and cheap eats here, including a Macy's, the Seybold building, plus plenty of other jewelry retailers, and a plethora of shops for branded clothing, footwear, luggage, accessories, skates, and gift items. This historic street is currently in for a major overhaul, which is expected to transform it into a festival-style boulevard, and of course, bring forth a better mix of merchants and businesses for everyone to enjoy.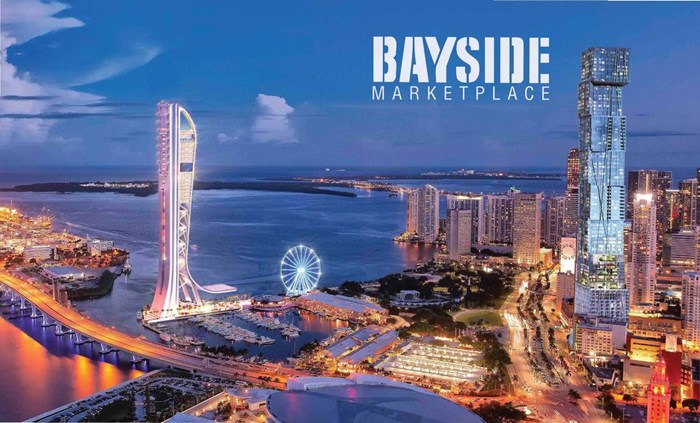 The Bayside Marketplace is an open-air mall plus marina where locals will find their favorite retailers, such as Bath & Body Works, GUESS, Gap, Victoria's Secret, and Disney Store, to specialty shops for clothing, accessories, sunglasses, and cigars. Authentic cafe con leches abound here, but if you're in need of Starbucks, head to Flagler Street, SE 1st Street, Bayside Marketplace, and Chopin Plaza for their daily cup of joe. Also, the local Walgreens can be found along Flagler Street, while Whole Foods is at SE 2nd Street.
The upcoming Miami Worldcenter is expected to bring an additional 765,000 square feet of retail, restaurants, and entertainment to the mix, which will completely revitalize the shopping scene in this central neighborhood.


The Best Located Condo in Downtown

50 Biscayne – 50 Biscayne Blvd, Downtown
Avg. listing price $444 per sq ft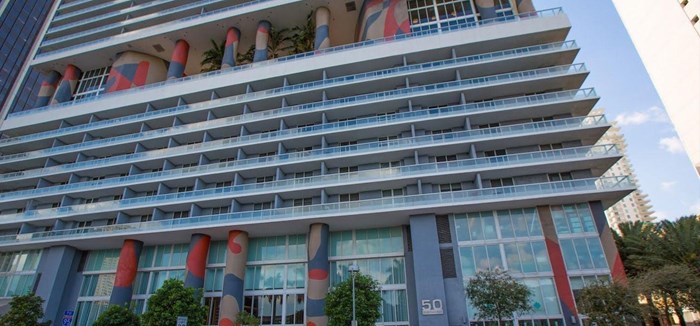 While just being edged out of Miami's Top 5 Downtown Condo Building list, we find 50 Biscayne to be the best-located condo building in Downtown for now (until the Miami Worldcenter comes up). Overlooking gorgeous Bayfront Park and the bay beyond, this iconic waterfront building houses 518 luxury condos spread across 54 stories. And it sits right across the expansive Bayfront Park, which is also home to the Bayside Marketplace and marina. Secondly, it captures some of the most breathtaking views of the Bay. And lastly, it has the historic Olympia Theater, a Metromover Station, 7-Eleven, Whole Foods, Marshalls, Ross Dress for Less, Miami-Dade Campus, the Miami Center for Architecture & Design and some top-rated restaurants within a half-mile radius - making it a highly convenient spot to call home.


---

If you're looking for more amenity-rich luxury buildings in Downtown for sale, browse through our selection and let us know what you'd like to see. 
Share your thoughts with us
Sign up now
Get news and updates delivered to your inbox