The Top 10 Miami-Area Beachfront Condos in Preconstruction Right Now!
Jun 17, 2022 June 17, 2022
What's more popular than Miami and South Florida's sensational beaches these days? It's our upcoming beachfront properties that are topping wishlists across the globe – luxury created for buyers from New York to New Zealand! 
Regardless of whether you're looking to move to the beachside for dazzling morning-to-night water views, instant access to a yachting lifestyle, or simply for bragging rights – an oceanside home in South Florida tops the wishlist for many - there are several upmarket projects on the horizon that offer you an oceanfront address.
With developers eager to stay relevant in Miami and South Florida's growing condo market, there are plenty of luxury, oceanfront condo preconstruction projects in the pipeline.
Here's our list of the Top 10 Upcoming Luxury Beachfront Condo Projects in Miami and Pompano Beach:
Miami and South Florida's Beachfront Condo Preconstruction projects at a glance:
The Perigon - Mid-Beach

Bentley Residences - Sunny Isles Beach

St. Regis Residences - Sunny Isles Beach 

Ritz-Carlton Residences - Pompano Beach

Casamar - Pompano Beach
Planned
Ritz-Carlton Residences - South Beach

Rosewood Residences - North Beach

Cavalli-branded Condo Residences - Surfside

Deauville Hotel Redevelopment - North Beach

New Luxury Condos by Fort Partners - Surfside

 
---
Top Beachfront Luxury Preconstruction Condo Projects in South Florida
---
Developed by Mast Capital and Starwood Capital Group
Prices start at $3 million | Completion: 2025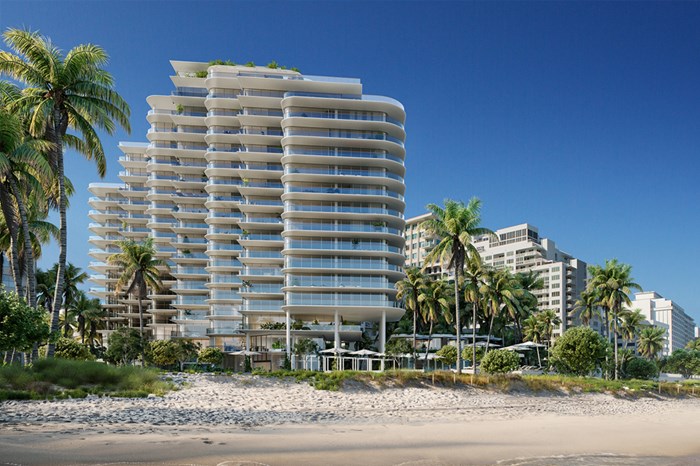 With a name inspired by its "rotated on the axis" design, The Perigon will offer 83 extra-large, light-filled, ultra-luxury residences to Miami Beach. Designed by Rem Koolhaas' internationally-acclaimed OMA New York design studio, the 17-story condo tower will sit as a true architectural masterpiece on Millionaire Row's stunning oceanfront. Featuring a unique cascading design, the building is design with angles to afford maximum east and west ocean views from all residences.
Built to meet LEED Gold certification standards, the eco-friendly Perigon will feature tasteful interiors by Tara Bernerd and landscaping by Gustafson Porter+Bowman. Highlight amenities will include direct water views, 10- to 12-foot-deep wraparound terraces in every residence, a beachfront swimming pool with outdoor spa, an oceanfront restaurant, a speakeasy-style bar, a conservatory with daily breakfast bar, a sunrise lounge and terrace, private spa, ocean-view fitness center, children's playroom, private salon, wine room, house car, pool and beachside service, in-residence dining, and much more.
Read more about the stunning, beachfront ultra-luxury afforded by The Perigon here.
Developed by Dezer Development in collaboration with Bentley Motors
Prices start at $4.2 million | Completion: 2026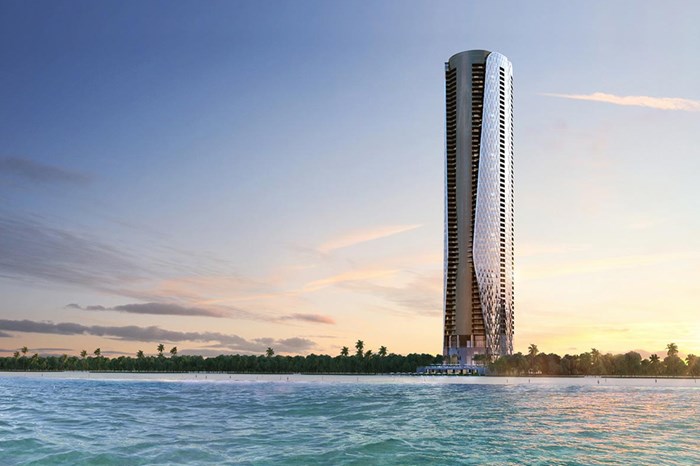 Delivering the next phase of Gil Dezer's penchant for bringing luxury carmakers to Miami will be the Bentley Residences condo tower. The world's first-ever Bentley-branded residences is designed by Miami's Sieger Suarez, with every detail as a nod to the luxury car enthusiast. The oceanfront tower will not only feature a highly reflective, diamond-like façade built to withstand winds up to 175 miles per hour, but will also adhere to LEED standards of sustainability – combining aesthetics with eco-friendliness.
Rising 60 stories tall with 216 ultra-luxury residences, the beachfront skyscraper will house only 4 residences per floor. Affording the ultimate in oceanfront luxury, all residences will include an expansive balcony with sunken pool, an outdoor kitchen, plus an in-unit, multi-car garage serviced by the Dezervator - a car elevator bringing vehicles right up to their sky homes. Highlight amenities will include a speeding Bentley sculpture at the entrance, signature scenting by Bentley Motors, two pools, an indoor-outdoor fitness center, spa, whisky bar, private restaurant, cigar lounge, cinema, gardens, and more.
Read more about Bentley Residence's commitment to sustainability and other stellar features here. Or watch our video here. 
Developed by Fortune International Group & Chateau Group
Prices start at $3 million | Completion: 2026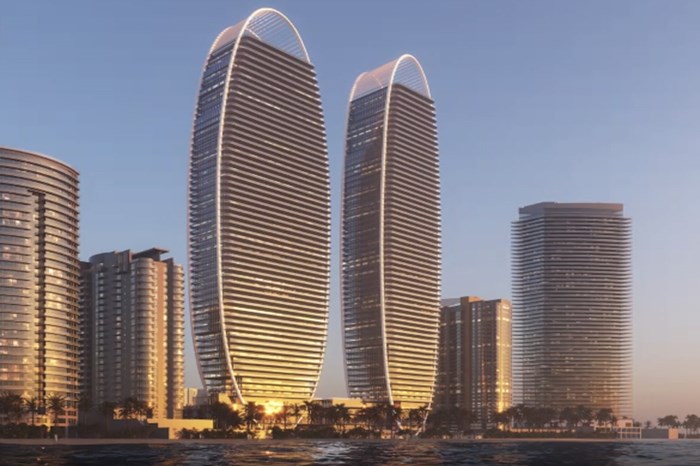 St. Regis' signature hospitality and services will now be available in Sunny Isles Beach. Two immaculate, 62-story towers will rise along Miami Beach's stunning oceanfront to offer the New York-based brand's time-tested management and butler services. Its ultra-luxury north and south towers will carry 194 and 180 residences, respectively.
Designed by Arquitectonica and with interiors by São Paulo-based Anastassiadis, the residential towers will not feature any hotel on-site. Furnishings in the twin towers will be curated by Artefacto, while EDSA will handle landscape design. Besides affording direct access to 435 linear feet of private oceanfront, residents will be treated to private beach amenities, oceanfront and sunset pools, a wellness center and spa, an athletic club, a signature restaurant, a cognac room, a trader's room, a children's/teen's club, pet grooming services, and more.
Developed by Fortune International Group & Oak Capital
Prices start at $1 million (marina-front tower) & $3.5 million (oceanfront residences) | Completion: 2024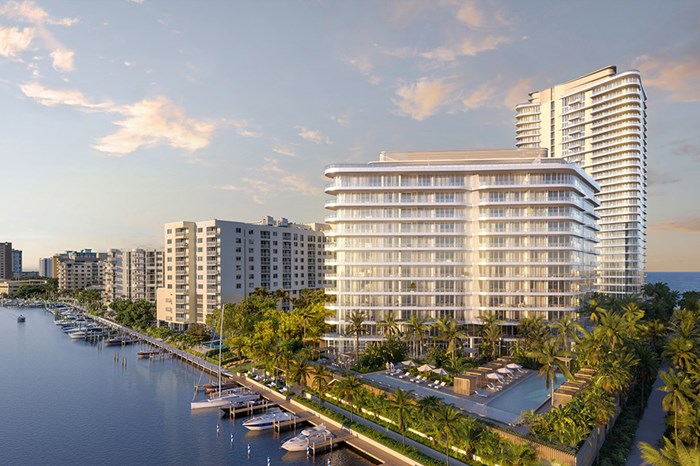 Bringing Pompano Beach its most expensive luxury address yet, the Ritz-Carlton Residences will rise against 250 linear feet of private beachfront. The 4.5-acre, two-tower project will be purely residential and not feature any kind of hotel component – but still deliver on the impeccable service standards expected of a Ritz-Carlton.
Designed by Revuelta Architecture International in collaboration with starchitect Piero Lissoni, the two Ritz-Carlton towers will stand separated by South Ocean Boulevard. The 32-story Beach Tower will house 117 ultra-luxury residences, while the 14-story Marina Tower will feature 88 luxury residences. Besides affording exquisite water views to all residents, the amenity-rich condo project will feature interiors and curations by Piero Lissoni, a marina yacht club, an oceanfront beach club, tropical pool decks, multiple sports courts, indoor-outdoor social areas, an on-site restaurant, and much more.
Developed by The Related Group
Prices start at $1.8 million | Completion: Q1 2025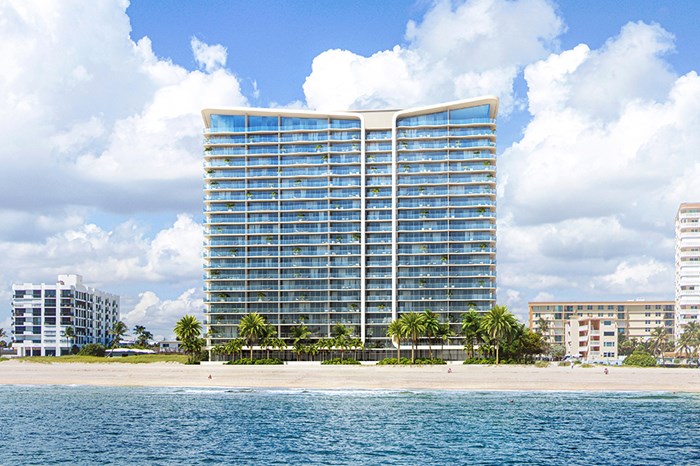 Bringing a new wave of contemporary elegance to Pompano Beach, the Casamar will sit fronting 283 linear feet of pristine beach in this quiet residential neighborhood. Rising 21 stories with 119 luxury residences, the exquisite tower will feature designs by Miami's award-winning Arquitectonica. Owners will also be allowed to rent their residences for a minimum of 4 months at a time.
With interiors by the award-winning Rockwell Group, residents can look forward to extra-large homes with flow-through floorplans, expansive water views, oversized terraces with glass railings, chef-ready kitchens with Italian cabinetry and top-of-the-line appliances, spa-inspired master baths, password-protected app access to smart homes, and more. Highlight amenities will include separate east and west pool decks with cabanas, outdoor BBQ areas, an ocean-view fitness center, club room with a gaming table, a VR-based golf simulator room, a pickleball court, a dedicated lounge for gatherings, curated art, a pet wash station, green spaces by Arquitectonica GEO, and more.


---
Planned: Top Luxury Beachfront Preconstruction Condo Projects in Miami Beach
---

We're also watching these planned beachfront condo projects in Miami as more details are released:

Ritz-Carlton Residences - South Beach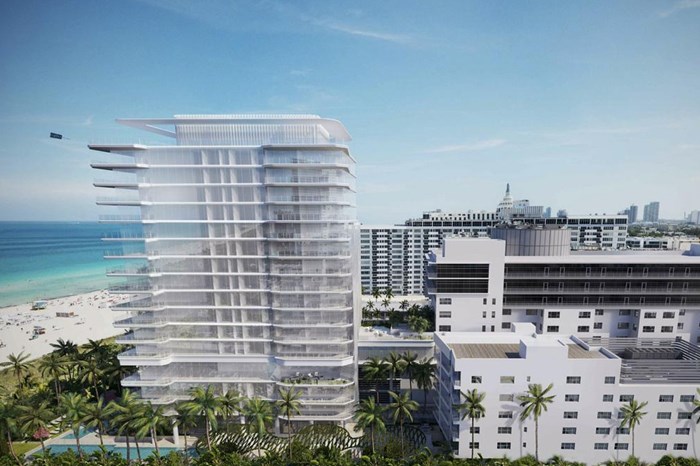 Part of the renovations at the historic Sagamore Hotel, South Beach is expected to gain a new 17-story, oceanfront condo tower with 50 residences. Managed by Ritz-Carlton, this new tower will sit partially on the Sagamore property and be built cantilevered over an existing 4-story cabana over at the Ritz Carlton hotel. Designed by Kobi Karp, it would also feature a third-floor pedestrian bridge connecting the Sagamore to the Ritz Carlton. Interiors will be handled by Studio Munge, while Naturalficial will oversee landscaping.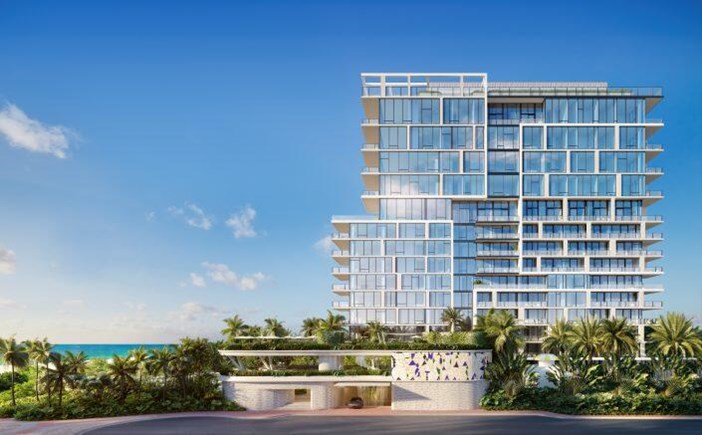 Developer Shvo has joined hands with the Hong Kong-based Rosewood Hotels & Resorts to build a brand-new condo tower along with the redevelopment of the historic Raleigh Hotel, Richmond Hotel, and the South Seas Hotel. The 44-unit Rosewood Residences will come designed by New York's Peter Marino and Miami's Kobi Karp Architecture & Interior Design. The 17-story condo building and oceanfront hotel are also expected to feature the iconic curvy pool originally built for actress Esther Williams, a legendary Tiger Room, beachfront dining as part of its private member's club, leisure activities, and an unparalleled hospitality experience.

Deauville Hotel Redevelopment - North Beach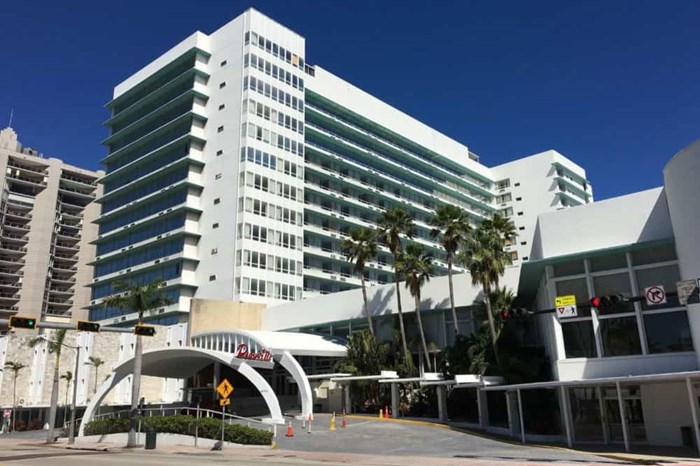 Another iconic resort set for redevelopment, the Deauville Hotel is expected to be developed into a "world-class, six-star hotel and luxury residences." Under the design direction of New York's legendary architect, Frank Gehry - also known for designing New York's Hudson Yards and Miami New World Symphony Center - the new development is expected to pay homage to the original Deauville while delivering something substantial, iconic, and transformational.

Cavalli-branded Condo Residences – Surfside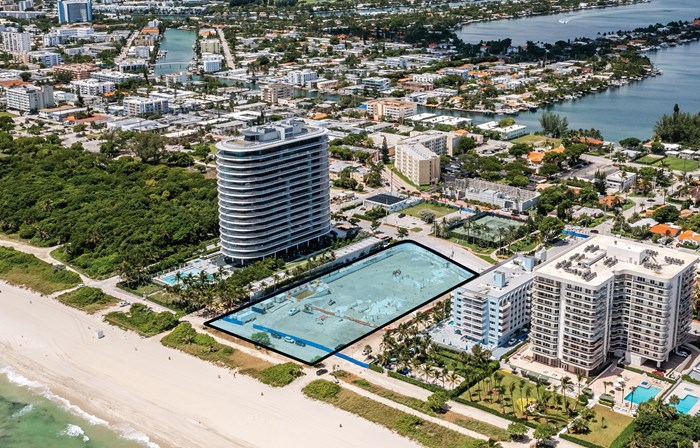 Dubai-based Damac Properties is looking to make its US debut with a Cavalli-branded condo tower on the site of the collapsed Champlain Towers. The luxury tower will front 200 feet of pristine beach and is expected to be on similar lines to Damac's recently launched Cavalli Tower - an ultra-luxury, 70-story tower overlooking Palm Jumeirah in Dubai.

New Luxury Condos by Fort Partners – Surfside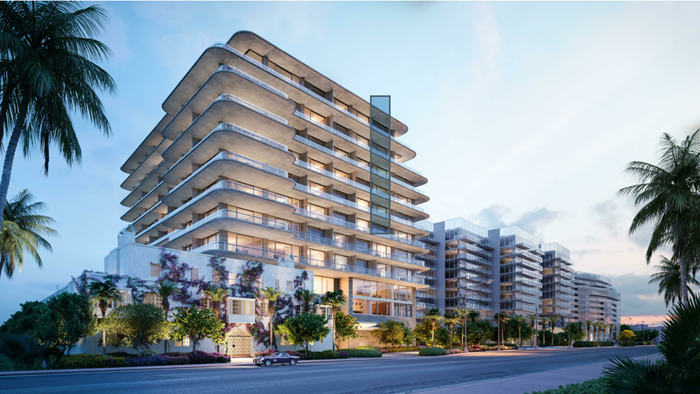 Developer Fort Partners plans to build another high-end condo in Surfside, after the roaring success of the Four Seasons Residences at the Surf Club. Designed by Kobi Karp Architects, the new project will rise 11 stories with only 19 luxury condos, averaging from 2,550 to 9,195 square feet in size. The mid-rise is also expected to feature a pool on its lower level plus two exclusive rooftop pools with the largest penthouses.

 


If you'd like to move into an oceanfront address - pre-construction or built-out - call or message us directly and we'll find the right beachfront residence exactly right for you or your family.
Share your thoughts with us
Sign up now
Get news and updates delivered to your inbox