The Top 26 Miami Restaurants for Outdoor Dining
Sep 24, 2021 September 24, 2021
Dining, lunching, or brunching outdoors is a Miami tradition. It simply comes with the territory of living in a vacationland where the climate is sunny year-round. But, among all the eateries in the area that offer outdoor seating, we all have our favorites.
Here's a list compiled by our Miami-based team of our particular favorites where you can savor the flavors under an open sky, with our Top 26, organized by neighborhood. 
This article was updated September 20, 2021.


---
Coconut Grove Outdoor Restaurants
---
3321 Mary St, Coconut Grove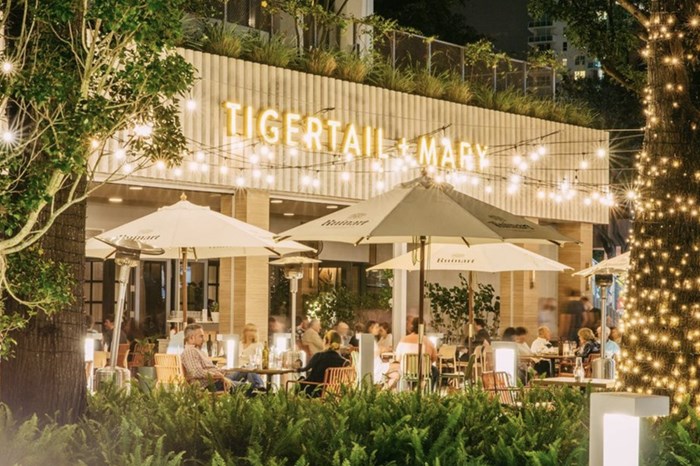 Set at the intersection of Tigertail and Mary in the Club Residences at Park Grove Condominium, this delightful spot features an elegant terrace where you may sample an eclectic international menu in the company of trees and garden sculptures. Our favorites include the tuna crudo, the roasted snapper with red onion couscous, and the rigatoni cacio e pepe! 
2820 McFarlane Rd, Coconut Grove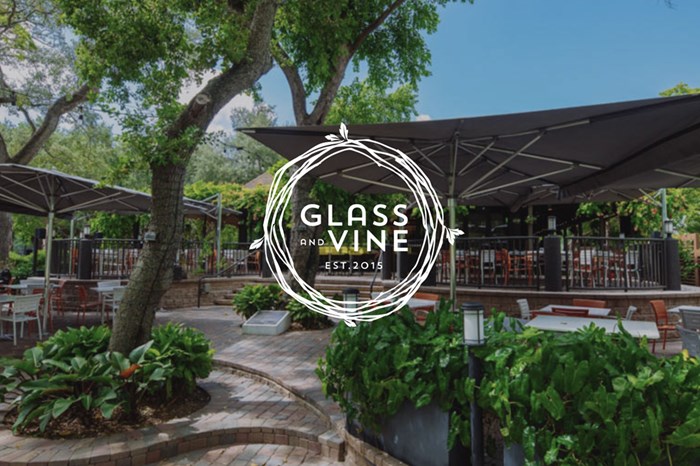 Try some European-style fare served in a garden setting surrounded by the lush landscape of Peacock Park. At Glass & Vine, you can sample offerings for lunch, brunch and dinner, including watermelon salad, steak frites, a raw bar and a variety of fresh grilled fish. For brunch lovers, there's a surf-n-turf benedict, corn-flake crusted French toast, Dulce de Leche waffles plus all the standards. 
2889 McFarlane Rd, Coconut Grove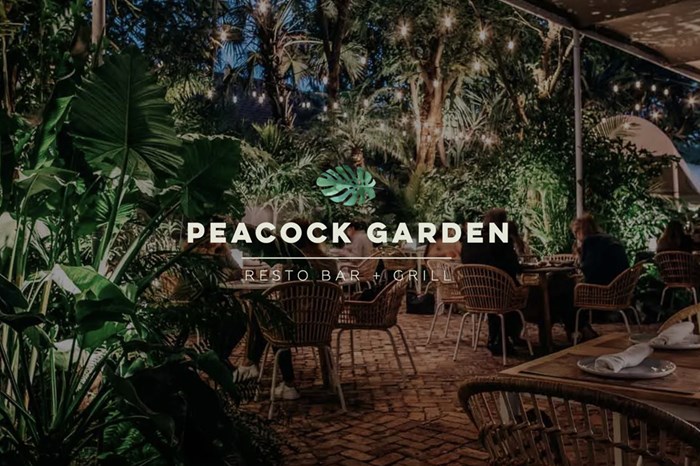 A few steps from Cocowalk you'll find Peacock Garden, where you can enjoy a casual meal of seafood and raw bar offerings, fresh fish, steaks, pasta, and salads in a lush secret garden setting.
2988 McFarlane Rd, Coconut Grove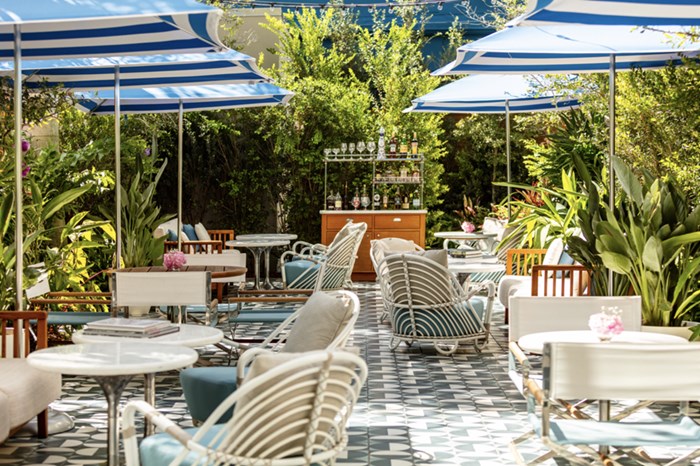 Il Giardino at Mr. C Hotel & Tigertail Residences. Photo courtesy of Traveller Made

One of the latest additions to Coconut Grove's transformation is the Mr. C Hotel & Tigertail Residences. Pairing the Italian hospitality the Cipriani brand is known for with the tropical environment of Coconut Grove, Bellini offers rustic Italian fare set on its rooftop terrace with endless views of the bay. And if you're looking for an easy and elegant breakfast, brunch or lunch, including authentic crepes, try Il Giardino. It's just like dining in an Italian garden.


---
Brickell Outdoor Restaurants
---
500 Brickell Key Dr, Brickell Key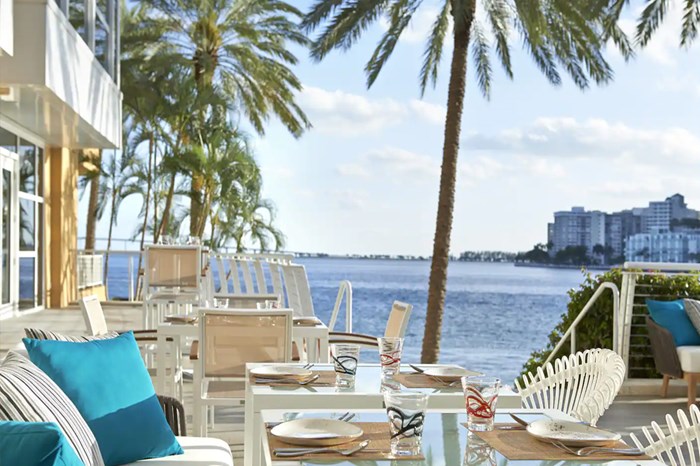 Set in the elegant Mandarin Oriental Hotel, this relaxing waterfront location is known for its Nouveau Peruvian and fusion fare, including classics such as ceviche and anticucho, served with an array of cocktails. 
690 SW 1st Ct, Brickell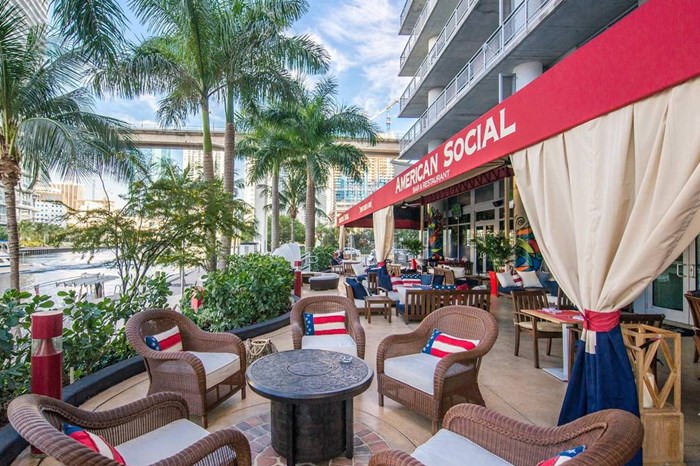 A laid-back American gastropub set in an open-air waterfront patio and serving comfort food and craft beers. 
1000 S Miami Ave, Brickell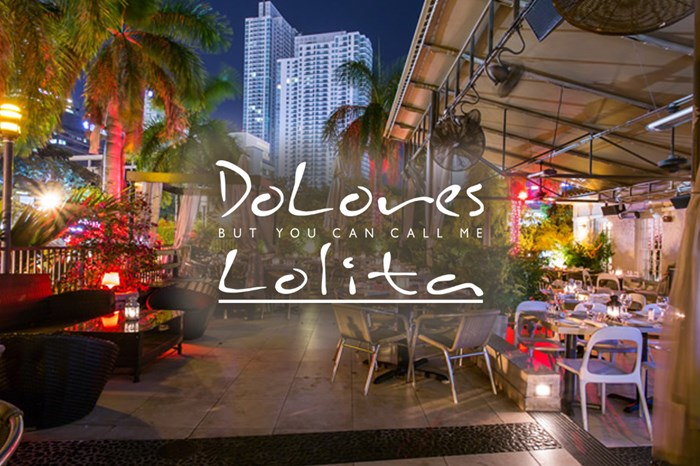 This spot has been a Brickell favorite for years and with good reason. Featuring both an upstairs terrace with one of the most beautiful and comfortable outdoor patios in the area, as well as a downstairs patio, Dolores serves up eclectic New American cuisine, with DJs and dancing downstairs inside.


---
Edgewater Outdoor Restaurants
---
3101 NE 7th Ave, Edgewater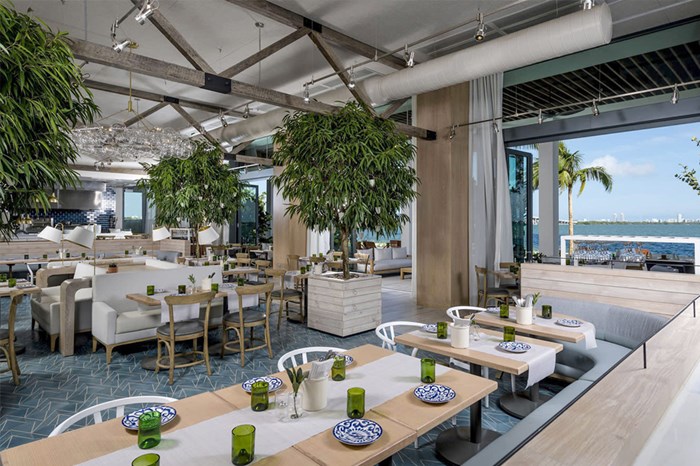 Set within the Paraiso District of luxury condo buildings with the same name, Amara offers the ultimate upscale waterfront dining experience overlooking Biscayne Bay. With Latin-inspired cuisine featuring grilled fresh fish, empanadas, and special treats such as yuca cheese puffs, Amara has quickly become a top spot for a truly magical dining experience.
105 NE 24th St, Edgewater

If you're looking for vegan, gluten-free, kosher, raw, or organic options, Plant Miami promises to delight your taste buds with nourishing and delicious dishes sourced from the local South Florida landscape. Set in a beautiful garden setting, with many ingredients grown on their own local, organic Paradise Farms, Planta is a hidden gem in Miami's hustle and bustle.


Check out our Ultimate Local's Guide to Edgewater Restaurants.
---
Miami Design District & Buena Vista Outdoor Restaurants
---
4312 NE 2nd Ave, Design District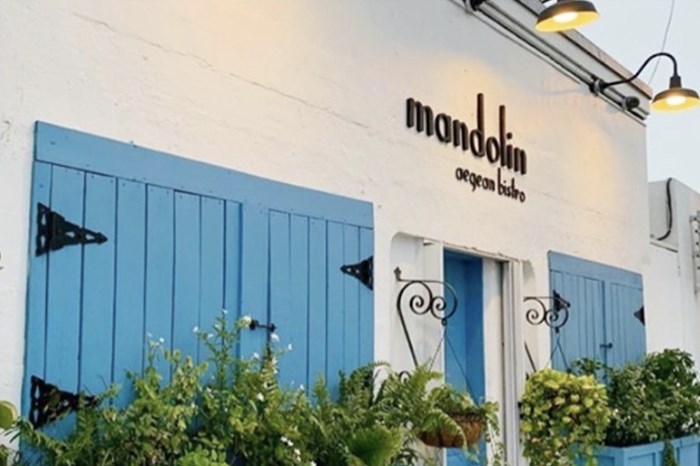 Set in a 1930s-era house with breezy patio seating inside garden walls, this spot transports you to the backyard of a European summer house. It's decade-long spot on Miami's favorite restaurant list is secured by consistently maintaining a fresh and authentic menu of modern versions of classic Greek & Turkish dishes inspired in the coastal region where Turkey and Greece meet.
151 NE 41st St Suite 135, Design District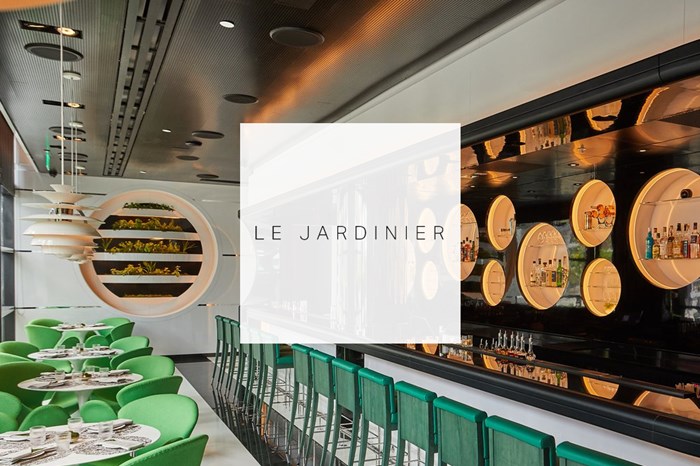 If you're looking for French cuisine prepared with local, seasonal fruits and vegetables and fresh herbs, along with sustainable seafood, poultry, and meat dishes with a relaxed, chic vibe, Le Jardinier is a mais oui! Set in the heart of the Design District, guests are served in a fresh, relaxing open-air dining room with plenty of seating.
5020 NE 2nd Ave, Buena Vista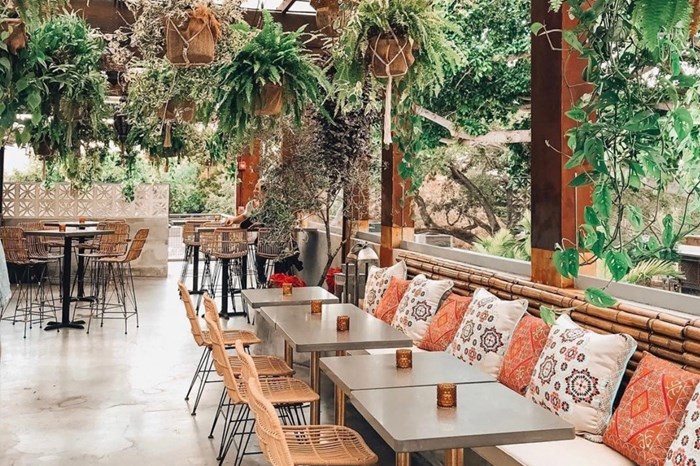 Vista's charming and breezy patio dining room serves up Italian fare with definite Miami influences such as crudo with mango salad, calamari with sesame salt, poblano pesto gnocchi, Maltagliati pasta with brisket, and snapper a la plancha. Perfetto!


---
Wynwood & Midtown Outdoor Restaurants
---
2727 NW 2nd Ave, Wynwood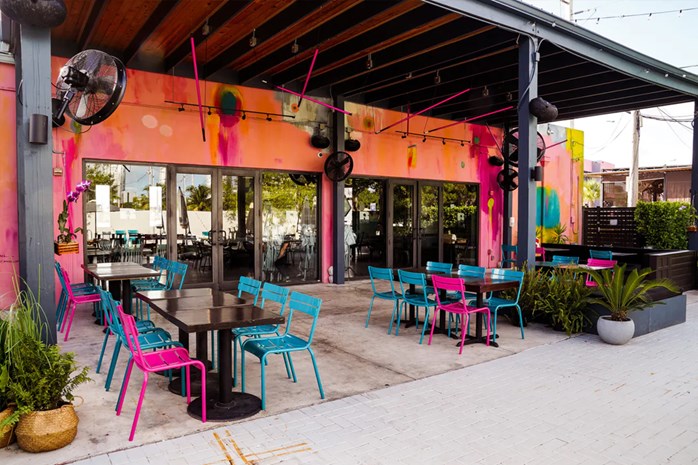 Photo courtesy of DAN KOCSIS

Located near the famed Wynwood Walls, R House Wynwood nails Nouveau Latin Cuisine in a fresh outdoor patio setting with an art gallery that features revolving exhibitions. Their famed drag brunch on Saturdays and Sundays is hands-down the best brunch in Miami.
310 NW 24th St, Wynwood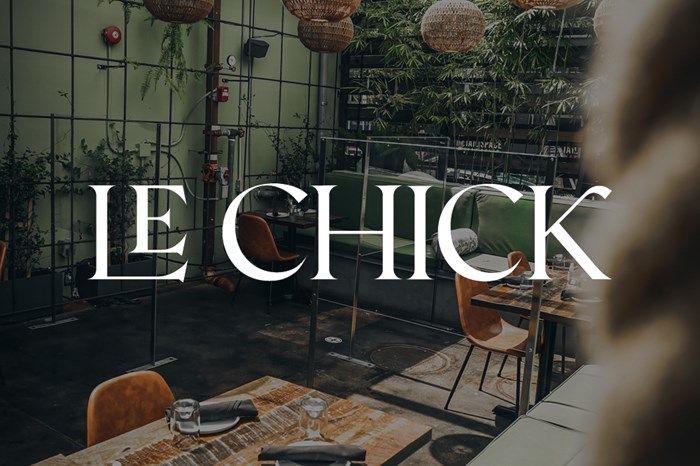 With the Dutch hotspot Rotisserie Amsterdam as its inspiration, Le Chick's menu offers a unique mix of delectable rotisserie chicken, burgers, tuna tartare and just about anything that can be grilled, including a to-die-for street corn. But what makes Le Chick so frickin chic is its awesome environment, a little bit luxe, a little bit modern, with a groovy dining patio. 
2335 N Miami Ave, Wynwood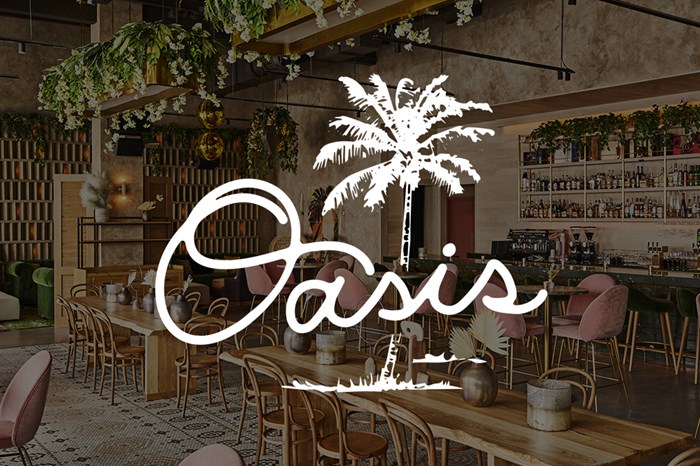 Rapidly becoming the new cultural epicenter for Miami hipsters, Oasis features six exquisite dining and nightlife venues, weekly live performances, pop-ups and cultural events focusing on art and local programming, all in an expansive open-air setting where you can dine and dance.
28 NE 29th St, Midtown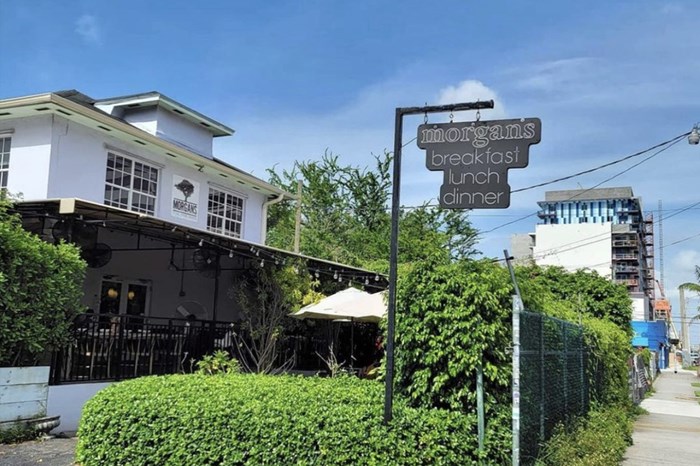 Long one of Miami's favorite brunch spots, Morgan's prides itself on fresh local ingredients combined in a delightfully eclectic New American menu with Floribbean-inspired touches served in a cool patio setting.  In addition to its Midtown spot, Morgans also has another location in Miami Beach.


---
Downtown Miami & Miami River Outdoor Restaurants
---



Verde
at Perez Art Museum Miami (PAMM) 
1103 Biscayne Blvd, Downtown Miami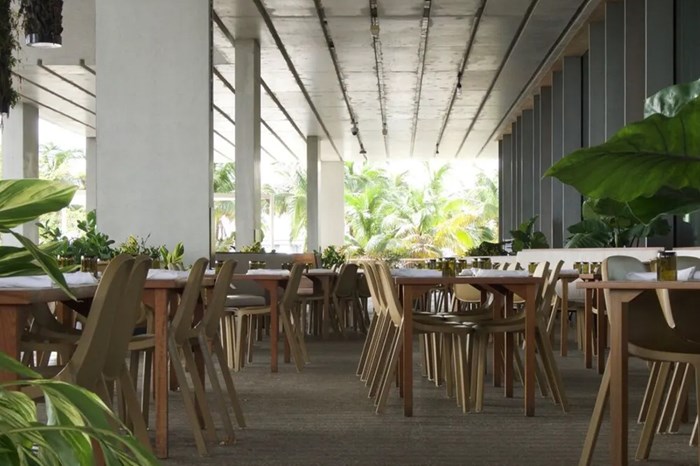 Verde's expansive outdoor dining area overlooking Biscayne Bay is a favorite among locals, as are the seasonal menu specialties that include a variety of thin crust pizzas and dishes prepared with fresh local ingredients such as chicken under a brick, the famed Verde burger, and pan seared snapper, along with the chef's popular signature pastries.
412 NW N River Dr, Miami River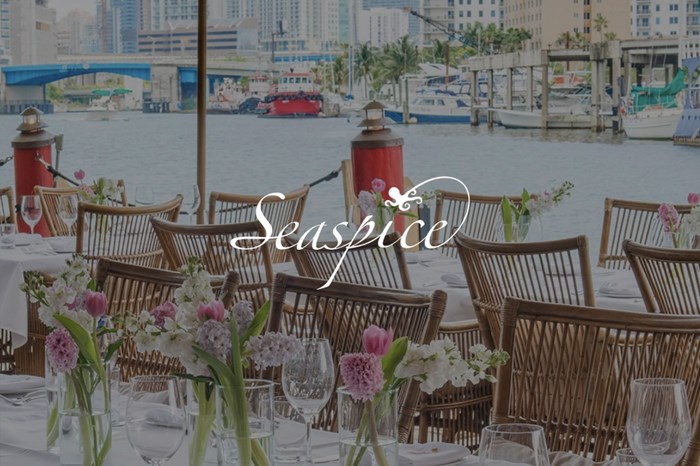 The quintessential waterfront dining experience awaits you at this chic spot serving internationally-influenced seafood dishes with an adjacent hot-stone and crudo lounge.
270 Biscayne Blvd Way, Downtown Miami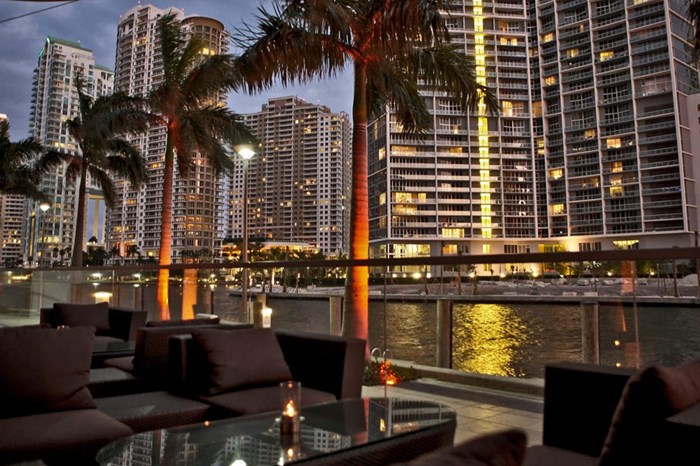 Renowned the world over, this minimalist Japanese spot located in the Epic Hotel and overlooking the Miami River features traditional shared dishes, an assortment of sushi, and Japanese classics prepared with fresh local fish and seafood.


---
MiMo & Upper East Side Outdoor Restaurants
---
5600 Biscayne Blvd, Upper East Side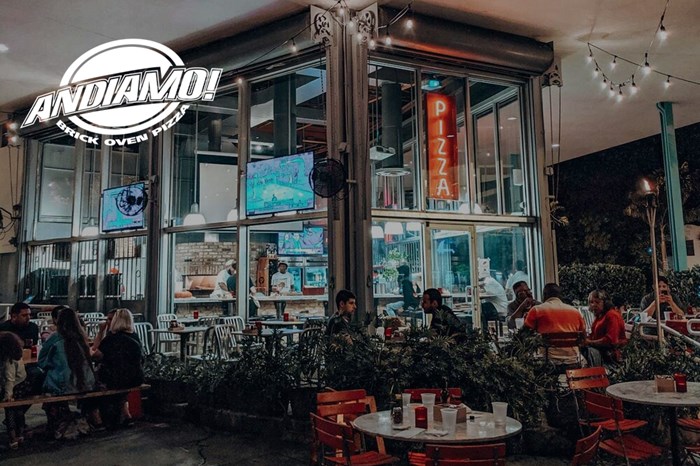 This retro, family-friendly pizzeria set in a former art deco tire shop has more than 30 varieties of  thin-crust pies. Think vintage MiMo drive-up meets authentic Italian pizza for a relaxed, casual outdoor setting.
620 NE 78th St, Upper East Side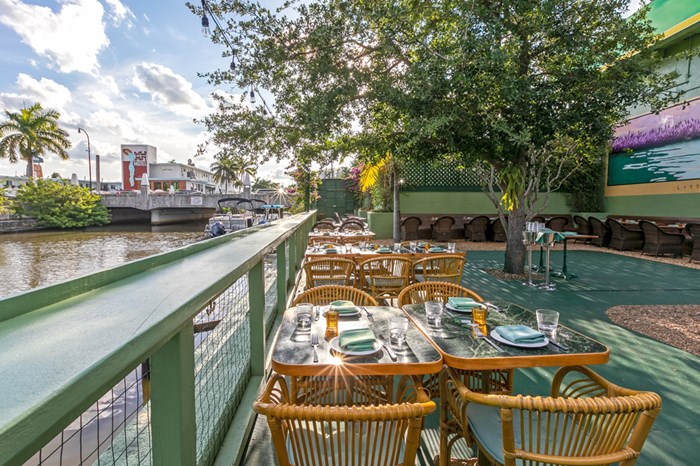 A true gem in Miami, and surrounded by a sanctuary for manatees, Tigre Miami serves Nouveau Argentinian cuisine in a serene waterfront setting overlooking the Miami River.
7580 NE 4th Ct, Upper East Side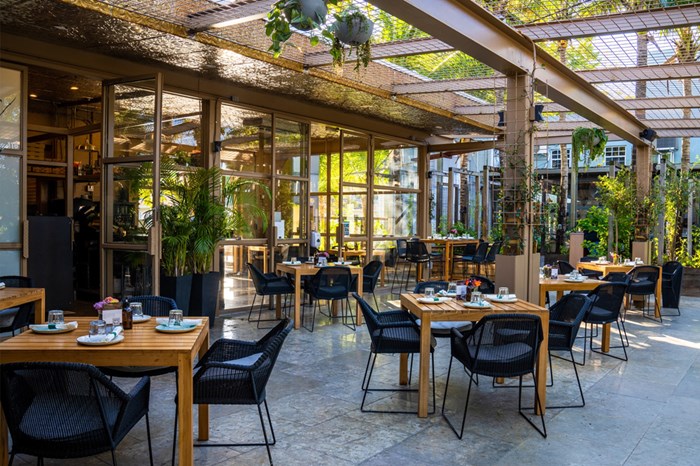 Serving wood-fired pizza imbued with the unique flavors of Florida pines, the pizza dough at Ironside is made from "Caputo" flour from Napoli, proofed for 48 hours, and embellished with San Marzano tomatoes, mozzarella fior di latte, and their own home-grown basil and oregano in accordance with Neapolitan tradition. Pies are topped with fresh, local ingredients, including plenty of vegan and gluten-free options. And all of this is served within the courtyard of a collection of art galleries, design studios, and creative shops. 
7100 Biscayne Blvd, Upper East Side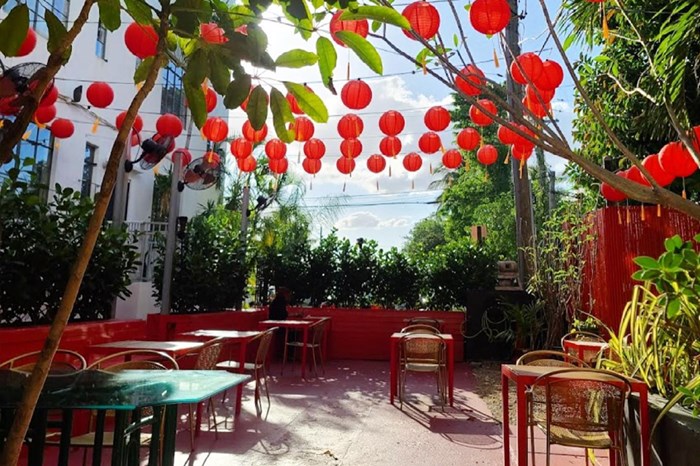 A 100% conceptual experience, Phuc Yea offers its unique Vietnamese-Cajun fusion cuisine highlighted by such dishes as Cajun rice, smoked riblets, and green papaya salad, in its beautifully decorated Lantern Garden.


---
Little Haiti Outdoor Restaurants
---
382 NE 61st St, Little Haiti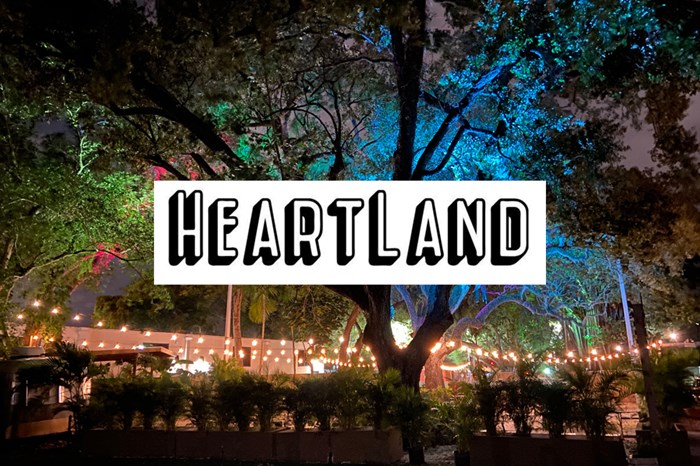 One of Miami's newest concept restaurants, Heartland opened during the pandemic as a strictly outdoor-dining experience with a wood fire outdoor kitchen and an eclectic Mediterranean-inspired menu. Seems they're on to something.


---
Miami Beach Outdoor Restaurants
---

While we have a separate can't-miss edition of Miami Beach's Top Outdoor Restaurants, here's two of our absolute favorites. 
915 Collins Ct, South Beach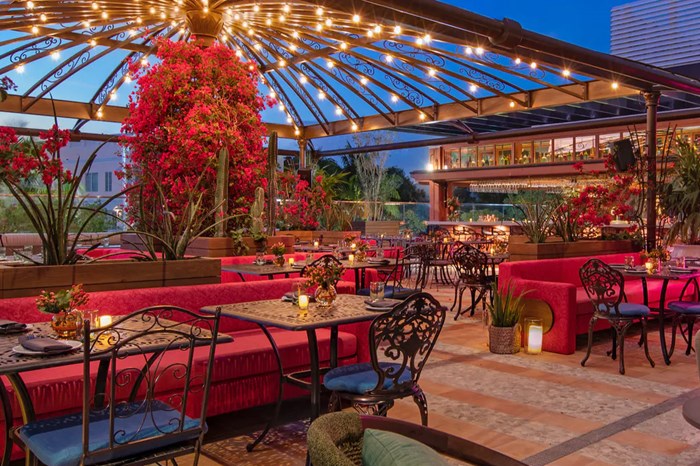 Mexican fare served on the rooftop of the Moxy Hotel in South Beach, with specialties like uni and crab tostadas, squash blossom quesadillas, and steak tartare. Visit their website to make reservations.
40 Island Ave, Venetian Islands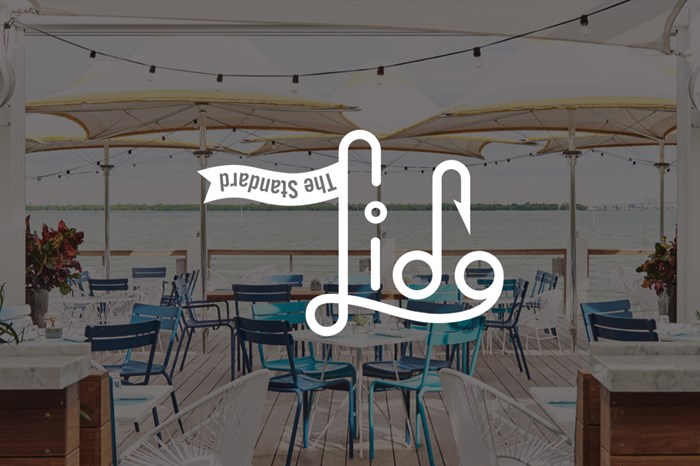 Located at the Standard Hotel and Spa, the Lido Bayside Grill is a favorite among waterfront-dining aficionados thanks to the spacious and spectacular waterfront deck overlooking the tranquil waters of Biscayne Bay. The menu features locally-sourced ingredients and line-caught sustainable seafood as well as vegan, vegetarian, and gluten-free options. They are so committed to using locally sourced and fresh ingredients that they even source and roast their house coffee here in Miami. 


---

While we know that there are dozens, if not hundreds, of other amazing outdoor eateries in Miami, we figure we're giving you some ideas to whet your appetite. We're hoping you'll love these as much as we do! And please, let us know your favorites as well! Tell us on social media @blackbookproperties!
Share your thoughts with us
Sign up now
Get news and updates delivered to your inbox