The Top Ten Fourth of July Fireworks Destinations in MIAMI (1)
Jul 03, 2014 July 03, 2014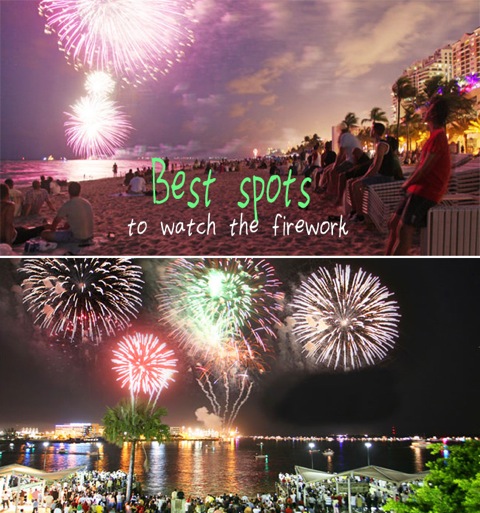 During each summer, a particular day sets the sky on fire with the reds, the whites, and the blues: Independence Day.
The Fourth of July is an extremely popular American holiday where we celebrate our independence with cookouts, music, dancing, games, and of course, fireworks.
If you are in the Miami area and want to catch the pyrotechnics, here is our list of the ten best locations to watch the fireworks.
1. Bayfront Park, located at 301 North Biscayne Boulevard, Miami. Bayfront's "America's Birthday Bash" happens between 4 p.m. and 9 p.m, with a kids zone for children to enjoy before the fireworks at 9 p.m. Show up at least an hour early for a good parking spot.
2. Peacock Park, located at 2820 McFarlane Road, Coconut Grove. Their "Get your 4th On" celebration includes Barnacle's picnic from 11 a.m. to 4 p.m., and a hot dog eating contest at 5 p.m., followed by the fireworks at 9.p.m.
3. The City of Miami Beach official July 4th Celebration, located on the corner of Ocean Drive and Eighth Street. Entertainment, food, and other festivities begin at 9 in the morning, with fireworks at 9 at night.
4. Juvia, the multi-cultural rooftop eatery located at 1111 Lincoln Road, Miami Beach. Start with a first class dinner at 6 p.m., and stay for the fireworks. Reservations required.
5. South Beach Lady cruise ship. Departs at 8 p.m. in the Hyatt Hotel dock at 400 Southeast Second Avenue. Hop on a luxury cruise for a barbecue dinner, live DJ, and excellent views of the lights on the water.
6. Florida International University Biscayne Bay Campus, 3000 Northeast 151st Street, Miami. The university is the best for people who do not like big crowds, and want to take the festivities at their own pace. Live music by NoMi Musical Nights will be at the Koven Center grounds, followed by fireworks over the bay.
7. The Perez Art Museum Miami at 1103 Biscayne Boulevard is a new modern and contemporary art gallery that opens 6:30, with an excellent view of Biscayne Bay and its fireworks show.
8. Village Green Park's Key Biscayne 4th of July Parade takes place at 400 Crandon Boulevard in Key Biscayne. If parades are your type of festivity, then this is an excellent choice. The parade begins with a jet flyover, followed by floats featuring members of the Key Biscayne community. At sunset, the fireworks are easily visible from many locations nearby.
9. Black Point Park and Marina. If you enjoy outdoor activities as the best way to celebrate, then you can spend all day at the park with their free bike and jog trails, fishing, boating, and of course, the Black Point Ocean Grill for dinner. Finally, end the day with the Fourth of July classic: fireworks. The park, located at 24775 Southwest 87th Avenue, Cutler Bay, opens at sunrise with fireworks at 9 p.m.
10. Last but not least, Homestead-Miami Speedway hosts their fifth annual "Race to the Fourth" festival, with live music by Mojo Scoundrels and Main Highway. There will be food vendors, rides for the kids, games, plus the 9 o'clock fireworks show. The festivities start at 6 p.m. at the One Speedway Boulevard, Homestead arena. Admission is free for Champions Club members, or $10-$20 for anyone else.
Source: cbslocal.com
Photo credit: Miami - miamibeach411.com
Share your thoughts with us
Sign up now
Get news and updates delivered to your inbox