The Top Ten Luxury Listings that Just Won't Sell
Feb 04, 2015 February 04, 2015
The luxury residential market in Miami is jaw-dropping to say the least, but actually selling those properties is a different topic entirely.
"In this market, it is almost impossible to find the 'impulsive buyer' as we have with so many of our mid-million dollar listings," Nancy Batchelor, Miami Beach realtor said. She believes that location, privacy, and security are the high selling points to the luxury units at the top of the market. "Buyers in this market are looking for all the bells and whistles and treat these properties like mini resorts," Batchelor added, "so they are looking for pools with spas, outdoor loggias and summer kitchens, movie and theater rooms, large kitchens, huge masters with dressing rooms and the like."
Following are the top 10 listings priced above $15 million that have been for sale for at least one year.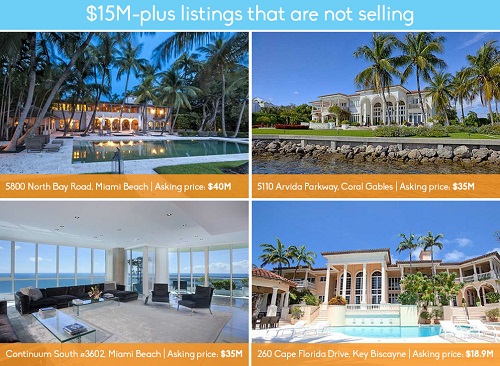 1. 5800 North Bay Road, Miami Beach.
With an asking price of $40 million, Jennifer Lopez's former Miami Beach home is quite the luxurious property. The 12,000 square-foot home sold in 1999 for $5.6 million, but has traded hands quite often. The home includes a wine cellar, koi pond, theatre, and separate entrance for service vehicles.
2. 17 Indian Creek Drive, Indian Creek Village.
Sellers are asking for $35 million for this Mediterranean estate on Indian Creek Island. The price has fluctuated between $32.5 million and $38 million since 2010, and was actually offered up as a rental for $1.07 million per month in 2011. The property has a wine room, gym, dock, and four-car garage.
3. 110 Arvida Parkway, Coral Gables.
This swanky estate is up on the market for $35 million as well. It was last sold in 1990 for $1.9 million. It features over 200 feet of dock space, an additional wing with an elevator, and an observatory.
4. 4855 Pine Tree Drive, Miami.
This estate is up for $26.8 million and has been on the market at least 10 times since its original sale in 1997 for $850,000.
5. 100 South Pointe Drive, #3602, Miami Beach.
Three separate units were put together to make the Continuum South Duplex, the only condo on this list. It is listed for $30 million. The property traded hands in 2003 for $952,000, and has only been sold once more since. This condo overlooks the Atlantic Ocean, Fisher Island, downtown Miami, and Government Cut.
6. 2920 North Bay Road, Miami Beach.
This newly constructed Miami Beach home is on the market for $29.5 million. The property has almost 10,000 square-feet of space in the house alone.
7. 9 Harbor Point, Key Biscayne.
This mansion, designed by star architect Cesar Molina, is for sale for $21.5 million. The asking price used to be over $27 million in 2013, but has since dropped.
8. 88 Bal Bay Drive, Bal Harbour.
The ritzy "Villa Bougainvillea" home, designed by Molida as well, has an asking price of $20 million. This 12,000 square-foot home was last sold in 1998 for $2.3 million. It was built back in 1962 on a one-acre plot.
9. 28 Harbor Point, Key Biscayne.
This property was actually the former set of the TV show, Miami Vice. It is on the market for $19.75 million, and includes an indoor racquet ball court, billiard room, gym, sauna, and pool. The property last sold in 1990 for $2.5 million.
10. 260 Cape Florida Drive, Key Biscayne.
This nine-bed, nine-bath home can be purchased for a mere $18.9 million. The lowest asking price for this list of homes. It sold in 2005 for $13 million. This property includes about 350 feet of water frontage, a library, theater, gourmet kitchen, game room, and uniquely styled Brazilian wood floors.
Source: therealdeal.com
Photo credit: Home - therealdeal.com
Share your thoughts with us
Sign up now
Get news and updates delivered to your inbox