The Two Towers Receive FAA Approval Before City Approval
Sep 15, 2015 September 15, 2015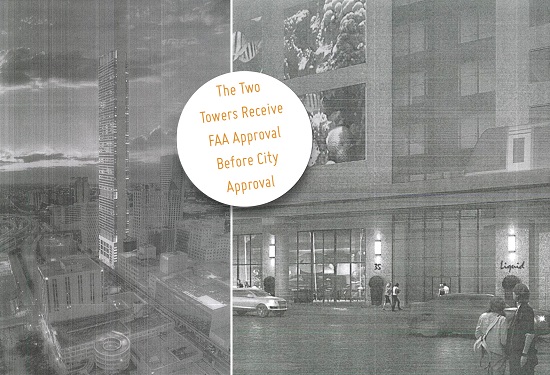 The Federal Aviation Administration (FAA) decided to approve two back-to-back projects even before receiving approval from city officials.
The two projects are named Liquid Lofts and 2000 Biscayne. These projects needed FAA approval due to their height, which could have potentially interfered with air traffic.
Liquid Lofts asked for a height of 866 feet tall, which was 875 feet above sea level. The 76-story condo tower will be located at 35 Southwest First Street and includes 482 units, retail space and restaurant space on the ground floor. The Planning, Zoning, and Appeals Board delayed a decision on approval this past July, forcing project managers to wait until this coming October.
2000 Biscayne, the other project in question, stands at 646 feet tall, which is 649 feet above sea level. The developers, Verzasca Group, have the property for their building in contract and say it will be designed by a world renowned architect. Additionally, it will be the tallest building in Edgewater as of its construction. This project will have 450 units if the current plans are approved. They are currently waiting for approval from the city.
Source: thenextmiami.com
Photo credit: thenextmiami.com
Share your thoughts with us
Sign up now
Get news and updates delivered to your inbox