Top 10 Picks for a Rocking 2015 New Year's Eve in Miami
Nov 25, 2014 November 25, 2014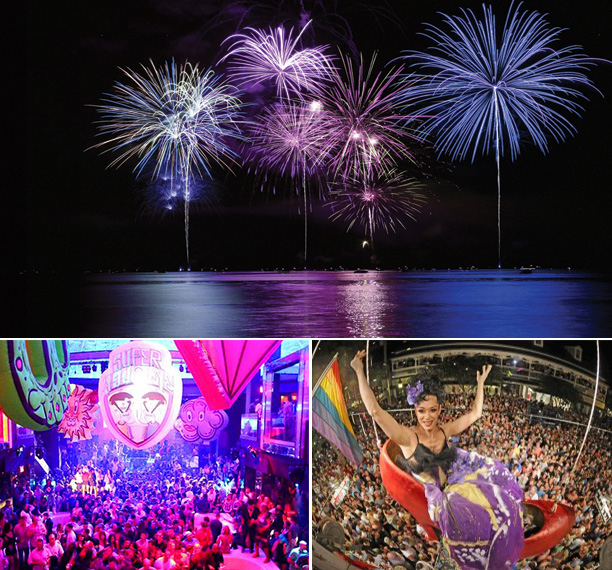 While most of the world's busy freezing on New Year's Eve, Miami's blessed to enjoy a balmy 75 degrees with a list of events that'll compel you to step outdoors. From the city's movers and shakers to world-famous celebrities and even family folk, Miami's repertoire of events has a little something for everybody to usher in the New Year with a smile.
Known for its world-class nightlife, gorgeous beaches and rising dining scene, the Sunshine State won't be leaving any stone unturned to welcome 2015 in style either. Here's our pick of the top 10 destinations to head out to this New Year's Eve:
1. New Year's Eve Bash – Miami Beach Resort
Hit the legendary Starlight Ballroom for an elegant evening to be enjoyed with fantastic music, all-night dancing, a cocktail reception, premium 5-hour open bar, 4-course dinner, special champagne toast, festive party favors and breathtaking views of the Miami Skyline along with fireworks from across the city.
Miami Beach Resort, Miami Beach
Admission: $150-$250 plus valet parking for $16.00
Entry: All ages (Formal attire)
2. Pitbull's New Year Eve Revolution – Bayfront Park
Join Mr. Worldwide and a host of big-name artists for a grand farewell to 2014 with Miami's very own 'Big Orange' ball drop, stunning fireworks and live entertainment that'll compel you to "give me everything tonight".
Bayfront Park, 301 N. Biscayne Blvd
Admission: Free - Entry: All ages
3. #LastRoundAllWhite – Miami Showroom
If wild's your style, then this all-you-can-drink bash is just the thing for you. Ring in 2015 in high spirits with unlimited free drinks all night long and tunes from DJ Thunder, DJ Push Play, Osocity, DJ Koolie, DJ Stunna and DJ Swole to rock your world.
Miami Showroom, 8101 NW 7th Ave. Miami
Admission: Chargeable - Entry: 18+
4. New Year's Eve Party – Hilton
Send-off 2014 in haute style, as you make it to this upscale party to enjoy all the drinks you can handle, a gourmet buffet as well as formal dinner options, Miami's best dance music courtesy the hottest DJs, laser lights, confetti shoots, champagne toasts, deluxe party favors and countdown with NYC on giant screens.
Hilton Miami, 5101 Blue Lagoon Drive
Admission: $65 and up - Entry: N.A.
5. Playboy NYE 2015 – Mansion
Touted to be the sexiest bash in Miami, get ready to welcome 2015 at the hottest party spot in the city with an all-night open bar, complimentary midnight champagne toast as well as the highest quality sound and lighting systems one could ask for.
Mansion Nightclub, 1235 Washington Avenue
Admission: $200 and up - Entry: 21+
6. Annual New Year's Eve Fireworks Gala – Musette Yacht
Cruise into the New Year like a real VIP with unmatched views of spectacular fireworks across South Beach, Downtown and Key Biscayne along with a full dinner buffet and awesome live music to keep you going all night.
The Musette Yacht, 401 Biscayne Blvd, Downtown
Admission: $150 and up - Entry: 21+
7. Peace, Love & Music - Nikki Beach
Begin your New Year on a distinctive note with a vintage-inspired soiree accentuated by mouth-watering cuisine crafted specially by Chef Brian Molloy, thrilling live entertainment, a midnight champagne toast, tons of party favors and a private fireworks display at the stroke of 12.
Nikki Beach, 1 Ocean Drive, Miami Beach
Admission: $75 and up - Entry: 21+
8. NYE 2015 – Mokai
Get ready for a Mokai-style wicked bash with your favorite DJs spinning the hottest tracks and an open bar as well as complimentary midnight champagne toast to welcome the New Year in high spirits.
Mokai Nightclub, 235 23rd Street
Admission: $100 and up - Entry: 21+
9. NYE 2015 – WALL Lounge
Part of the W South Beach and one of the most popular party spots in the city, the Wall will be playing radical tunes by Don Diablo with drinks to keep you going all night. Your VIP ticket here also gets you into the most sultry poolside party at WET next door.
WALL (W South Beach), 2201 Collins Ave, Miami Beach
Admission: $200 and up - Entry: 21+
10. Poolside New Year's Eve - Fontainebleau
Get to the haute poolside at Fontainebleau for an unforgettable New Year's Eve bash with live performances by The Weeknd and NERVO and an open bar to get your spirits high in time.
LIV at Fontainebleau, 4441 Collins Avenue
Admission: Chargeable - Entry: 21+
Where will you be this New Year's Eve? Share your thoughts in the comments below or let us know if we missed a spot!
Source: floridatravellife.com
Photo credit: floridatravellife.com, miaminewtimes.com, miamiandbeaches.com
Share your thoughts with us
Sign up now
Get news and updates delivered to your inbox