Top 10 restaurants to catch the Miami Spice
Aug 05, 2014 August 05, 2014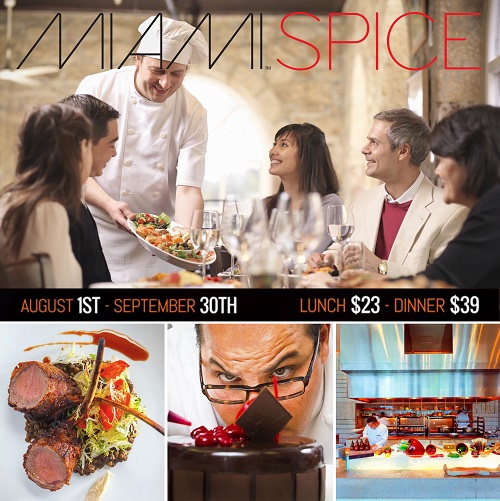 It's time to take your taste bud-dies to town with the annual 'Miami Spice' beckoning. Expect more than 170 restaurants to put their best dish forward, with prices that'll have you drooling way before you lay hands on the special menus.
This summer, ditch that weighing scale, put on your baggiest pants and head out to town with a fork in tow, as the most awaited foodie event of the year is here. Whether you're a food lover or picky eater, Miami Spice is for you! With two months of special discounts (ending Sept. 30th) on eateries across South Florida, there'll be a little something to lure out everybody.
With over 170 participating restaurants, offering fixed price Miami Spice menus, this is your chance to try that award-winning restaurant you've always eyed or simply explore choices in your own neighborhood.
All participating restaurants will be offering three course, prix-fixe lunches at $23 and dinners at $39, with wine pairings and premium items available at a modest surcharge.
Here's your roadmap to the top 10 places that'll have you drooling for some Miami Spice:
Azul (Mandarin Oriental) – Make the most of the Spice fest and head Downtown to the otherwise pricey Azul at the Mandarin Oriental. Famous for its mouth-watering blend of French flavors with Asian influences, this one's gonna be a real steal at $39.
Dinner: Tue-Sat
Downtown Miami
Atrio Restaurant and Wine Room – Treat yourself to international fare in the lap of luxury at Conrad Miami's signature restaurant. From the sumptuous ambiance inside to the breathtaking views outside, everything here is designed to be a feast for the senses.
Lunch + Dinner: Daily
Downtown Miami
The Bazaar by José Andrés (SLS Hotel South Beach) – Take your taste buds for a trip around the globe with Old-World delicacies and Eastern avant-garde delights served up by the James Beard Award-winning Chef José Andrés. The menu here finely blends the authentic and original in true Spanish tapas style highly influenced by local Latin flavors.
Dinner: Mon-Thu & Sun
Art Deco District / South Beach
BLT Steak (Betsy Hotel) – Get ready to dig into signature dishes from star chef Laurent Tourondel! Whether you choose to dine indoors or out, this beachfront steakhouse will lure you in with prime cuts served in a sophisticated, yet relaxed setting.
Lunch: Mon-Fri; Dinner: Mon-Fri & Sun
Art Deco District / South Beach
The Cypress Room – This is your chance to get a taste of James Beard Award-winning Chef Michael Schwartz's glamorous comfort food. With a menu that celebrates the restaurant's wood-burning grill with high-end game, caviar, oxtail and more, you'll be sampling elegant American cuisine in a classic 1920s setting.
Lunch: Mon-Fri; Dinner: Mon-Thu
Miami Design District
Gibraltar – With scintillating views of the Biscayne Bay and Miami skyline to work up that appetite, you'll be spoilt for choice whether to dine indoors or out. Gear up to treat yourself to some innovative seafood in a whimsical Bohemian setting.
Lunch: Mon-Sat; Dinner: Nightly
Coconut Grove
Hakkasan (Fontainebleau) – Make your way to the U.S. debut of an award-winning restaurant that is known to change the way U.K. views Chinese food. This rooftop, family-style restaurant will be serving hearty portions of authentic Cantonese fare in a sumptuous setting with rich textures and hues.
Lunch: Sat & Sun; Dinner: Mon-Fri & Sun
Miami Beach
Lure Fishbar (Loews Miami Beach Hotel) – Staying true to its name, this luxury yacht-inspired restaurant lures you in with a grand selection of sushi, shucked oysters and fresh shellfish. With equally scrumptious non-seafood fare and an assortment of edgy cocktails, you might just not want to leave.
Dinner: Mon-Thu & Sun
Art Deco District / South Beach
Quattro Gastronomia Italiana – This is your chance to dig into truly authentic Italian fare seven days a week for two whole months! With ingredients specially imported from Northern Italy and cooking methods that adhere to traditional standards, this restaurant offers outdoor dining for a surreal experience.
Lunch + Dinner: Daily
Art Deco District / South Beach
Tuyo – Perched atop the Miami Culinary Institute with spectacular bay and city views, this restaurant welcomes you into the 21st century of culinary excellence. Get a taste of celebrity chef Norman Van Aken's fusion of New World cuisine & environmental philosophy to truly understand why he's called the "founding Father of New World Cuisine".
Dinner: Tue-Sat
Downtown Miami
Share your thoughts with us
Sign up now
Get news and updates delivered to your inbox