Top 20 Outdoor Restaurants in Miami Beach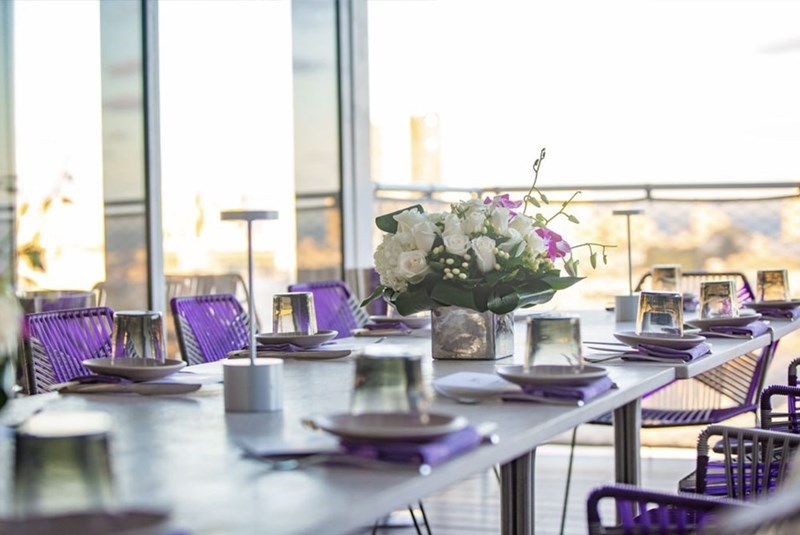 Oct 25, 2021 October 25, 2021
Whether you live in Miami or Miami Beach year-round, have a second home here, or are considering moving, one of the best things about Miami and the Beaches are the weather and bountiful dining options. When you combine the two, you can experience what Miami living is all about - enjoying a tropical lifestyle where you eat outside any day you choose. 
In Miami Beach, you'll have plenty of options to choose from if you're looking to enjoy a delectable meal outdoors, taking in the ocean breezes, tropical canopies, and the buzz of activity that characterizes one of Miami's most beloved hotspots! 
Here is our list of some of our favorite outdoor eateries in all of the neighborhoods of Miami Beach:


---
---

Juvia, located on the rooftop of the Herzog & de Meuron 1111 Lincoln Road building, serves up an eclectic mix of upscale French, Japanese, and Peruvian cuisines on a spacious terrace surrounded by lush greenery for the ultimate dining-under-the-stars experience. They also have a movable canopy for those moments of Miami rain.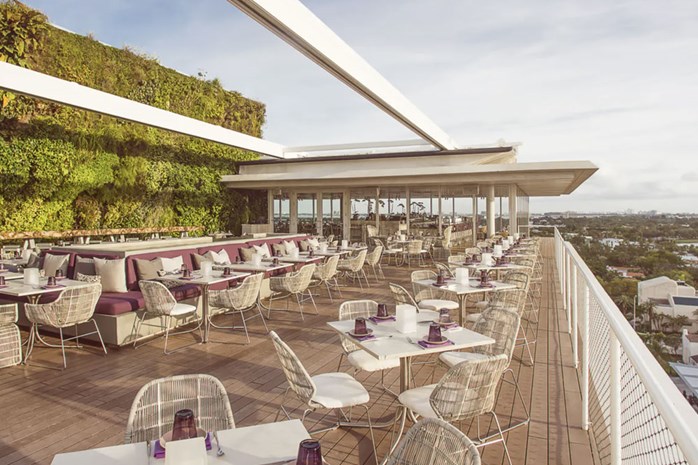 Joe's Stone Crab is one of those places that you have to visit at least once in your life in order to become a true Miamian. Established as a lunch counter in 1913 before Miami Beach even became a city, Joe's is open seasonally between October and April and serves legendary stone crabs as well as fine seafood and assorted platters. Dine inside or out in their courtyard patio.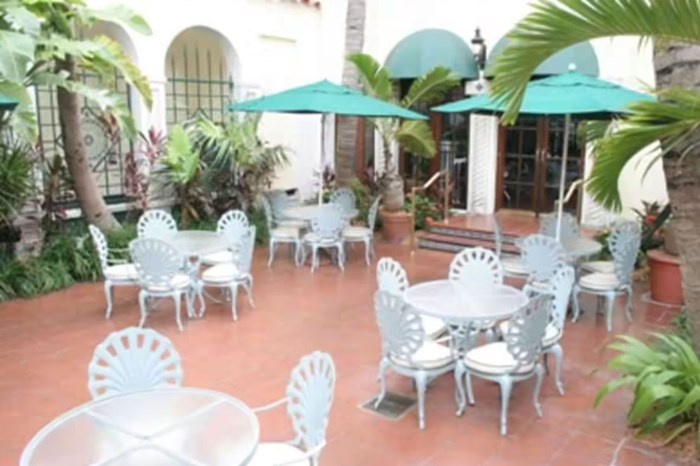 Smith & Wollensky is a renowned chain of American steakhouses established across the US, Taipei, and London. Waterfront views and an elegant terrace overlooking Government Cut and the Atlantic on South Pointe Park makes this one of the best local dining experiences for those who want to enjoy the perfect American steak.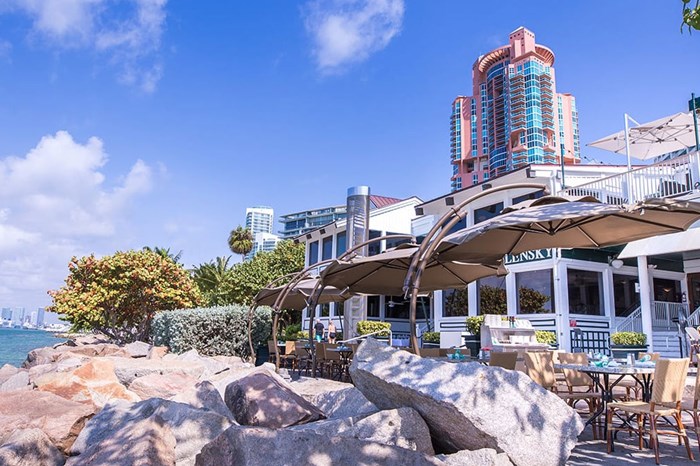 Stiltsville Fish Bar, overlooking the water on Purdy Ave in the laid-back Sunset Harbour neighborhood of South Beach, serves excellent locally caught fresh fish and seafood in a casual setting. Their Tuesday $2 taco special can't be beat!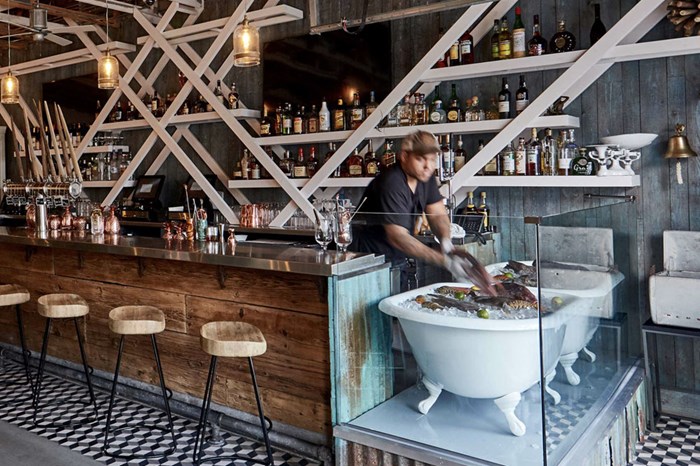 Diya Miami is a casual Indian-inspired eatery in the Sunset Harbour neighborhood that specializes in exquisite vegetarian offerings combining traditional Indian fare with whimsical Floribbean influences and locally sourced fresh ingredients, served al fresco in a breezy patio setting.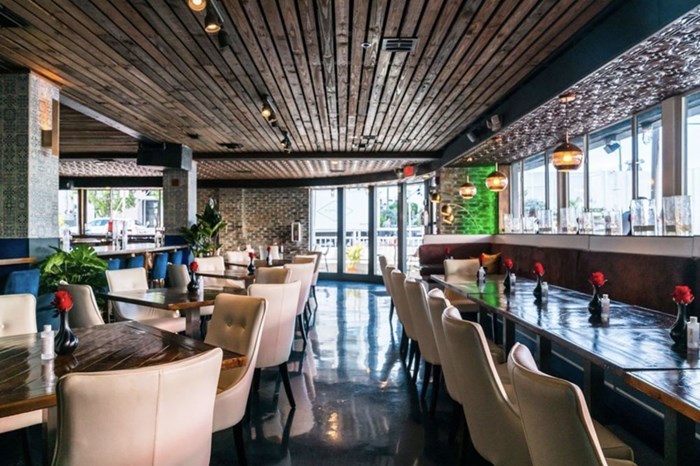 The Lido Bayside Grill, located at the Standard Hotel and Spa, is a favorite among waterfront-dining aficionados thanks to the spectacular waterfront deck overlooking the tranquil waters of Biscayne Bay. A dock-n-dine spot, the menu features locally-sourced ingredients and line-caught sustainable seafood as well as vegan, vegetarian, and gluten-free options. They are so committed to using locally sourced and fresh ingredients that they even source and roast their house coffee here in Miami.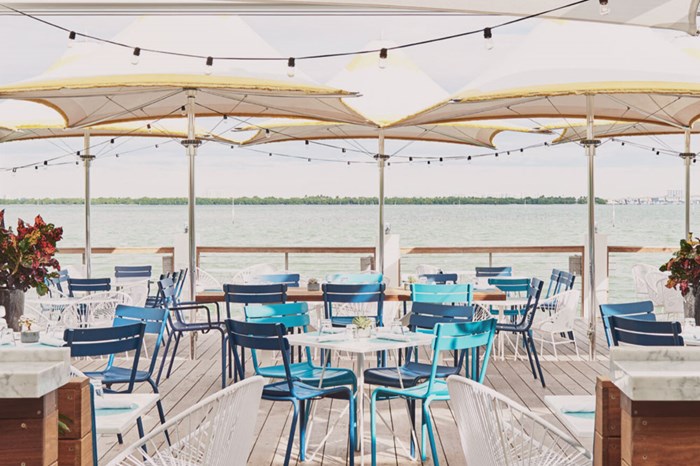 Amare Ristorante in the South of Fifth neighborhood features an expansive 4,000-square-foot terrace surrounded by colorful bougainvillea and fragrant lemon trees. The flavors of Naples and the Amalfi Coast come to life here with savory specialties and house-made dessert creations.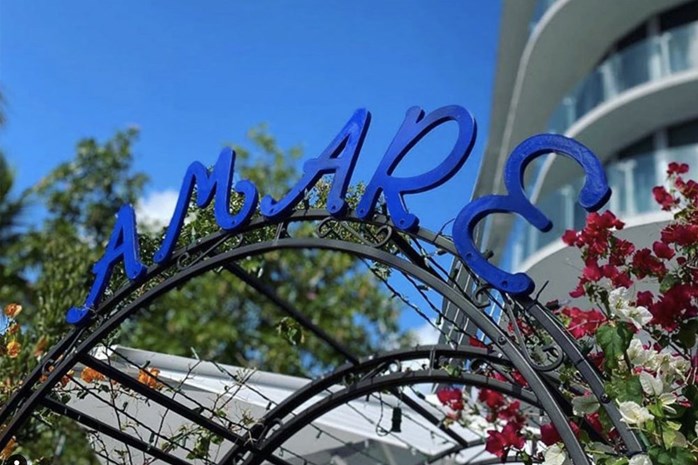 Nikki Beach is an iconic beachside eatery located right on the sand at 1 Ocean Drive in the South of Fifth (SOFI) neighborhood and features a varied menu of seafood, sushi, sandwiches and light fare that you can enjoy at a dining table or served directly at your cabana bed or beach chair. There's also a sexy beach nightclub on the premises if the urge to party overtakes you after dinner.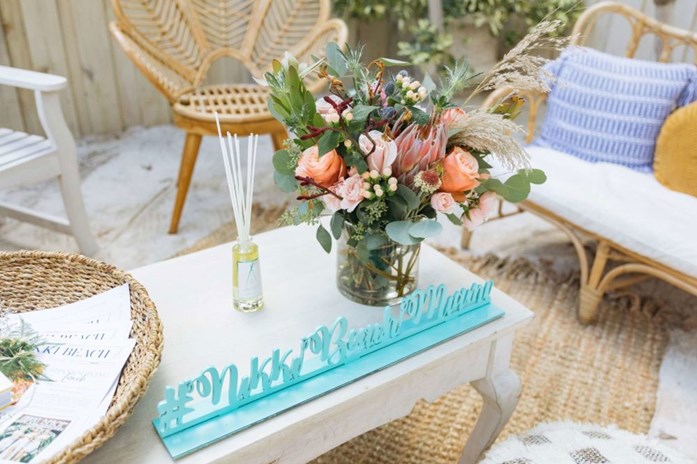 Orilla Bar and Grill serves a fusion between South American and European cuisine, featuring exquisitely grilled Argentine cuts of meat, in a chic upscale setting with al fresco dining options. 


Serena Rooftop serves Mexican fare on the rooftop of the Moxy Hotel and features specialties such as uni and crab tostadas, squash blossom quesadillas, and classics such as steak tartare.  Reservations required.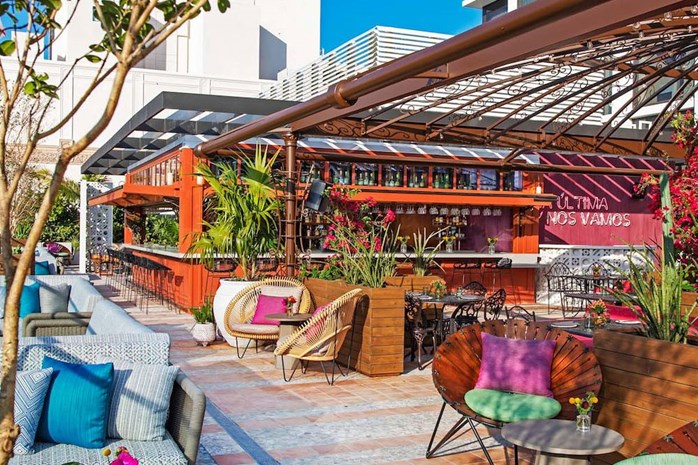 Santorini by Georgio's located at the Hilton Bentley on Ocean Drive serves classic upscale Greek fare and cocktails on a laid-back, breezy poolside deck overlooking the beach and Atlantic Ocean with live acoustic music in the evening. Private dining accommodations are also available.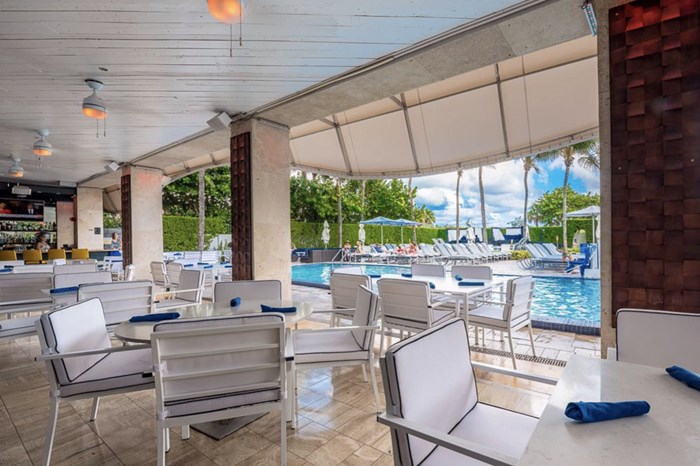 The Restaurant at W South Beach serves New American dishes with Caribbean and Mediterranean influences in a fresh and delightfully lush outdoor patio on the beach.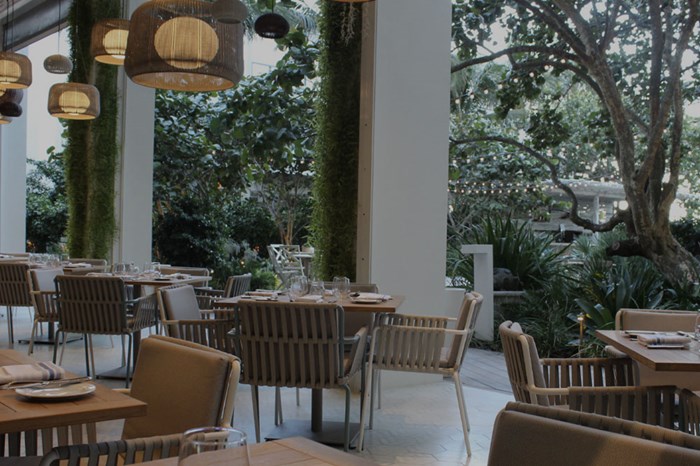 Looking to eat in Miami? Here is our list of top Miami restaurants for outdoor dining.
---
---

Malibu Farm provides balmy beachside dining at the Eden Roc Hotel just steps from the Atlantic Ocean and was voted the best waterfront restaurant in the city by the Miami New Times. Floribbean flavors inspired in New California cuisine include surprises such as avocado pizza and delights like house-made lemon sorbet. We recommend you make reservations.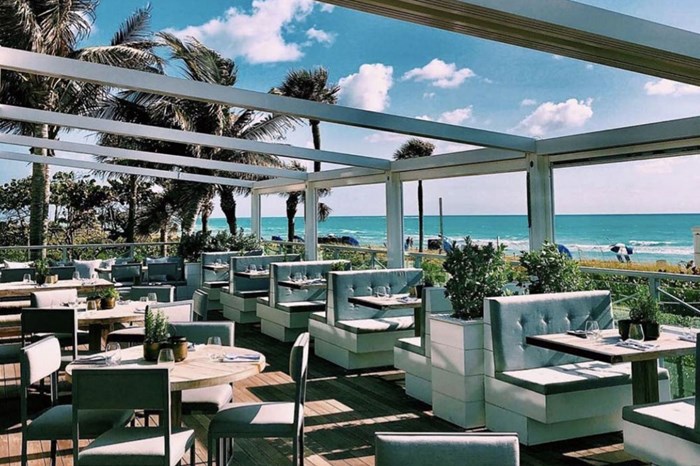 La Côte Bar & Lounge at the Fontainebleau was ranked by the New Times as Miami's Best Poolside Dining Spot, featuring fresh cocktails, tapas, and Mediterranean fare along with exotic desserts with spectacular views of the pool and ocean.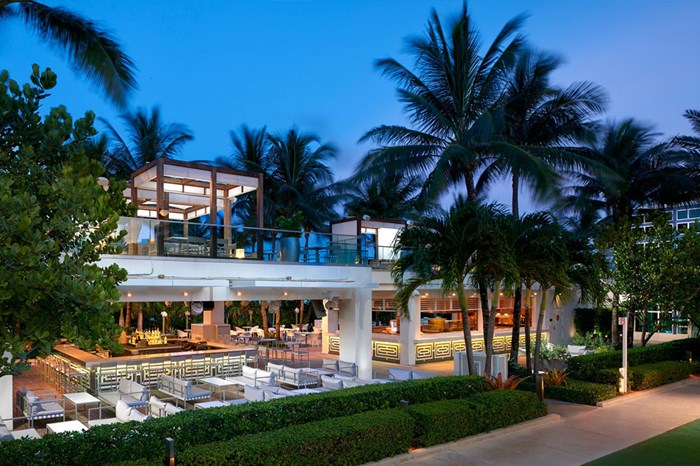 Cecconi's at Soho Beach House is a classic upscale Italian eatery set in an elegant courtyard, featuring specialties such as beef carpaccio, zucchini blossoms, truffle and goat cheese pizzettes, and spaghetti with Maine lobster. And their Sunday brunch is one of the best in all of Miami and the beaches.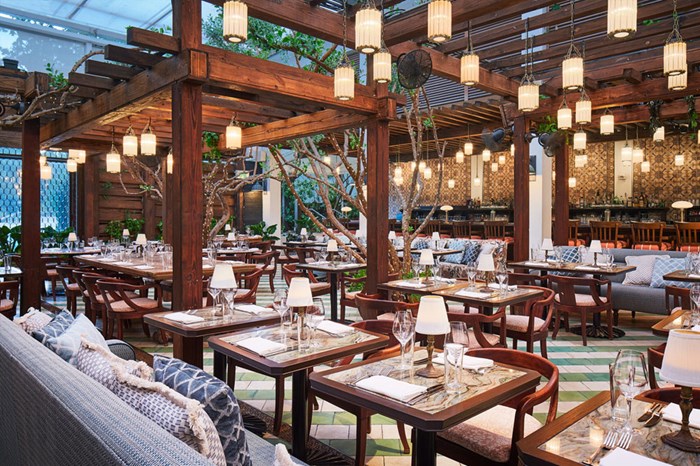 Looking to "dock-n-dine?" Don't miss these Miami boat-up restaurants.
---
---

Taquiza, an updated taqueria with locations in both North and South Beach, has become a Miami Beach staple for the "let's meet for a light lunch" crowd, serving authentic traditional Mexican tacos made with freshly stone-ground organic blue corn masa and fresh local ingredients. The North Beach location is our fave, with the beach and ocean a few steps away and the breezy oceanfront terrace of the Broadmoor Hotel as its dining room.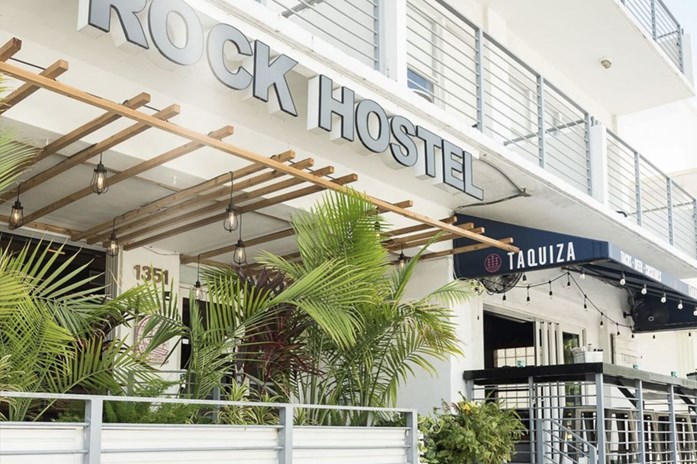 George's Restaurant & Lounge, is one of North Beach's most popular eateries, with a casual-elegant sidewalk patio and classic Mediterranean lunch and dinner fare at reasonable prices.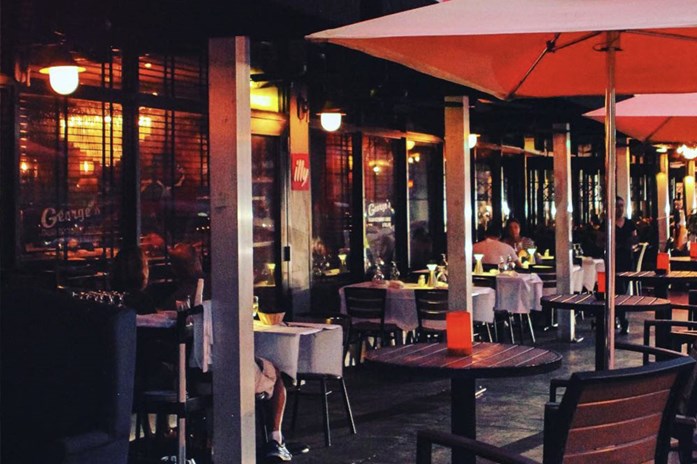 Café Prima Pasta is an Italian bistro and another favorite among locals in North Beach, serving an assortment of Tuscan-style pastas and specialties such as Carpaccio di Manzo and Polpo a la Toscana.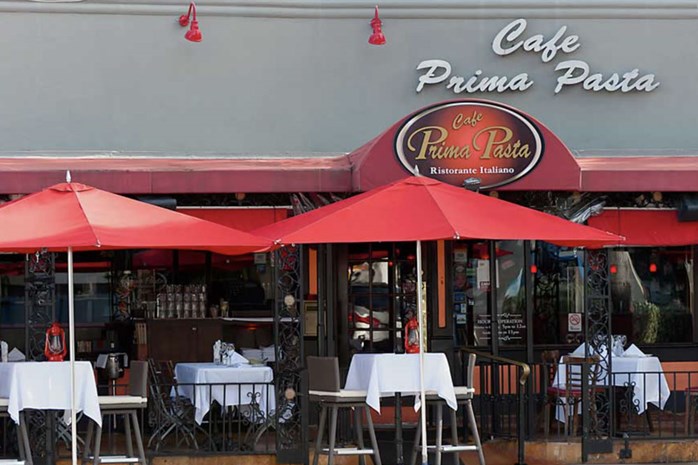 Roni's by the Ocean is a casual restaurant serving Middle Eastern favorites in a spacious covered oceanfront patio only steps from the Atlantic and right on the North Beach Boardwalk.



Rouge North Beach is a recent addition to the neighborhood, serving traditional French and Moroccan cuisine crafted with organic meats and wild-catch fish in an intimate romantic bistro setting with fireside patio seating.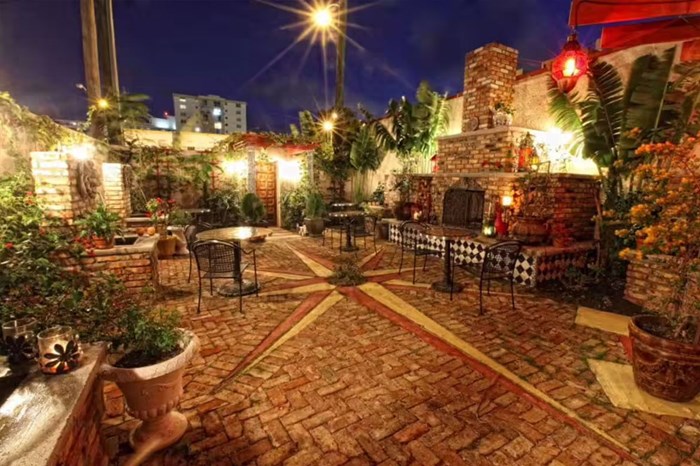 ---
Next time you're craving a tropical outdoor eating experience, visit one of our recommended locations and tell them we sent you. If you've got favorites we've missed, let us know! Connect with us on social media @blackbookproperties. Enjoy the view and bon appétit!

Photo courtesy of Juvia (@juviamiami)
Share your thoughts with us
Sign up now
Get news and updates delivered to your inbox