Top 5 Miami Beach Condos with Signature Spas
Mar 04, 2020 March 04, 2020
With today's jet-setting lifestyle and global pace, stress relief should be on everyone's To Do list! What could be better than coming home to your very own world-class spa? Seems just what the doctor ordered. As condos in Miami are known to offer the highest standards in resort-style amenities, spas have become a regular part of the amenity landscape here. 
From authentic Turkish hammams to refreshing oceanfront massage suites, rejuvenating facials to full body cleansing rituals, energy balances and chakra alignments, Miami's condo spas offer world-class services powered by some of the most illustrious wellness brands in the world, and offer residents an unparalleled amenity for wellness -- mind, body and soul. So if healing and wellness are part of your lifestyle, these are the Miami Beach condo buildings for you. 
For Part 1 in our series of the Top Miami Beach Condos with Signature Spas, we've rounded up the top spots in South Beach and Mid-Beach, while Part 2 will feature condos in North Beach, Sunny Isles and upwards along the beach. Here's to settling in our list, and don't forget to exhale:


102 24th Street, South Beach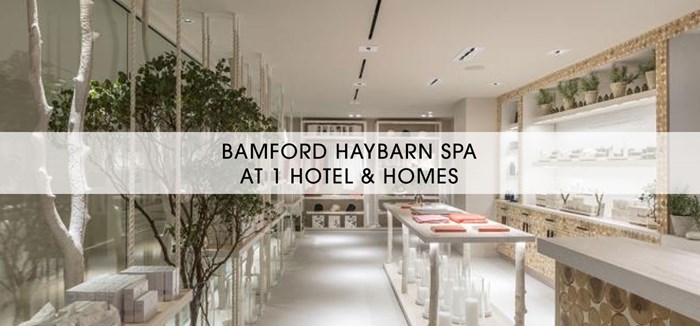 Living at 1 Hotel and Homes, residents get complete access to the first U.S. outpost of the famous Bamford Haybarn Spa by Carole Bamford. The British wellness brand is known for its holistic spa treatments, organic skincare range, signature scented candles, as well as thoughtful women's clothing, all crafted to the highest standards of sustainable living.
Voted 'Florida's Best Hotel Spa' at the 2019 World Spa Awards, it occupies 4,500 sq. ft. of wellness space within the condo-hotel. With a philosophy deeply rooted in natural living, just like the Hotel brand, residents can choose from over two dozen individually crafted body services, facial and massage treatments – all designed to nurture the mind, body, and spirit. Additionally, the products used at the facility are natural and/or organic and are specially crafted in the English countryside. The award-winning spa at 1 Hotel and Homes also features a relaxing Woodland Room with water fountain plus 12 exclusive treatment rooms.


2001 Collins Avenue, South Beach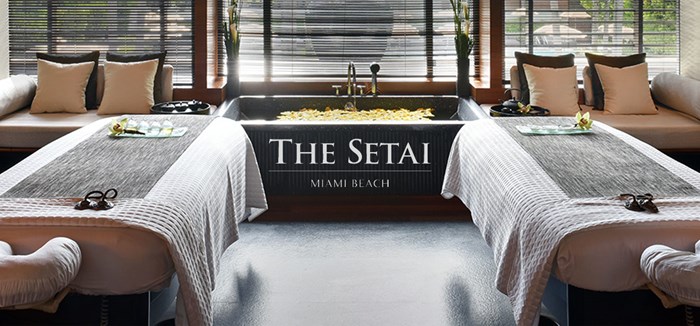 Winner of 'Florida's Best Hotel Spa 2018' award, this luxury spa features services dedicated to restoring strength, beauty and balance to the body. The tranquil oasis features four private spa suites, all with pool and ocean views, a steam room, and a private bath. The establishment exclusively uses Valmont products that draw upon Switzerland's unspoiled natural resources, traditional Swiss medicine, and the latest in cellular cosmetic research.
Setai residents have access to a wide variety of signature facials, massages, body treatments, healing rituals, blissful add-on moments, as well as nail and waxing services to choose from. The Master of Time full-body experience and Couples Love Ritual top the list of must-tries.


2901 Collins Avenue, Mid-Beach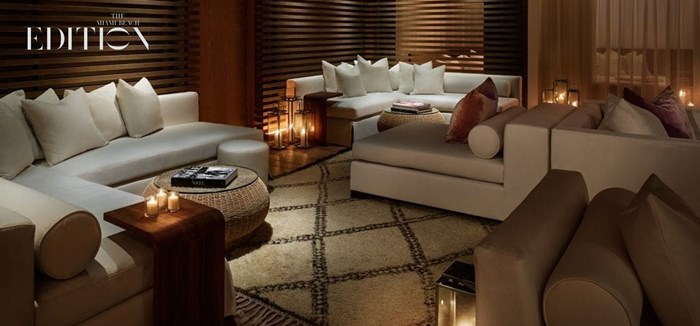 Designed to deliver the "good life," residents of the The Residences at the Miami Beach Edition condo-hotel get just that with priority access to its spa and salon services. Besides nine private treatment rooms, this luxury spa features a central relaxation lounge with custom-designed daybeds, colorful Moroccan rugs, and an oasis-like atmosphere. Residents also get access to its color therapy steam rooms, spacious locker rooms, a Beauty Lounge for nail, hair and makeup services, as well as a spa shop selling top products from the establishment itself plus beach/loungewear.
The Spa at Miami Beach Edition packs in a comprehensive menu of rejuvenating treatments that blends innovative techniques with timeless philosophies and emerging trends. Guests and residents can choose from a wide range of immersive experiences, massages, scrubs, ayurvedic treatments, body treatments, deluxe facials, express facials, nail services, and more. Men are equally taken care of with an exclusive menu of massage and beauty services.


3201 Collins Avenue, Mid-Beach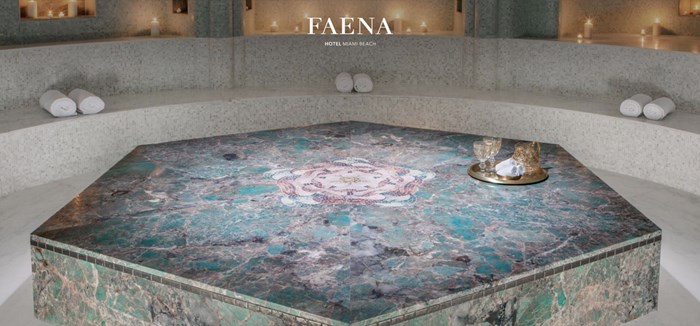 Residents of the Faena Hotel get full access to Miami's first South American-influenced spa in the Tierra Santa Healing House. With Tierra Santa translating to Holy Land, this 22,000 sq. ft. oceanfront sanctuary occupies the entire third floor of the property. Its distinctive interiors come bathed in natural light and feature energizing pops of color. Besides private oceanfront spa suites and a relaxation room, the condo-hotel's spa features a waterfall room, herbal steam room, wet scrub room, sauna, ice parlor, tepidarium, and one of the largest hammams on the East Coast.
The Tierra Santa Healing House spa offers an exclusive blend of age-old South American healing rituals with the latest in skincare technology. With the aim to provide complete physical, mental and spiritual purification, the range of products used at this luxury spa includes hand-blended, plant-based creams and scrubs along with the beauty range from Naturopathica for its tech-aided facials. They also offer lectures, events and yoga and meditation classes.
Signature treatments include the Sacred Warrior stress-release treatment, Tree of Life Vibrations chakra tune-up using Himalayan singing bowls, and the Triple Lift Advanced Facial using the face remodeling machine from Biologique Recherche. Residents at Faena further get access to custom-made programs and therapies crafted by a collaborating team of eight health, fitness, spa and holistic medicine experts including a Shamanic healer, certified medical practitioners, and celebrity fitness trainers.


4441 Collins Avenue, Mid-Beach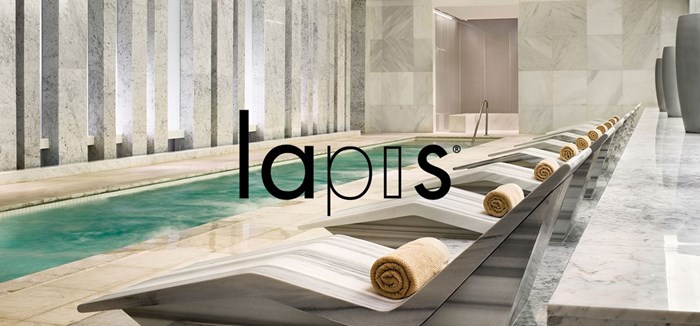 Part of the legendary Fontainebleau Hotel, residents here get complete access to the discounts and services available at the equally iconic Lapis Spa. Touted the "most beautiful spa in America" by Martha Stewart, this luxury spa is designed by Richardson Sadeki and has won many awards for its interiors, graphics and packaging designs. The two-level, 18,000 sq. ft. spa features wet areas with mineral-rich waters, 30 private treatment rooms, a hot tub, sauna, co-ed pool, lounge area and more.
Residents can choose from a wide array of Ayurvedic rituals, massage and body therapies, facials, body rescue treatments, Bleau Paradise for two packages, as well as all-day packages. The specialty treatments at this luxury spa encompass the best techniques from around the world, including ancient Japanese Kobido methods, Korean scalp massages, traditional Swedish body massages, eastern chakra therapies, European-style facials, and of course, ocean-sourced body wraps. The hotel-condo spa also offers hair, nail, and other salon services, as well as access to their exclusive skincare products and fragrances at Lapis Retail.


---

Now that you're acquainted with the top condo spas in South and Mid-Beach, keep your eyes peeled for Part 2 in this series with mentions of the best in North Beach and upwards!
Share your thoughts with us
Sign up now
Get news and updates delivered to your inbox