Top 5 North Miami Beach Condos with Signature Spas - Part 2
Jul 08, 2020 July 08, 2020
They say the ideal home should be a peaceful sanctuary where you can drop all your worries at the front door. And if you live in a condo, that should still apply. In fact, there are quite a few Miami Beach condos equipped to at least melt away all your stress with their signature spa treatments and services in-house.
As a resident of one of these luxury condos, all you need to do is step down into your building's spa and sit back to enjoy one of countless treatments designed to relax, detox, destress and re-energize! How does an anti-bacterial Halotherapy session, Botox-replacing Jeuveau treatment, seaweed detox facial, or deep tissue massage sound? Maybe an acupuncture session is what you need? Or simply indulge with a thorough exfoliation to peel off all those layers of stress, pollution, and toxins.
Concluding our series of the best Miami Beach Condos with Spas (where we covered the top 5 in South and Mid-Beach), here are the top 5 condos with signature spas as you travel up Miami Beach and into Sunny Isles Beach:


6801 Collins Avenue, North Beach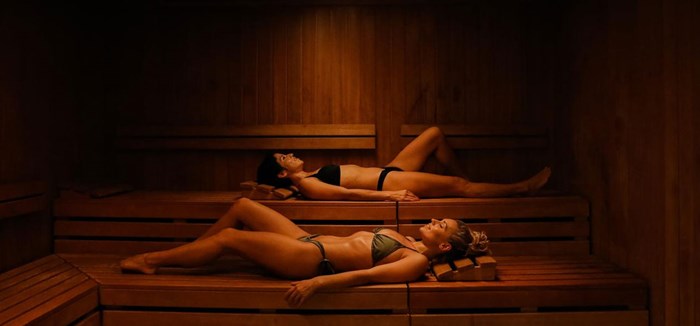 Photo courtesy of Booking.com

Previously known as the Canyon Ranch Hotel & Spa, this classic, mid-century condo-resort is practically built around the idea of wellness. With over 70,000 sq. ft. of spa and wellness space, residents, as well as guests, can relax and benefit from a comprehensive mix of Western, Eastern, Alternative, and Aesthetic treatments. From spiritual healing to emotional health services, restorative therapies to beauty treatments, this condo-hotel is designed to promote every aspect of well-being. 
With one of the widest ranges of world-class treatments and therapies available in South Florida, this oceanfront condo-hotel uses cutting-edge technology along with age-old treatments for balanced indulgence. Residents can benefit from a variety of unique experiences such as an exclusively crafted Thermal Experience with Miami's first therapeutic igloo, a European-style hydrotherapy circuit, Jeauveau sessions (known as the best alternative to Botox), and more, besides an extensive roster of massages, facials, and routine beauty treatments.
They also have a wealth of touchless experiences (great for times such as these), where guests can catch some sleep therapy relaxing on the Spa Wave, find motivation in a Cocoon Pod, rejuvenate every cell in the body on a LightStim Bed, detox effectively with Halotherapy, and more. Getting in touch with the wellness concierge further helps residents consult with a myriad of nutrition, anti-aging, and fitness experts.


17875 Collins Avenue, Sunny Isles Beach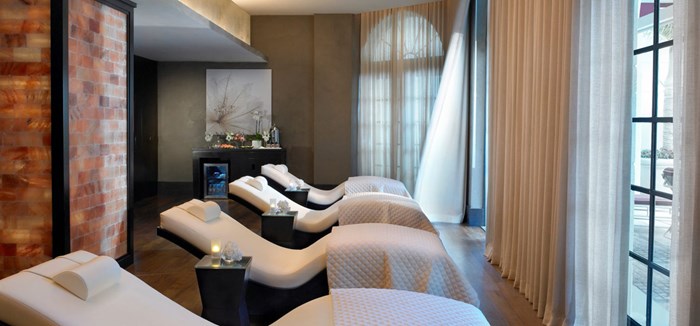 Accessible to residents of all three properties – the Acqualina Ocean Residences, The Mansions at Acqualina condos, and upcoming Estates at Acqualina condos – this five-star spa is housed in 20,000 sq. ft. of stunning oceanfront space. With plenty of awards and accolades to its name, this is the first ESPA-branded outpost in the US. The world-class, two-story indoor-outdoor facility is home to separate male and female amenity-filled relaxation areas such as the Himalayan salt wall, 11 multi-functional treatment rooms, one Royal Spa Suite, signature European heat experience areas with cool Arctic and warm Caribbean mists, a co-ed outdoor swimming pool overlooking the ocean with jet pool and Roman waterfall Jacuzzi, separate changing rooms, and much more.
Residents can look to enjoy revolutionary treatments at the Acqualina Spa & Resort, such as cryotherapy, the HydraFacial MD, and a host of other tailored treatments combining the best of ancient and modern techniques. Their signature spa treatments include a detoxifying body wrap plus salt and oil scrub. Embracing the European Day Spa philosophy that there are "no visits - only journeys," the renowned spa encourages guests to linger around pre- and post-treatment with curated lunch options and pool terrace access for lounging. All beauty treatments are administered using the ESPA line of skincare products.


9701-9705 Collins Avenue, Bal Harbour

Encouraging "time for yourself, away from the complexities of life" is the Reméde Spa, whose understated elegance, soothing earth tones, and exceptional list of treatments puts it on the A-list of spas in the country. Housed in over 14,000 sq. ft. of oceanfront resort space, the plush spa features lavish wet spaces like the supreme Vichy rain shower experience, thermal spaces inclusive of a Finnish sauna and aromatic steam room, 11 luxurious treatment rooms, a couples' treatment room with two-person soaking tub, and more.
Cashmere throws in the spa, heated marble floors, oceanfront massages under the warm sun, and in-room services are just some of the perks residents of the St. Regis Residences can look forward to. Some of the most popular treatments requested at the Reméde Spa include the Bal Harbour 24-karat Designer Facial using gold oil treatment, Signature Gold Body Wrap, chakra-balancing Bal Harbour Brilliance Massage, Four Hands Ritual, their deep-tissue hot stone massage, couples' massage, and reflexology foot rub. Furthermore, men have their own line of customized treatments that they can get pampered with.


9011-9111 Collins Avenue, Surfside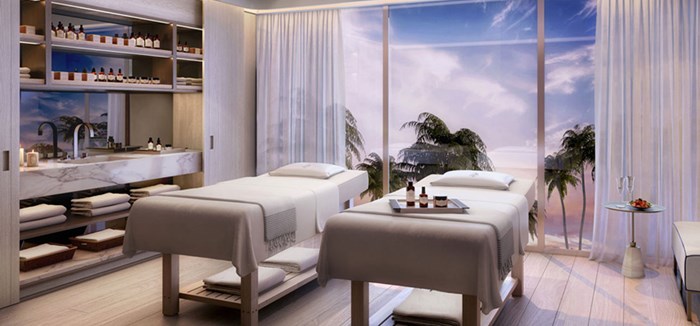 Designed by the renowned Parisian interiors architect Joseph Dirand, this beachfront spa is known for its cabana-like interiors, enhanced by the tasteful use of crisp white and blue hues. Spread over 15,000 sq. ft., the serene enclave is home to six indoor treatment rooms, two spa cabanas, a Turkish Hammam, and a spa shop. Residents will find a wholesome bouquet of internationally inspired massages, body treatments and healing rituals, right from Indian-based Ayurvedic chakra alignments to traditional Chinese reflexology.
Residents, as well as hotel guests, can look forward to indulging in advanced regimens performed by European-trained aestheticians and specialists. Some of their most popular therapies include the Calming Restorative massage, the balance-restoring Surf Club massage, Traditional Hammam Experience with deep cleansing and exfoliation, Post-Sun Soother using a special watermelon body tonic, and customized couples' cabana massage along the water's edge. With custom-made treatments for gentlemen, the spa prides in its use of premium skincare products from the likes of Biologique Recherche, Elemental Herbology, and Susanne Kauffmann's organic facial products.


16901 Collins Avenue, Sunny Isles Beach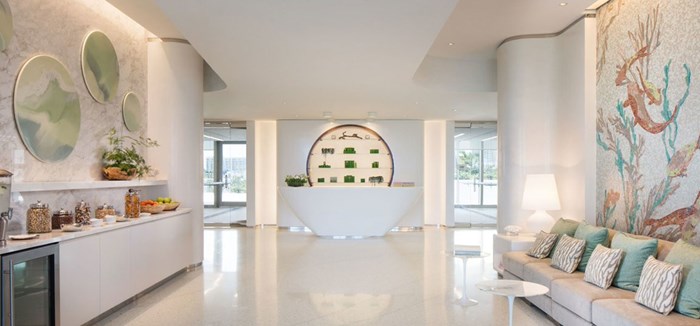 Designed by Swiss starchitects Herzog & de Meuron, this is the very first, full-service Tata Harper Spa in Florida. A celeb-favorite, natural beauty specialist Tata Harper's star-studded clientele includes the likes of Brooke Shields, Emma Watson, Anne Hathaway, and Gwyneth Paltrow. Nestled on a full floor dedicated to health and wellness in the luxury condo building, this resort-like spa features a coastal, casual chic ambiance complemented by green accents and natural finishes.
Residents have much to look forward to as the ocean-view spa is home to a Turkish Hammam, steam room, sauna, and invigorating cold rain shower. Some of their most popular treatments include the Jade Signature Facial, Jade Signature Body Buff exfoliation, and Travelers' Recovery Body Wrap. Using only 100% natural, nontoxic products in all their treatments sourced from a Tata Harper farm in Vermont, the spa also caters to gentlemen with a separate extensive menu.


---

For a peek into the top Miami (mainland) condos with signature spas, go here. See a condo building in our list you'd like more information about? Give us a call or send an email and we will be happy to help.
Share your thoughts with us
Sign up now
Get news and updates delivered to your inbox