Top Coconut Grove Condos for Boaters
Oct 07, 2020 October 07, 2020
One of the main perks of living in Miami is its vicinity to the sea. There are few other places on the planet that do waterfront living quite like South Florida. Miami is something of a Mecca for boat lovers, with so many waterfront neighborhoods, like Coconut Grove, Miami Beach, Key Biscayne, Brickell and Edgewater, to name a few. Luckily, if you are a skipper at heart but want the comfort of a condo, there are plenty of opportunities to snatch up real estate in the sunshine state that put you right in the midst of the Miami boating community. And with marinas at every turn, it won't be hard to find like-minded sea-farers!
Let's take a look at some of the best Coconut Grove condos for boaters:


---
Why Coconut Grove?
---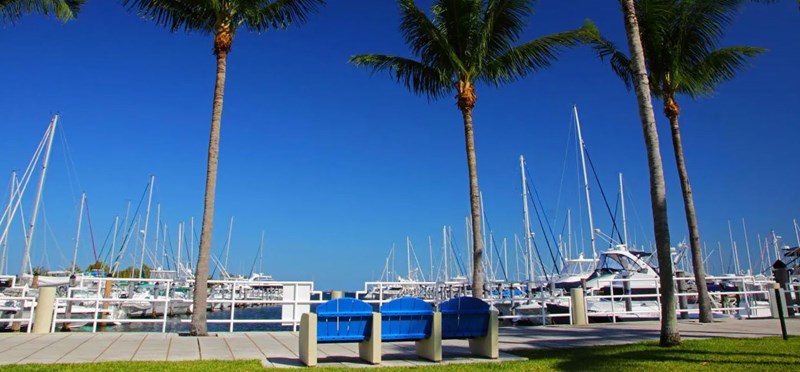 Dinner Key Marina - Photo courtesy of Miami And Beaches

Coconut Grove is the oldest neighborhood in Miami, and with some of the best marinas that Miami has to offer, it's an obvious choice for boaters, sailors and fishing enthusiasts. Places such as the Dinner Key Marina and the Coconut Grove Sailing Club are well regarded amongst the local yachting community.
The Dinner Key Marina offers access to brilliant water and an equally bubbling social scene, while the Coconut Grove Sailing Club provides a historic community feel, with years of tradition from its founding back in 1946. The sailing club also has plenty of events giving you the opportunity to mingle with great people all year round. It also plays host to a number of internationally recognized sailing regattas for the more competitive, as well as a juniors sailing program.
There are also plenty of brilliant schools in the area (public and private) making Coconut Grove a great place to start a family nest, all whilst still being able to look after your beloved boat, and enjoy one of your favorite, family friendly hobbies.


---
So, What are the Best Coconut Grove Condos        for Boaters?
---
2811 S Bayshore Drive, Coconut Grove
Average sales price $1,528 per sq. ft.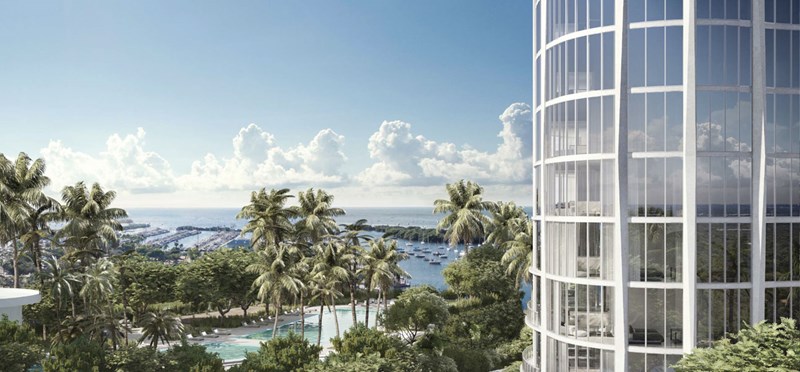 Artist rendering

One Park Grove is one of the most luxurious and indeed, desired condos in Coconut Grove. Located right on the coast, One Park is immediately recognizable thanks to its forward-thinking design by Rem Koolhaas and 5 acres of landscaping by Enzo Enea. Because of its prime location, One Park Grove is able to offer breathtaking panoramic views of the ocean and green. One Park Grove, a LEED-certified building, also spared no expense when it came to amenities with pools and tropical gardens, as well as a wine cellar and even a private screening room. All of this on the waterfront means that you can live a life connected to the ocean and have easy access to your boat, without having to sacrifice the comforts of home.
Thanks to its rich history, Coconut Grove has immense character and One Park puts you right in the epicenter of that, allowing you to explore the magical town and boutique restaurants by foot. Not to mention fresh markets and lush parks. The charm and homeliness of Coconut Grove paired with the luxury of One Park truly does give you the best of both worlds.
To view condos available to rent and buy in One Park Grove, click here.


2669 S. Bayshore Drive, Coconut Grove, FL
Average sales price $1,131 per sq. ft.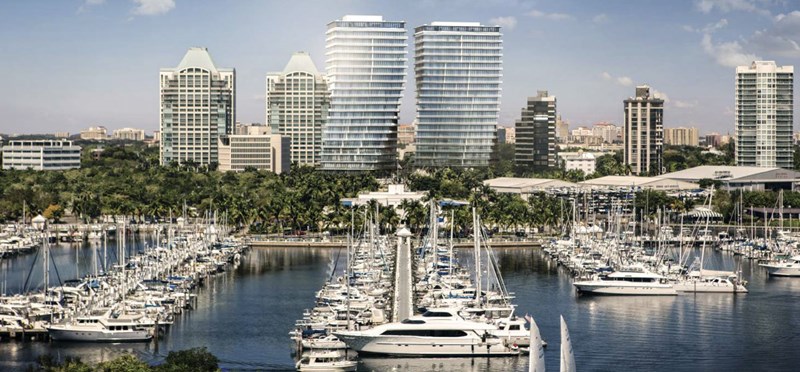 Artist rendering

The buildings at Grand Bay stand out thanks to their spiraling design by Bjarke Ingels. Perched overlooking the brilliant "Sailboat Bay," The Grove at Grand Bay's enviable location and internationally recognized architecture make it one of the most sought after buildings not just in Coconut Grove, but all of Miami. This condo is also in a great spot for boaters, overlooking a number of great marinas that give you the opportunity to keep your boat nearby, many within walking distance. Both towers also boast infinity pools as well as lush landscape design by local landscape architect Raymond Jungles and plenty more amenities to keep you comfortable.
Another great thing about Grand Bay's location is the markets in the area, including The Fresh Market and farmer's markets, giving you an opportunity to snap up fresh fish and produce. But fear not, if you don't fancy cooking you can always dine out at the many world-class restaurants in the neighborhood. 
To view condos available to rent and buy in the Grove at Grand Bay, click here.


3581 East Glencoe Street, Coconut Grove, FL 
Average sales price $1,462 per sq. ft.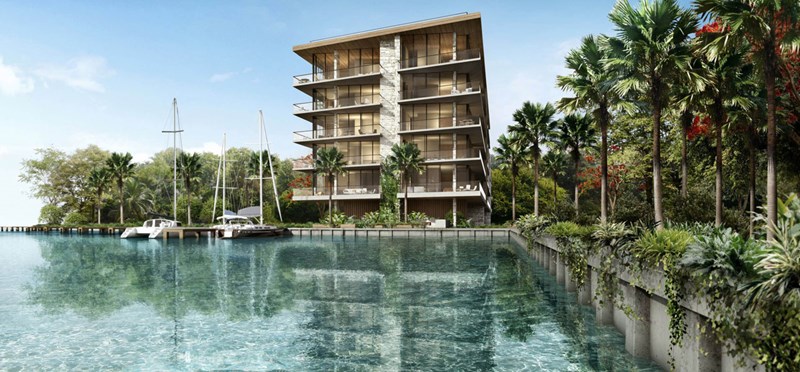 Artist rendering

This boutique residence is heavily inspired by Coconut Grove's natural surroundings, from the materials to the architecture, the building blends in perfectly with the environment which creates a sense of belonging for residents. Designed by local architect (well, starchitect) Max Strang, and with landscaping design by Sieger Suarez Landscape Architects. The heavy use of wood and natural stone coupled with the open floor plans gives you an opportunity to experience Coconut Grove's tropical environment. You also feel connected to the ocean, thanks to a constant sea breeze and the sounds of the bay. Also, Biscayne Bay Yacht Club is close by. There is also a rooftop bar and pool, fire lounges, and native gardens. Other amenities include the spa and gym and even a Hammam!
The Fairchild is also a brilliant option for boaters thanks to its private dock with boat slip, you can literally have your boat 50 meters from your condo at all times. You wouldn't have to worry about supervising the boat and checking up on it as The Fairchild team are all highly professional, that being said, checking on your mooring would be as easy as looking out the window of your home. The Fairchild's brilliant location means that you can launch uninterrupted into Biscayne bay. Beyond boating, the Fairlchild's location puts you within walking distance of everything from botanic Gardens to restaurants. Also for those who need to get to the office, Brickell and Downtown are less than 20 minutes down the road.
To view condos available to rent and buy in The Fairchild, click here.


---

If you need help looking for more condo or rental options in Coconut Grove or any other Miami neighborhood, particularly if you are a member of the boating community, please email us anytime or call us at (305) 697-7667 and we will surely find you exceptional residential options.
Share your thoughts with us
Sign up now
Get news and updates delivered to your inbox