Trend Alert! Is Miami Ready to Adopt the Micro and Carless Lifestyle?
Oct 28, 2016 October 28, 2016
It's super-efficient, it's economical, and definitely a trend that's here to stay. I'm talking about the micro-unit and carless trend that's hitting a growing number of cities in the U.S., and has now making its debut in Miami. Moishe Mana's latest 49-story development, Best Western International's boutique hotel VIB and Related Group's Wynwood 29 are all styled around this micro-concept.
So, what are these micro-units?
Micro-units are condos that are typically below 500 square feet in size. They come with built-in furnishings that tilt and fold, compact kitchens minus ovens, and common areas serviced by extensive amenities. The buildings have no parking – well, not exactly, some promise bicycle parking. And, the common areas will have superfast WiFi, full-scale kitchens and dining rooms for when you're entertaining.
These hyper-efficient units are being built with the aim to make affordable living a reality in Miami's urban core and central neighborhoods. Young professionals can now dream of renting or even owning a unit closer to their place of work, without blowing a hole in their pocket.
Situated either in central neighborhoods or close to public transit lines, the location of these micro-unit developments is going to make up for the lack of parking. More and more neighborhoods in Miami are getting to be walkable and a year-round calendar full of things-to-do means an increasing number of people prefer to spend their time outdoors. Our never-ending traffic woes are a whole other story!
So, coupling all that with Miami's SMART plan (adding six new rail lines and expansion of the rapid bus transit systems to fill in the gaps left by the existing Metrorail), and an Uber or Lyft ride being a phone tap away, massive convenience is taking over the need to own a car. (I recently gave up my car, considering the cost-to-benefit ratio.)
Seattle, San Francisco and New York are already in on micro-living. And I believe, affordable living in major live-work-play centers along with efficient housing that solves major urban problems for Miami will continue to fuel this trend for long.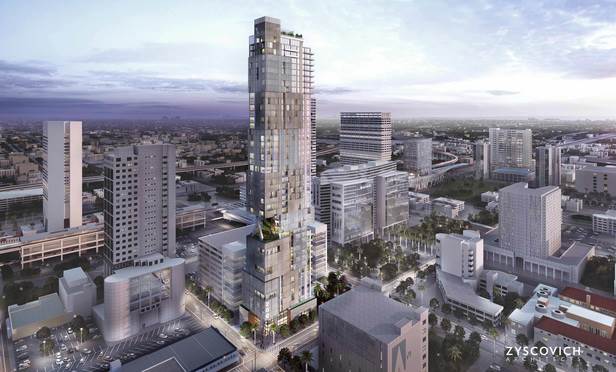 A rendering of developer Moishe Mana's proposed "micro-living" apartment tower at 200 North Miami Avenue.
Photo courtesy of Zyscovich Architects.
Share your thoughts with us
Sign up now
Get news and updates delivered to your inbox