Unleash Your Hunger, Miami Spice is Back Again
Aug 02, 2016 August 02, 2016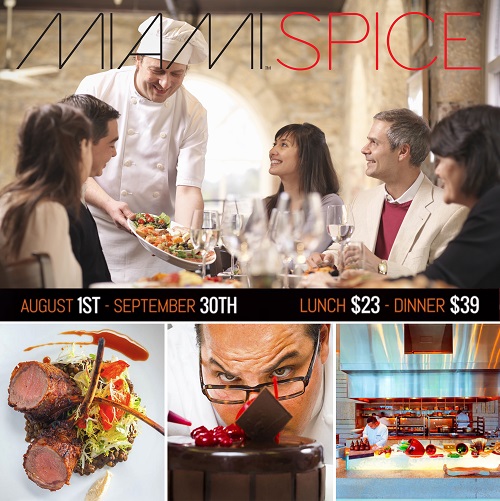 It's that time of year again when you can safely go restaurant-hopping without burning a hole in your pocket. The wallet-friendly (though not lightweight) Miami Spice is here to give us a taste of off-beat creations to gourmet delights from debutante to high-end restaurants – all at a mere $23-$39.
Every summer, Miami Spice brings us the finest to favorite delicacies at discounts that are good enough to work up an appetite. Restaurants across Miami take part in this two-month-long fiesta with special, three-course prix-fixe lunches and dinners. It's a great way to take a breather during the summers, as you can easily relish a 3-course meal at some of the most expensive restaurants in Miami without breaking the bank. It's equally great for restaurants as chefs get a free reign on churning those creative juices to produce something truly special.
Miami's love for food has made the Spice program so popular that more than 240 restaurants are participating this year – way higher than last year's 181. This year, you'll get your lunches at $23 and dinners for $39 between August 1 and September 30. But, of course, beverages and gratuities are not included, unless stated.
We're glad to see our all-time favorites return – Alter, Azul, Hakkasan, Pubbelly, Scarpetta, Red the Stakehouse, The Bazaar by José Andrés and Zuma. Then there's the debutants – Ariete, Beaker & Gray, Blue Collar, Dragonfly, Kyu, PB Station, The Continental, Los Fuegos, Sarsaparilla Club, River Yacht Club and NaiYaRa.
And, here's the ones who have some pretty good menus planned this year to infuse some spice to our summers – Altamare, Barceloneta, El Cielo, Market at Edition, Mignonette, Pascal's on Ponce, Scarpetta, SushiSamba Dromo, The Bazaar, and The Rusty Pelican.
No need to second guess yourself on who's in and who's not, here's the complete list of the 243 participating this year.
Share your thoughts with us
Sign up now
Get news and updates delivered to your inbox