Video: The Most Dog-Friendly Neighborhoods in Miami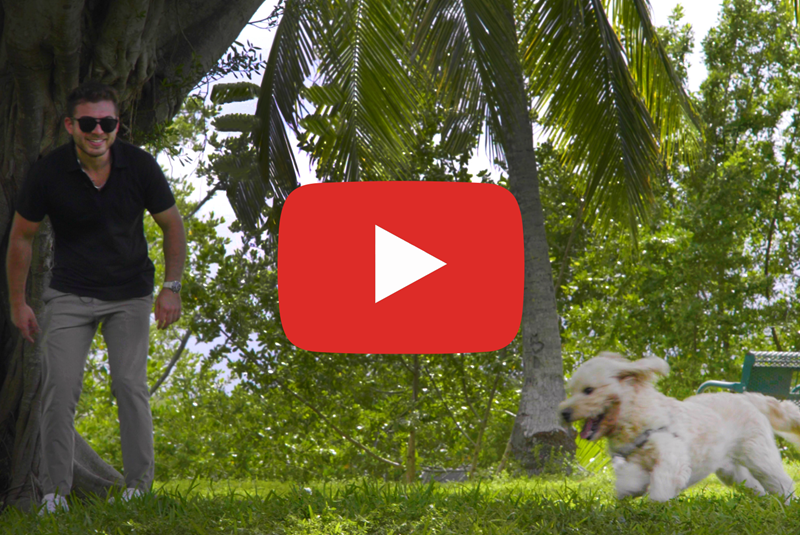 Mar 20, 2023 March 20, 2023
Looking for the most pet-friendly neighborhoods in Miami for Dogs? Then check out these great Miami neighborhoods that are sure to put a wag in the tail of your favorite fur-baby or four-legged friend. 
Miami is a super pet-friendly city, and has become the number one big city in the U.S. for dog owners. Its abundance of dog friendly amenities, like large dog parks, walkable areas, and proximity to the beach, all make Miami a highly desirable place to live if you have a dog.
But, what specific neighborhoods in Miami are the best for dog owners and that also have dog-friendly condos? Watch our exclusive video for a closer look the most dog-friendly neighborhoods in Miami and their dog friendly condos, too!

— What are the Most Pet-Friendly Neighborhoods in Miami for Dogs? 

Coconut Grove: The Most Dog-Friendly Parks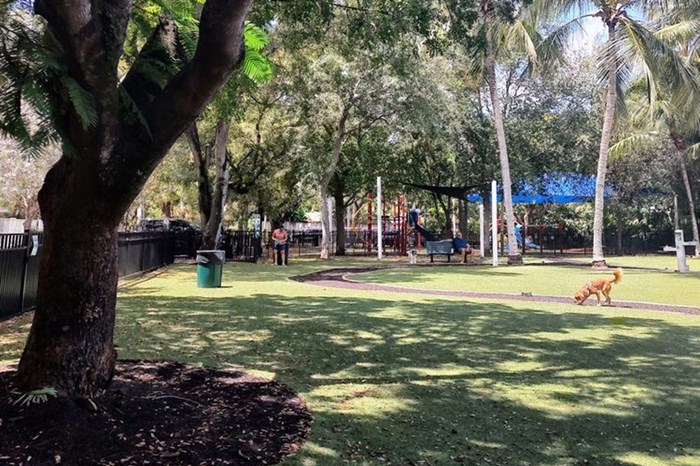 Blanche Park, Coconut Grove. Photo credit: Sarah P.

What makes Coconut Grove the top neighborhood in Miami for dogs is that the gorgeous tree-lined streets are extremely walkable. Additionally, there are tons of single-family homes and condos that are pet friendly. 
Coconut Grove has lots of dog-friendly parks and green spaces, probably more than any other Miami neighborhood around. For example, there's Kennedy Park where your dog can run off-leash, and Blanche Park, another off-leash dog park area. Because so many people have dogs here, most establishments are dog friendly as well. 

South Beach is a Doggo's Best Friend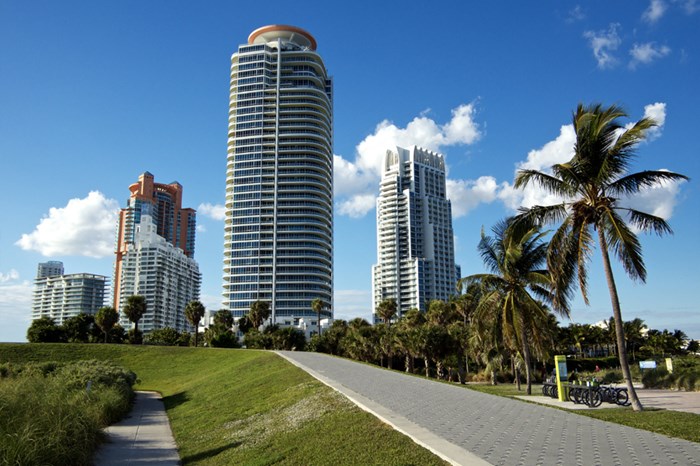 South Pointe Park, Miami Beach

Another iconic destination that is one of the best neighborhoods in Miami for dogs is South Beach. Here in laid-back South Beach, you will always spot someone walking their pup to one of the many beautiful parks such as South Pointe Park, Flamingo Park, or one of the smaller neighborhood parks. 
Additionally, there is a dog-friendly boardwalk that goes all way up to North Beach, making for very happy walks with your beloved friend. Although dogs are not technically allowed on the beach, you can often get away with it around sunset and early mornings (but, here is an official list of dog-friendly beaches in Miami). Generally, this is a very dog-friendly area with many dog-friendly establishments. 

Edgewater, Miami is Super Dog-Friendly!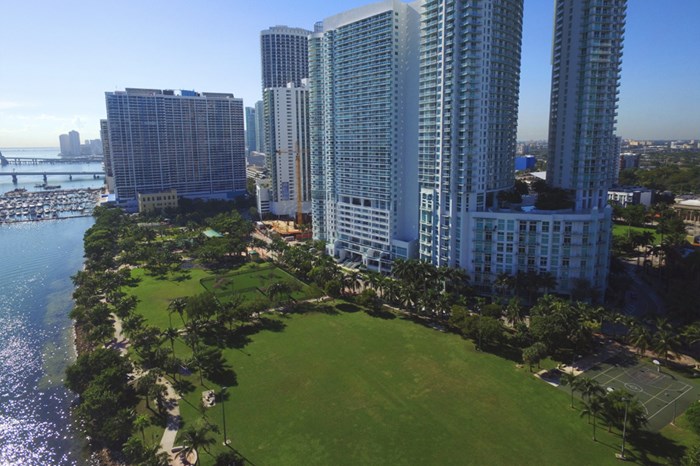 Margaret Pace Park, Edgewater

Finally, Edgewater, Miami makes it to the list of one of the most dog-friendly neighborhoods in Miami. The whole neighborhood is anchored by the breathtaking 8-acre Margaret Pace Park which is sure to make any dog (and human!) happy. 
You'll often see dogs playing frisbee or taking a casual stroll at this waterfront park. There are even two designated dog park areas in this up-and-coming neighborhood, one for the little guys and one for big dogs. If you are a dog owner and choose Edgewater, Miami to call home, you and your pooch will be sure to make new friends.


---

Dog-Friendly Condos in Miami


---

Some of the most dog-friendly condos in these Miami neighborhoods include: 

— Coconut Grove: Top Dog-Friendly Condo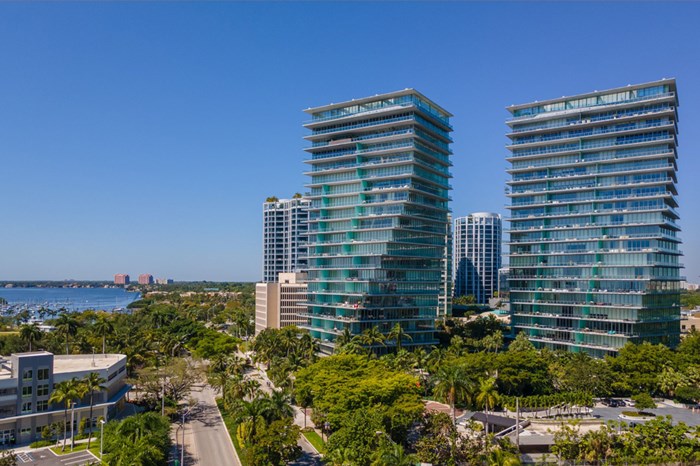 Your pet has a special place living at Grove at Grand Bay. Here, iconic architecture meets exemplary luxury in these twisting towers set along Coconut Grove's vibrant bayfront. Rising 20 stories each, the towers offer a combined 95 luxury residences with 58 condos in the North Tower and 37 in the South Tower. Offering high ceilings, floor-to-ceiling glass windows, a chef's kitchen, walkable gardens, meditative zen gardens, a wellness spa and fitness center, you'll feel right at home. 
And your dog (or pet) will love the pampering it gets as a special resident here, too. With a dedicated pet spa, and pet services including washing, grooming and dog walking, this lavish residence is sure to please both you and your doggo. Plus there are no pet restrictions for owners or renters, including big dogs. 
Developed by Terra Group, this expansive community comes designed by a dream team. Architecture was handled by the Denmark-based Bjarke Ingels Group (BIG) in collaboration with Nichols Broch and Associates, the lush gardens enveloping the 3-acre site were designed by locally acclaimed landscape architect Raymond Jungles.





— South Beach: Top Dog Friendly Condos

Setai, 2001 Collins Avenue

Beauty, luxury and finesse come together under one roof to offer an unparallel living experience right in the heart of South Beach. The sun, sand and surf lay beckoning at your doorstep, while a luxurious resort-style residence beguiles with a private retreat indoors. A few steps from Miami's stylish new cultural district, the sophisticated worlds of art, fashion, entertainment, and haute cuisine intersect at your front door for you to savor every moment of living in this sensational residence. 
The Setai condo residences are part of a 40-story, oceanfront building designed by Alayo & Denniston International. 163 ultra-luxury residences offer the most spectacular views of the Miami skyline, South Beach as well as the open Atlantic Ocean, and come with a choice of eight distinct floor plans. The pet-friendly units in the splendid Setai condo hotel feature a décor that weaves in Asian influences with panache. 
Other great dog friendly condos in South Beach include Apogee and the 1 Hotel & Homes. At Apogee, you have the incredible South Pointe Park as your backyard, with dedicated off-leash dog areas. Plus there are great veterinarians, pet-sitting services and groomers nearby.
At 1 Hotel & Homes, they are very pet friendly, and offer dog walking and pet-sitting services. In both buildings, pets are allowed for owners and renters, and large dogs are allowed, too. 





— Edgewater, Miami: Our Pick for Top Dog-Friendly Condo 

The brand-new five-star luxury flagship includes stunning architecture and design from renowned names such as Arquitectonica, Piero Lissoni, and Enzo Enea. These elegant condos come packed with world-class amenities such as custom European cabinetry, imported marble flooring, and high-end appliances, no expense will be spared. One Paraiso will also include many lifestyle amenities including a fitness center, spa, theater, library, pool, and much more, all within walking distance to the dog-friendly, expansive Margaret Pace Park. 
There are many more pet-friendly condos in Edgewater, Miami. Search and view all of Edgewater, Miami's pet friendly condos.





Looking to move to one of these dog-friendly Miami neighborhoods? Call or message us directly for a private showing of the best condos available in the neighborhood of your choice.

Share your thoughts with us
Sign up now
Get news and updates delivered to your inbox