Video: Your Top 5 Reasons to Invest in Miami Real Estate, NOW!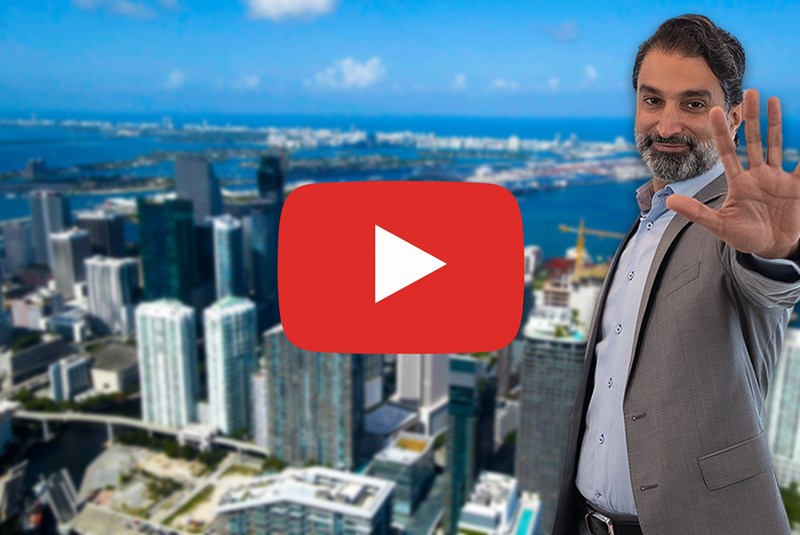 Nov 10, 2023 November 10, 2023
With soccer superstar Lionel Messi investing in three multimillion-dollar condos in Sunny Isles and billionaire Jeff Bezos picking up two waterfront estates in Indian Creek recently, the spotlight is turned on Miami real estate like never before! Besides the obvious sun, sand, surf, and fun, why exactly are global investors interested in our luxury housing market and living in the Magic City?
What's the draw, you ask?
If you're looking for answers to the above or ever needed a solid reason to buy or invest in Miami real estate – we're giving you 5! Watch the video for insights into why every major investor has their eyes set on Miami real estate lately – and why you should take note, too. We're talking business migration trends, global rankings, pricing statistics, and more:



— Why people who moved to Miami for the weather, beaches, or nightlife decided to stay and bring the family too…
With our thriving economy, diverse culture, and strategic location, Miami presents a unique opportunity for investors to maximize their returns in one of the hottest real estate markets in the world. Without a doubt, Miami has matured from being just another beachside playground into a smart investment paradise.
Here's looking at the top 5 reasons you should invest in Miami real estate now:
Manhattan Meets Silicon Valley.

Owing to the recent mass migration of businesses and startups, Miami is no longer just a tourism hotspot but has evolved into a thriving economic center. With billionaire execs to their c-suite teams and plenty of headquarters relocating here, Miami is where Manhattan meets Silicon Valley. We have the Blackstone to Goldman Sachs, Founders Fund, Citadel, and many more on the way.

Low Taxes and Other Savings.

For anyone migrating from high-tax states like New York or San Francisco, the opportunity to save is HUGE. Considering our no personal income tax laws and a relatively lower rate of property taxes, those earning six figures or higher can expect substantial savings.

Rents at All-Time High.

As a result of the recent business migration and high-earning talent tagging along, rents are at an all-time high in Miami-Dade. This, combined with our landlord-friendly laws, makes Miami one of the most profitable markets for real estate investors today.

International Culture.

Miami is no longer just about the popular beaches or crazy nightlife but has matured to afford one of the most wholesome lifestyles available on the planet. We've got the best of global cuisine, branded to boutique shopping, influential art events, world sports such as Formula 1 or NFL, fitness events and activities, and much more for those who love living life to the max.

International City of Choice.

Miami is topping all kinds of lists worldwide. We're ranked as the 2nd "Prime" Luxury Real Estate Market in the World in terms of price growth by a

2022 Knight Frank report

; thinkadvisor.com ranked us the 7

th

Best American City to Invest in 2022; 

The Economist

ranked us as the No. 1 Thriving City in the World; and so on. In short, given all of the above-listed reasons (and loads more, too), we've become the global city of choice for anyone looking for a wholesome lifestyle with great investment opportunities.
For more stats, rankings, and a detailed overview, we recommend reading our full blog on the Top 7 Reasons to Invest in Miami Real Estate. Or, simply get in touch!





Ready for a private tour of your next Miami home? Call, chat, or email us, and we'll get you to your desired property at the best price possible!
Share your thoughts with us
Sign up now
Get news and updates delivered to your inbox