Waldorf Astoria: A Storied Brand, New Heights of Luxury for Miami's Tallest Building
Apr 01, 2021 April 01, 2021
Launching sales this March, Waldorf Astoria's hotel and residences have already left their mark on Miami's pre-construction market. The 100-story condo-hotel will not only be the tallest building in Miami, but also the tallest building in Florida, and one of the most iconic buildings to be added to the city's skyline in recent times. Along with eminent design features, this luxury Supertall is set to bring a brand-new world of allure to the Magic City. However, before diving into the kind of amenities future guests and residents can expect to enjoy at this condo-hotel, let's take a look at the Waldorf Astoria brand and its storied history.

About the Brand - Waldorf Astoria




Waldorf Astoria - New York City, NY

Waldorf Astoria is Hilton's premium brand of luxury hotels and resorts. Representing the highest standards of facilities and services offered by Hilton Worldwide, this is the hospitality giant's flagship brand, previously known as The Waldor=Astoria Collection.
The story of Waldorf Astoria dates back to 1893, when William Waldorf Astor opened a 13-story hotel at 5th Avenue and 33rd Street in New York City, calling it the Waldorf. His cousin, John Jacob Astor IV, opened a 17-story hotel next door just four years later, calling it the Astoria. Ending their family feud a few years down the line, they decided to connect the two hotels with a corridor forming the Waldorf=Astoria, where the "equal" sign represented the bridge. This original hotel was finally torn down to make way for the Empire State Building, and the famous Park and Lexington Avenue property we all know today opened doors in 1931.
Fast forward a century or so, this luxury chain of hotels operates in 30 iconic properties across the globe and is known for its signature services, innovation, and creating a unique sense of space. Going with the motto of "Live Unforgettably," you will find a Waldorf Astoria in New York, Chicago, Florida, California, Hawaii, the UAE, Italy, France, Scotland, Germany, China, Maldives, Egypt and the Netherlands, with another 20 odd properties in the pipeline.

Waldorf Astoria's Brand Values & What to Expect?




Photo courtesy of Waldor Astoria

As mentioned on the global hospitality leader's website, the brand commits to the following:
True Waldorf Service.

Aimed at creating unforgettable memories, the entire hotel's staff, inclusive of personal concierges, strives to offer guests unmatched, graceful, and highly personalized services.

Iconic Environments.

World-over, the Waldorf Astoria Hotels and Resorts don't just feature iconic architecture, but also luxuriously appointed environments meant to inspire a sense of celebration.

Culinary Excellence.

Credited with inventing the Red Velvet Cupcake, Waldorf Astoria's signature restaurants come powered by some of the most famous and Michelin-starred chefs of our times.

Modern Leisures.

Taking a cue from the property's surroundings, the brand tailors spa and wellness treatments, making them unique for each location. It's 

recent 

collaboration with private aviation company 'Wheels Up' shows constant innovation to cater to the needs of its jet-setting guests.

Pioneers of Culture.

The brand holds the rare feat of having hosted every American president from Herbert Hoover to Barack Obama. It has also hosted an entire gamut of the most celebrated entertainers, cultural icons, and brightest talents, including Frank Sinatra, Elizabeth Taylor, Katharine Hepburn, and Sophia Bush.
Residents of the upcoming Waldorf Astoria condo-hotel in Miami can expect to be treated to the above and more, once again raising the bar for Miami luxury condos. Here's looking at what Downtown Miami's supertall will entail:

Towering Above the Rest: Details of the Tallest Residential Building South of NYC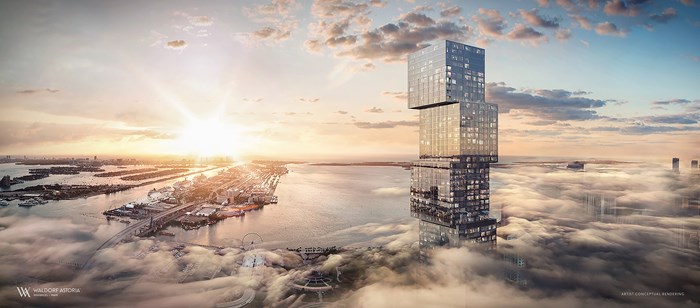 Rising 100 stories above the Miami River and Biscayne Bay, this will be the tallest building in Florida, built to an astounding height of 1,049 feet above ground. Conceptualized by the award-winning architect behind the Burj Al Arab in Dubai, Carlos Ott in association with Sieger Suarez, this supertall is designed to resemble a staggering stack of glass cubes.
All of the luxury residences (and 205 guestrooms) at the Waldorf Astoria Miami will come designed by the California-based interior design firm BAMO, known for their exquisite interiors, luxury furniture, and unexpected combinations of materials and textures. Each of its 360 condo residences will be delivered fully finished with high-end touches such as curated floorings, branded appliance packages, and smart home technology.
Some of the spectacular amenities to be offered to Waldorf Astoria's condo residents will include a resort-style pool with cabanas, signature spa, Peacock Alley lounge, signature restaurant, all-day dining brasserie, wine tasting room, kids' club, owners' lounge, True Waldorf Services, 24/7 concierge, and much more.


Want to know more?

For more details on the upcoming Waldorf Astoria Hotel and Residences in Miami, 

go here

!


Location: Luxury Living at the Confluence of Culture, Commerce, and World-class Cuisine
Located at 300 Biscayne Boulevard, overlooking the Miami River and Bay, this future supertall will stand in one of the most dynamic neighborhoods of Miami. Walking distance from the James L. Knight Center for performances, a Silverspot cinema, the open-air Bayside Marketplace and Marina, the AmericanAirlines Arena, the Perez Art Museum Miami, and many superb dining options, residents will be perched in the core of Miami. The skyscraper will also be a few minutes' drive from Brickell's financial district, the Port of Miami, and South Beach.
Pre-construction sales are now open for the Waldorf Astoria Miami. If you'd like more information on floor plans, available units, and more, call, chat or e-mail us at your convenience and we'll be certain to help find you the best investment or residential opportunities to meet your needs.


---

If you're interested in more pre-construction opportunities, find all the pre-construction condos in Miami here.
Share your thoughts with us
Sign up now
Get news and updates delivered to your inbox