Welcome to Art Basel – Miami's Premiere Art Event
Nov 19, 2015 November 19, 2015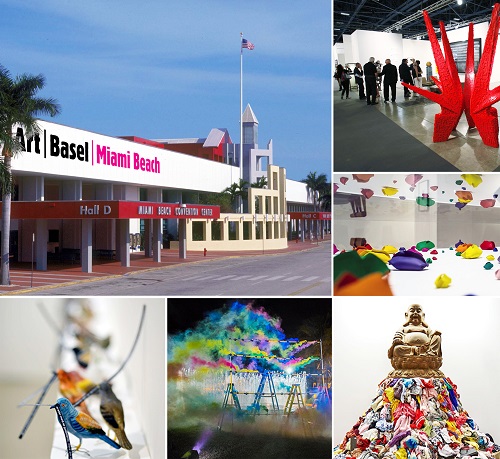 Every bit as glamorous, star-studded, creative and fashionable as its Swiss sister show, Art Basel Miami is for anyone and everyone who enjoys art in all its forms. Drawing out collectors, curators and critics from around the world, this international-scale event brings out glitterati. Satellite fairs and after-parties take over the town so here's your chance to rub shoulders with the who's who of the art, fashion, movie, sport and business world.
It's one of the few times of the year that the spotlight will be off the beaches and on the galleries. Highlighting the most comprehensive display of contemporary art, bringing the world's art scene to Magic City and featuring 267 galleries from 31 countries that showcase the works of more than 4,000 artists, Art Basel is the unofficial kickoff to Miami's art and culture calendar. And you're invited to witness modern art masters and rising stars alike put their best foot forward.
The Miami Beach Convention Center is the epicenter where all the arty action unfolds, while Galleries acts as the centerpiece. A collection of 500,000 sq. ft. in exhibition space is divided into seven distinctive curatorial spaces. While Nova displays new cutting edge works, Survey is dedicated to art-historical projects. Kabinett is where you'll find bodies of work from a single artist or themed group. And finally, Public is the outdoor display of sculptures, interventions and performances at Collins Park.
Pérez Art Museum will showcase Australian aboriginal abstract paintings in an exhibition titled "No Boundaries." And keep an eye out for the provocative solo exhibition by Alex Bag at the Institute of Contemporary Art. Our must see list also includes The Marguilies Collection at the Warehouse, the de la Cruz Collection and the Rubell Family Collection.
Miami's Art Week calendar, however, begins way before the 3rd of December. There's Wynwood's Art Miami and Design Miami for a start. Try to work in a stop at the numerous satellite fairs scheduled all month long at Pulse Miami, NADA, Art Untitled, Scope, Aqua, Red Dot, Art on Paper, Spectrum Miami and the Miami River Art Fair. A free shuttle service connects you with free transportation services to the art shows to make gallery-hopping a breeze.
You've got your choice of day tickets, permanent tickets and combination tickets for Art Basel and Design Miami as well as group, student and senior citizen discounts that make Art Week accessible for everyone!
Share your thoughts with us
Sign up now
Get news and updates delivered to your inbox