What are the Best Gated Communities of Miami Beach?
Jan 06, 2020 January 06, 2020
Living in a gated community is often at the top of many buyers' wish lists, and for good reason -- residents get to enjoy safety, exclusivity, high-end living and a neighborhood feel within a city. Especially with the fast pace of Miami Beach, a gated community becomes a peaceful pocket of idyllic living, well removed from any chaos. And many are surprised to learn how many beautiful gated communities there are on Miami Beach. Just minutes from everything Miami Beach and mainland Miami has to offer, these guarded enclaves represent some of the most sought-after pieces of real estate in South Florida. If the perfect mix of community and privacy is what you're looking for, here are the best gated communities of Miami Beach:

Gated Communities of South Beach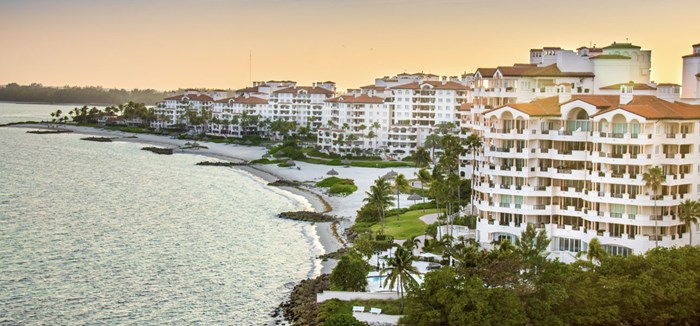 Technically not a gated community, Fisher Island definitely qualifies as one. Accessible only by daily ferry or helicopter, guests are entertained strictly by invite and are required to clear security. No wonder it has been home to the likes of Oprah Winfrey, Julia Roberts, and Andre Agassi.
Once part of South Beach, the island was cut adrift in 1906, making way for the Government Cut canal. Today, the island is home to lush, tropical landscaping and Mediterranean style architecture found in its great collection of waterfront condos such as Seaside Villas, Harborview, Bayside Village, Oceanside, Palazzo del Mare, or Palazzo del Sol. The exclusive island also features its own golf course, market, school, health center, and of course, marina.


Star, Hibiscus and Palm Island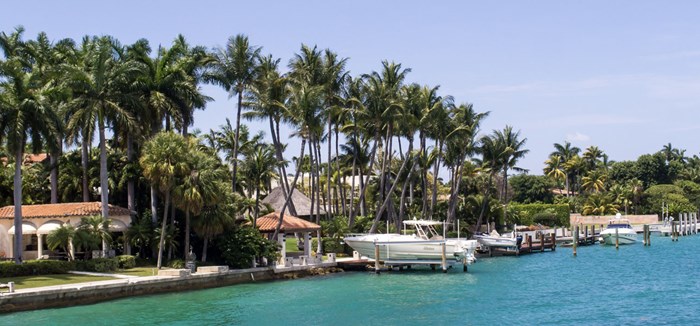 This trio of islands comes seated south of the Venetian Islands in Biscayne Bay and is accessible only via MacArthur Causeway. A hot favorite among celebrities since the 1930s, all three islands have been home to headliners including Al Capone, Madonna, Gloria Estefan, Shaquille O'Neal, Sylvester Stallone, Will Smith, Lenny Kravitz and more. Palm Island even has an Al Capone Museum highlighting his stay.
All three islands feature a luxurious mix of waterfront plus interior homes and mansions. Of all three gated communities, Star Island is considered to be the most exclusive, continuing to attract movie stars, sports stars, entertainers, celebrities, and business elite from across the globe. Owing to the trio's central location, residents are just 10 minutes from art and culture at Downtown, as well as South Beach's party avenues on either side.


Sunset Islands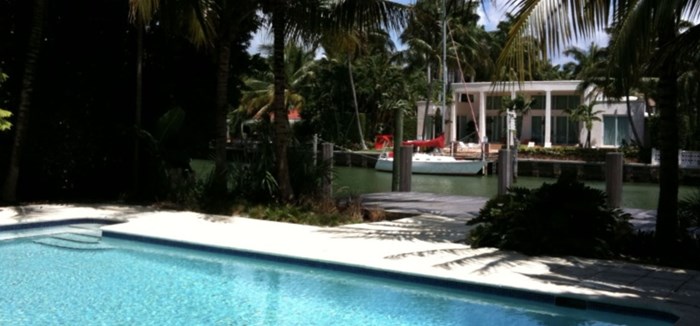 Seated just over the Venetian Causeway in South Beach, Sunset Islands is a collection of four gated islands. They are named so for their exceptional views of breathtaking sunsets going over the Downtown skyline. All four islands are known to feature an impressive collection of waterfront and interior-placed homes that share a wonderful family appeal and sense of community.
Sunset Islands are walking distance to the Miami Beach Golf Club (one of Miami's top 10 golf courses) as well as the popular restaurant, fitness scene and marina of Sunset Harbour. Residents enjoy being just 15 minutes from Downtown's art and entertainment plus South Beach's cultural and gastronomic diversity.


Gated Communities of Miami Beach
Allison Island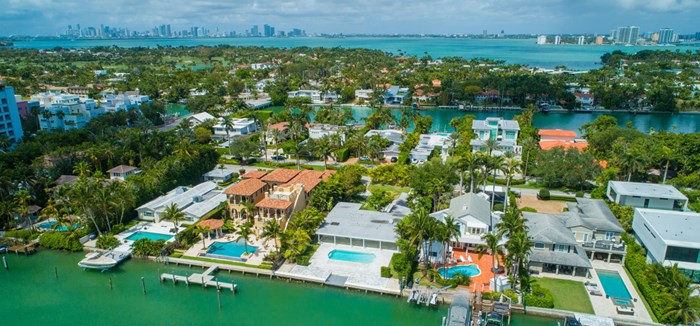 Nestled between La Gorce and Mid-Beach, this gated island is a sprawling 35.5 by 8.5-acre community less than two blocks from the beach. Known for its gorgeous waterfront homes and understated luxury, the island houses only three mid-rise condos – Chatham Condo, Spear at Aqua, and Gorlin at Aqua. This small condo community occupies the south side of the island and features a neighborhood store, pool area, dry cleaner, park, children's play center, and private docks.
Allison Island itself is designed as a luxurious village with waterfront promenades, making it an exceptional place to call home. Connected to Miami Beach via W 63rd St./Alton Road, the gated island sits next door to the La Gorce Golf Course (one of Miami's top 10 golf courses) and is 10 minutes from shopping at Lincoln Road Mall or about 15 minutes from the community of Surfside and luxury shopping at Bal Harbour Shops.


La Gorce Island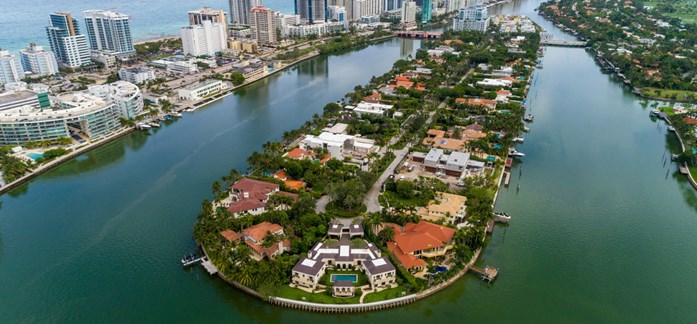 Surrounded by one of the top 10 golf courses in Miami at La Gorce Country Club, this gated island exemplifies exclusivity. With equally breathtaking waterfront and interior homes, this serene community boasts of extraordinary views, expansive lots and lush, tropical greenery. The appeal of this private and quiet island has been such that celebs such as Billy Joel, Cher, Dwayne Wade, and Lil Wayne have chosen to call it home. The guard-gated island connects to Miami Beach via La Gorce Dr. and Alton Road. Residents are just two blocks from the beach and 15 minutes from world-class shopping at Bal Harbour Shops and world-class entertainment in South Beach. 


Normandy Isles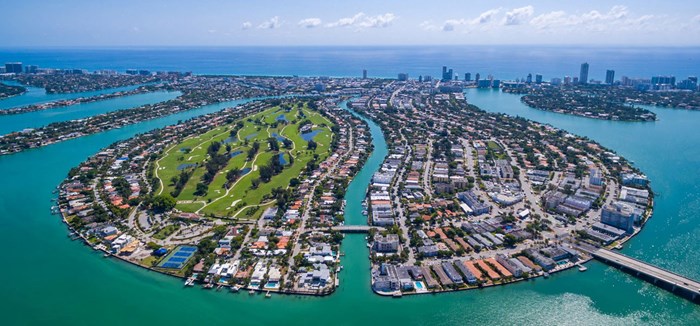 The gated community of Normandy Isles features two private islands. The northern island of Normandy Shores is considered more exclusive, with the 18-hole Normandy Shores Golf Course at its core and more homes fronting the water. The southern island of Normandy Isles features a mix of waterfront and interior homes along with a synagogue, supermarket, Walgreens, schools, basketball courts, community park and pool for the convenience of its residents.
This guard-gated community's condo collection consists of Iris on the Bay on the north side, while Baylights, King Cole, and Marseilles Deco come peppered across the south side. Connecting to Miami Beach via Normandy Dr./71st St., a 5-minute drive delivers residents to a great stretch of beach at the North Shore Park, while it takes 15 minutes to access great shopping and dining at the Bal Harbour Shops.


North Miami Beach Gated Communities
Biscayne Point (and Stillwater)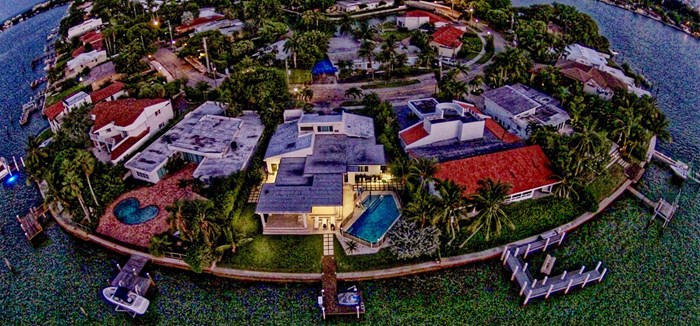 Sitting north of Normandy Shores, this gated community is a collection of three islands. The north side is called Stillwater, while the southern side makes up Biscayne Point. The islands connect to North Beach via 77th St., 85th St. and a pedestrian bridge.
Featuring a stellar collection of waterfront and non-waterfront homes, this gated community also houses two public parks, daycare centers, and a synagogue. Its residents further enjoy being surrounded by two fabulous golf courses plus a great stretch of beach across at the North Shore Park.


Indian Creek Island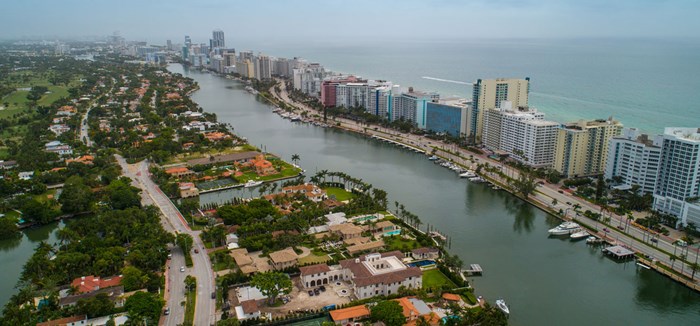 Nicknamed "billionaire bunker," this guard-gated community is home to just 40-odd, extremely lavish, waterfront homes. Its resident-roster has been (and is) home to A-listers such as Adriana Lima, Raymond Floyd, Jay-Z, Julio Iglesias, Carl Icahn, and Sheikh Mohammed al-Fassi.
Anchored by an 18-hole golf course and elite country club, the 300-acre private island features heavy security at its sole entrance on 91st St./Indian Creek Island Road. It also has a private police force patrolling the island 24/7 via Jeep, boat, and jet ski. A 10-minute drive takes residents to the equally high-end Bal Harbour Shops, while 20 minutes is all it takes to reach South Beach's top restaurants and entertainment.
Curious about living in one of these gated island communities? Browse available listings here on our CondoBlackBook Miami Beach neighborhood listing page, and reach out or call us today at (786) 930 4220.
Share your thoughts with us
Sign up now
Get news and updates delivered to your inbox