What to See at Design Miami 2020
Nov 18, 2020 November 18, 2020
As we head into the Arts Season in Miami, Design Miami returns to its origins at the Moore Building at 191 NE 40th Street in the Miami Design District with a celebration of international world-class art and design, featuring both virtual and in-person opportunities to enjoy exhibitions and programming spanning across 18 blocks. 
Celebrating this year's focus on art and design from the Americas, Design Miami/ Podium: America(s) will be open to the public beginning on November 28th and will run through December 6th. Entry is via timed tickets that you may purchase in advance for $22.50 at designmiami.com.
Additionally, the fair's online presence will be significantly expanded to provide virtual programming for the many collectors and design enthusiasts around the world who have to skip travel to Miami this year. So, here are some of the standout exhibits to see at Design Miami 2020.

Design Miami/Podium: America(s)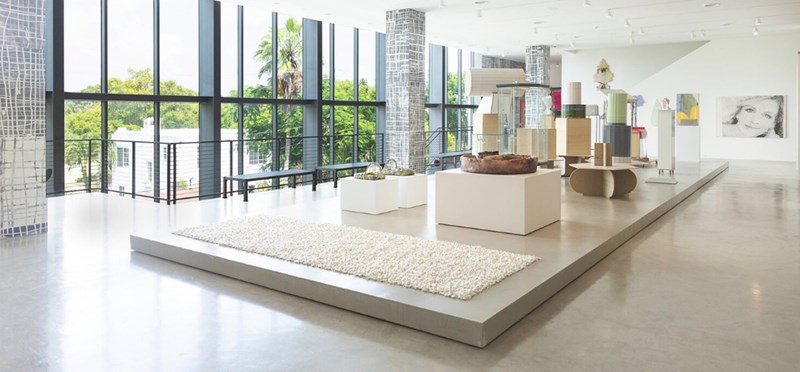 Floor exhibit from the De La Cruz Collection

While this year's Design Miami event features new exhibitions in and around the Miami Design District, including at ICA Miami and the de la Cruz collection, the heart of the celebration will be Design Miami/Podium: America(s) at the historic Moore Building. One of Miami's most treasured architectural icons, the three-story Moore building was Design Miami's original venue when the fair was initially launched in 2005, before it moved to Miami Beach.
Several major international galleries will be featured with an array of diverse exhibits of contemporary work from around the world. 
In an event press release for Design Miami, Craig Robbins, founder of the Miami Design District and co-founder of Design Miami, announced the event and its adaptation to current circumstances.
"Since 2001, we have hosted significant cultural programming to inspire and engage the South Florida community. In 2020, we have a pressing need for a creative dialogue, so we have conceived of a format responsive to current circumstances. As a pedestrian open-air neighborhood, the Miami Design District makes it possible to create live experiences that connect our local community. This is a re-imagined path forward to responsibly stage cultural events around the world."
Design Miami's updated 2020 edition is overseen by Curatorial Director Aric Chen, and invites participation not only from galleries but also from creative studios. The theme of Podium America(s) invites a new understanding of America and the Americas as well as the definition of an "American" identity as implicated and expressed in important design and craft works by international artists and designers.
While the lineup includes such eye-popping exhibits as a cloud of crafted butterflies batting their wings inside gossamer globes, and a rooftop lounge with immersive installations designed by Takashi Murakami, gallery offerings include diverse historical objects that range from dinosaur skeletons of Camptosaurus and Allosaurus to rare 19th Century Hopi kachina dolls.
Collectors and enthusiasts will also have opportunities to view 20th century furniture, ceramics, sculpture and other collectable objects by George Nakashima, Jean Royère, and Gio Ponti, as well as contemporary pieces by Katie Stout, the Haas Brothers, Isaac Scott, Studio Job, and Johnny Swing. 

Design Miami 2020 Notable Galleries & Exhibitors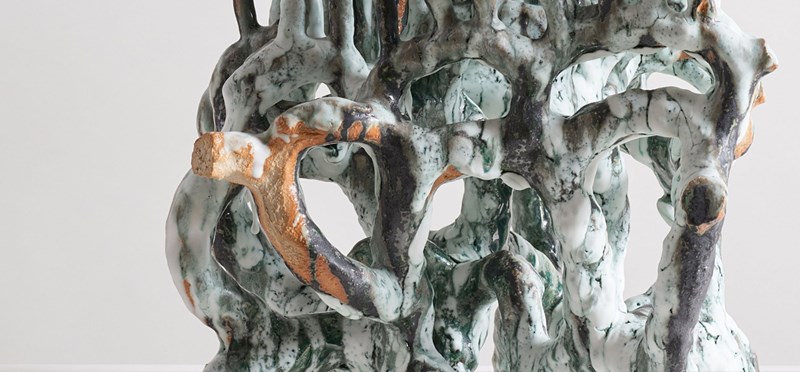 Photo: Glowing In The Dark - Bente Skjøttgaard

Among the participating exhibitors are 10 international design galleries. The event will also feature four innovative curio presentations, including one by New York-based R & Company, representing a select group of historic and contemporary work created between 1945 and the present date by designers from North and South America, Europe, and Asia.
Other exhibitors to keep an eye out for include Jason Jacques Gallery, Moderne, Mitchell-Innes & Nash, LévyGorvy in collaboration with Salon 94 Design, Jeffrey Deitch, and Miami's own David Castillo Gallery.
While the fair is emphasizing work from across the Americas, Central Asian work will also be showcased, in addition to a work created by Nigerian architect Tosin Oshinowo in collaboration with Chrissa Amuah, a noted British-Ghanaian textile designer.
The fair will also feature talks presented both in person and on-line, such as a discussion on "Architecture and Blackness in America," presented by New York's Museum of Modern Art, and a talk on Shaker aesthetics presented by the Shaker Museum.

Street Art for Design Miami 2020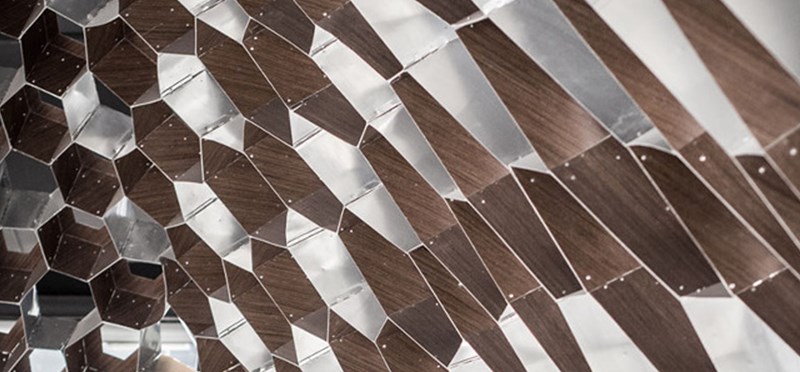 After you take in the offerings of the fair, while you're wandering around the Design District, keep an eye out for a series of playground-inspired interactive installations titled Conscious Actions by Chilean design collective Great Things to People (gt2P), who was this year's winner of the fair's annual design competition.
Also check out the show-stopping, site-specific street installations such as Rirkrit Tiravanija's whimsical The Sun Is Down, But We Have The Light, and playful assemblages by the neighborhood-based Pepe Mar,

About the Design Miami Fair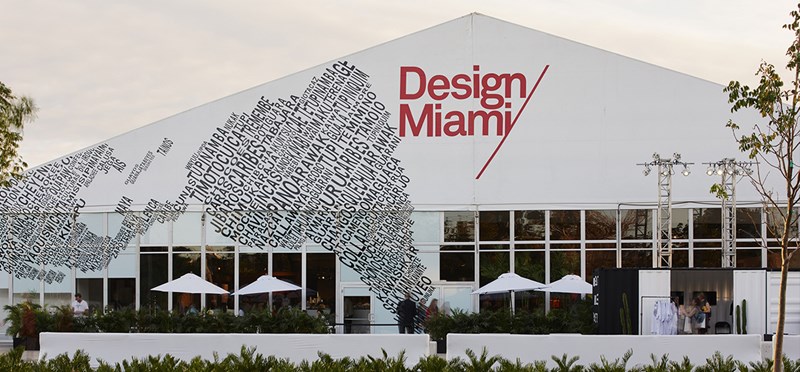 Ensuring public safety, the fair's safety protocols were designed under the guidance of the University of Miami Health System, and will require strict measures to avoid crowding and social distancing violations. Visitors to the fair will be required to pass temperature checks as well as to wear a mask in order to gain entry into the fair at the Moore Building.
As is the case with all public happenings affected by the Covid-19 pandemic, this year's event will be extended to 10 days to allow for capacity limits and timed ticket entry at the fair, and all work within the fair will also be viewable online.
Share your thoughts with us
Sign up now
Get news and updates delivered to your inbox