Which Miami Condo Towers Will Win the Battle of the Supertalls?
Apr 09, 2017 April 09, 2017
With the FAA (Federal Aviation Administration) relaxing height restrictions in 2015, it seems developers have been racing to break records with one supertall after another. The sky's going to be the limit for those who dream of snagging the best views (plus bragging rights) and standing above it all. With so many skyscrapers ready and in the offing, Miami's skyline is in for a growth spurt.
Here are the top ten tallest condos (present and proposed) of Miami:
#1 The Towers by Foster + Partners – Brickell
Height: 1,050 ft.
Floors above Ground: To Be Announced
Developers: Tibor Hollo's Florida East Coast Realty, Corigin Real Estate Group, McCourt Global
Design: Foster + Partners
Designed to be one of Miami's tallest condo buildings of the future, "The Towers" will consist of two connected buildings and 660 units. Design team Foster + Partners imagines a grand pedestrian plaza on the ground level extending into the waterfront, which is expected to bring "life back to the bay". Condo residents along with the general public will be able to stroll through the plaza's tropical garden, enjoying art galleries, shops and restaurants along the way. Unsightly parking will be tucked two stories underground.

 
#2 One Brickell City Centre – Brickell
Height: 1,040 ft.
Floors Above Ground: 80
Developer: Swire Properties
Design: Arquitectonica
As residents of One Brickell City Centre, you won't just move into a new condo - you'll gain an entire indoor city. Living in this supertall, you will have access to a signature restaurant and top-floor lounge. If you work in one of its class-A offices, you'll never need to venture outside the complex. Part of the larger Brickell City Center, there will also be a full-scale retail section and luxury hotel sharing the grounds.

 
#3 18 – Brickell
Height: 960 ft.
Floors Above Ground: 78
Developer: Claro Development, Karam Group
Design: Nichols, Brosch, Wurst, Wolfe & Associates
Replacing a Burger-King anchored shopping strip in Brickell, supertall 18 will feature ground-level shopping. Condos soar up from the retail space and parking garage, complete with access to an outdoor rooftop pool area. Designers took their inspiration from a flower in bloom for this 392-unit condo building. The penthouse suites (or petals) sprout up from the base, while the balconies increase in size like leaves.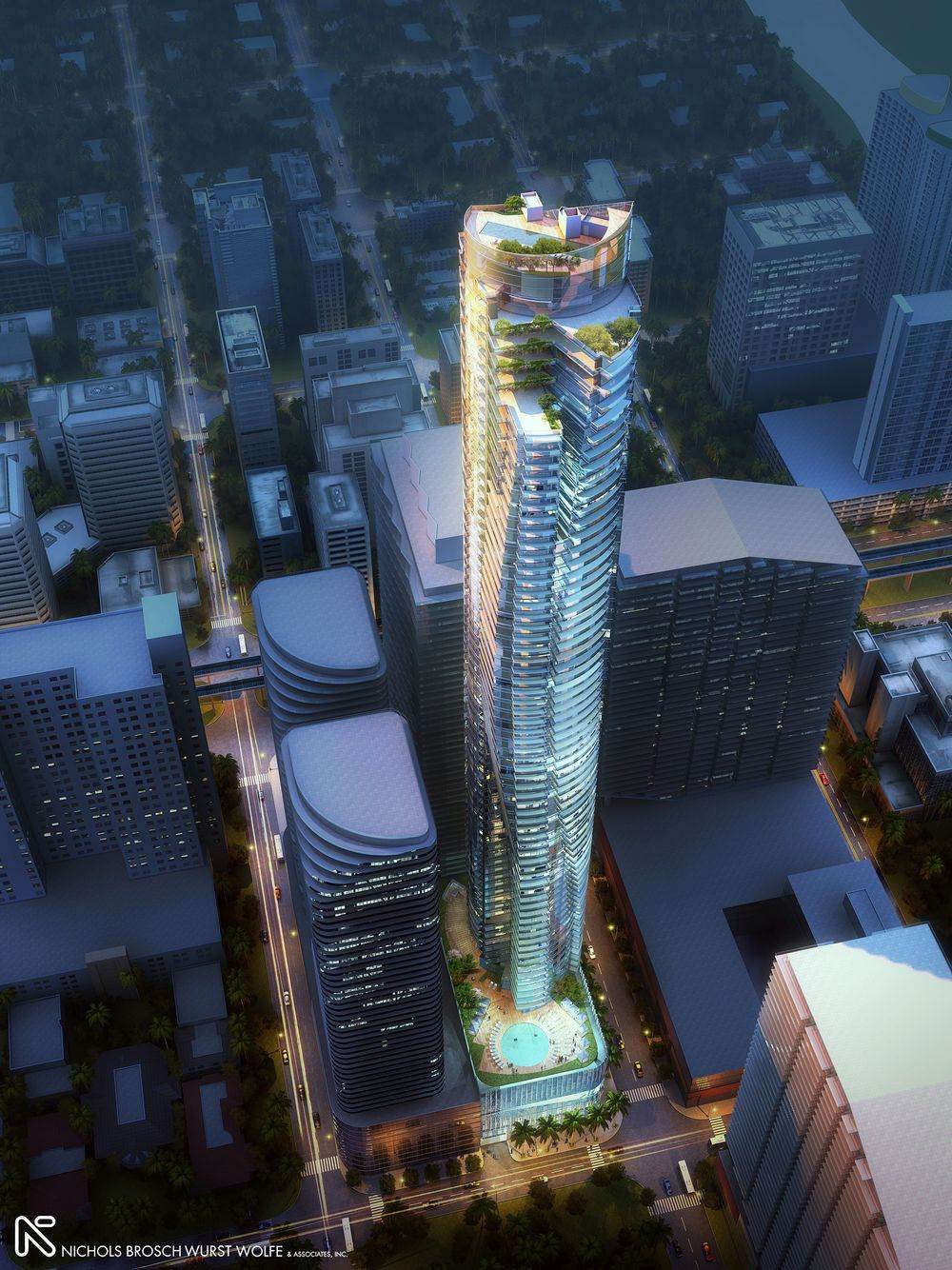 #4 One River Point (Towers 1 and 2) – Downtown Miami
Height: 928 ft.
Floors Above Ground: 60 each
Developer: KAR Properties
Design: Rafael Vinoly Architects, Remi Tessier, Sasaki Associates
The two identical towers at One River Point have been designed to exude exclusivity and sophistication. The crown jewel of this amenity-heavy condo supertall will be its Sky Club. Occupying three stories, the Club is to include two restaurants, a cigar lounge, wine cellar and tasting room, chef's kitchen, and screening room. There will also be a floating glass Skybridge with a waterfall cascading 85 feet down into a shimmering pool, appearing to flow right into the Miami River.
#5 Aston Martin Residences – Downtown Miami
Height: 817 ft.
Floors Above Ground: 66
Developer: G and G Business Developments (owned by Aston Martin Partners)
Design: BMA and Revuelta Architecture International (with consultant Aston Martin Partners)
 
Come and feel like James Bond hopping into an Aston Martin – although in this case, it will be a condo instead of a car. Agent 007's favored carmaker has already announced plans for its 391 luxury condos in Miami. While there won't be a showroom in the lobby, details like the color scheme and door handles will remind fans of the brand. The sail-shaped Aston Martin Residences will also include a number of over-the-top amenities. Expect two private lobbies, an art gallery, access to a yacht marina and a helipad on the roof.

#6 The Four Seasons Residences & Hotel – Brickell
Height: 789 ft.
Floors Above Ground: 64
Developer: Millennium Partners MDA Associates
Design: Handel Architects LLP, Bermello Ajamil & Partners
Though it won't hold the title for much longer, the The Four Seasons Residences & Hotel has long stood as the tallest condo building in Miami. Its 270 condo units provide luxurious hotel-like amenities. There's the expected extras such as a business center, gym, spa, two outdoor pools and an enormous fitness center. The Four Seasons further treats guests to some extraordinary amenities like a 700-gallon saltwater fish tank, award-winning restaurant and wine room.

#7 Marquis Residences – Downtown Miami
Height: 679 ft.
Floors Above Ground: 63
Developer: Leviev Boymelgreen Marquis Developers, LLC
Design:  Arquitectonica
The Marquis Residences were crafted to turn daily life into a vacation-worthy experience. Residents in the 292 condos can request services like dog walking, car washing, room service and housekeeping. These waterfront residences feature an expansive spa and fitness center including a strength training room, cardio room and yoga/spinning studio along with an open-air sky pool deck with juice bar and infinity pool. They even kick technology up a notch with smart-building touch screen panels installed in every condo.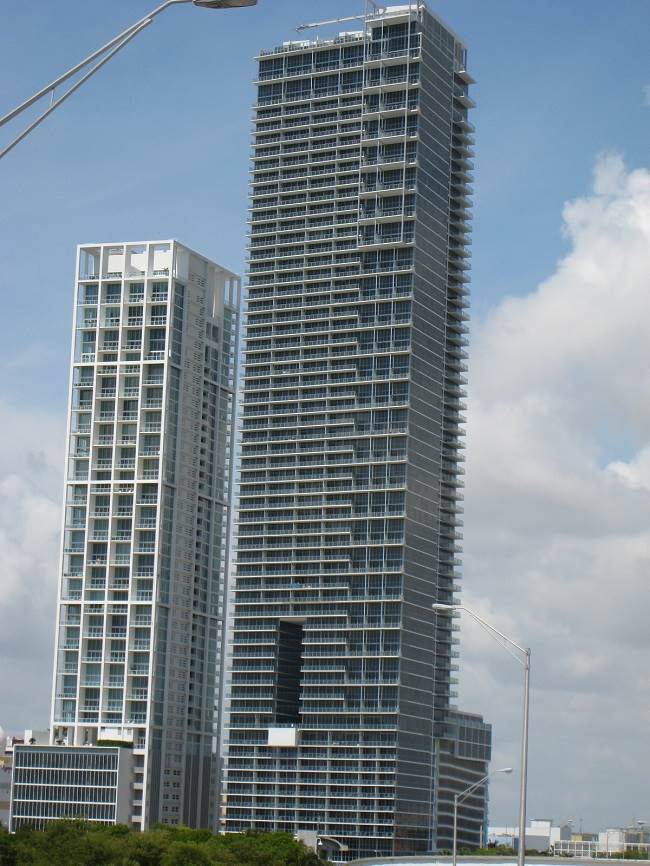 #8 900 Biscayne Bay – Downtown Miami
Height: 650 ft.
Floors Above Ground: 63
Developer: Terra-Adi International Developments
Design: Revuelta Vega Leon
900 Biscayne Bay offers sweeping views of the Bay, city and Miami Beach to its residents. This 516-condo tower features a signature restaurant and outdoor café, ground-level retail, office spaces, club room with billiards lounge, piano bar, theater room with a 153-inch screen seating 35,  zero edge pool, lap pool and a whirlpool spa.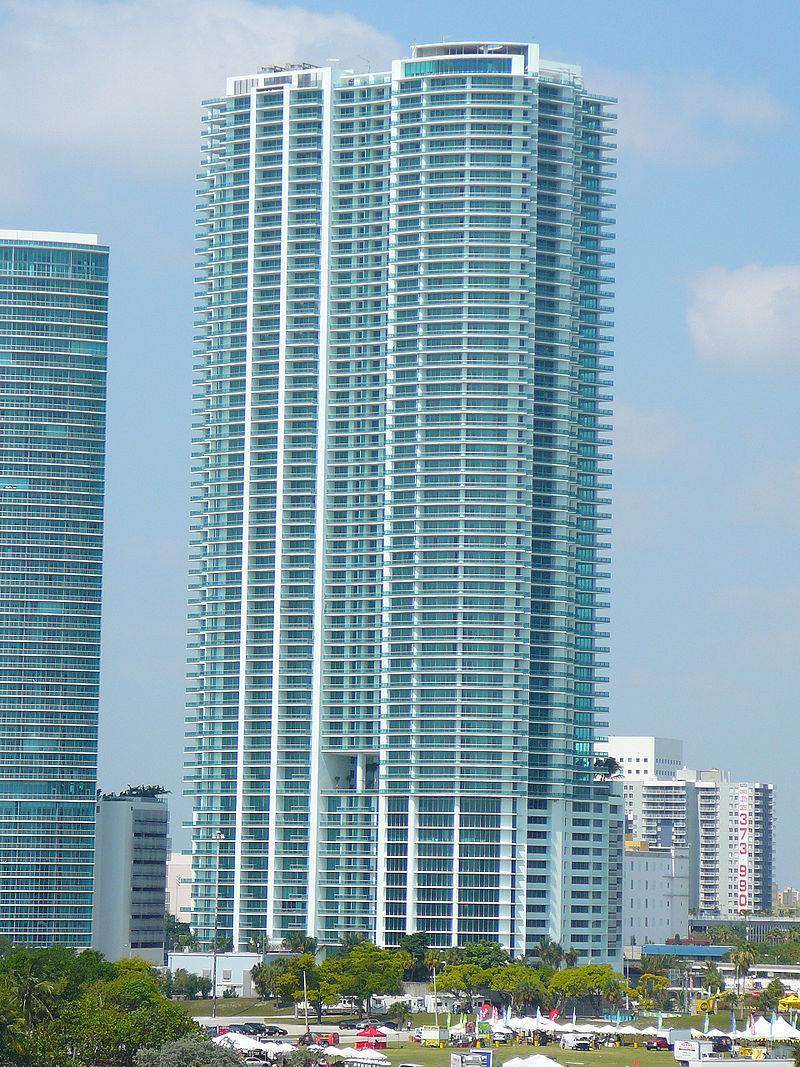 #9 Mint at RiverFront – Miami River
Height: 631 ft.
Floors Above Ground: 55
Developer: Key International
Design: Revuelta Vega Leon
If you're hoping for a little more greenery, head to the Mint at RiverFront. This 530-unit riverside condo building embraces nature from the inside out. The indoor landscape features earth elements, while the outdoor areas provide a Zen garden, trails, hammocks, a marina with boat slips, and 900 linear ft. of river frontage connected to the Riverwalk. However, this condo high-rise also keeps up with modern-day conveniences with its in-house coffee bar and gourmet deli, in addition to its Riverfront Club that contains a restaurant and lounge.

 
# 10 Infinity at Brickell – Brickell
Height: 630 ft.
Floors Above Ground: 52
Developer: The DYL Group
Design: Borges & Associates
The 459-condo Infinity at Brickell brought the unique 'sky-loft' concept with free-flowing open spaces within residences to Miami's financial district. Indoors residents can find a party room, library, billiards and TV room for entertainment, while there's a rooftop garden plus rooftop pool and deck with sheltered gazebos for privacy and entertainment outdoors. There's even a Japanese BBQ restaurant on-site along with high-end retail and office space within the complex.
Share your thoughts with us
Sign up now
Get news and updates delivered to your inbox