Who are Miami's most Iconic Landscape Architects?
Mar 09, 2020 March 09, 2020
If you love Miami, you're probably a lover of its lush subtropical landscapes, with swaying palms and shady canopied gardens that adorn so many of our favorite outdoor spots. While it may look as though nature simply appears flawlessly in these locations, the truth is that these oases are actually carefully curated by landscape architects and designers who create outdoor worlds that we humans love to be a part of. From the incredible indoor-outdoor environment at Perez Art Museum Miami (PAMM) to watching movies at South Beach's Soundscape Park at the New World Center, here are the landscape architects who are creating the best landscape designs Miami has to offer.


Herzog & de Meuron
The Swiss architectural firm Herzog & de Meuron have left their indelible mark on two iconic locations in Miami, with two unforgettable public facility designs: the iconic Perez Art Museum Miami (PAMM), completed in 2013, and the whimsical 1111 Lincoln Road building and paseo, including the famed parking garage. Completed in 2010, the parking garage doubles as a party space and massive indoor-outdoor yoga studio for special events. Both of these garden locations take advantage of native subtropical species to create sustainable gardens that feel totally at home in the South Florida climate.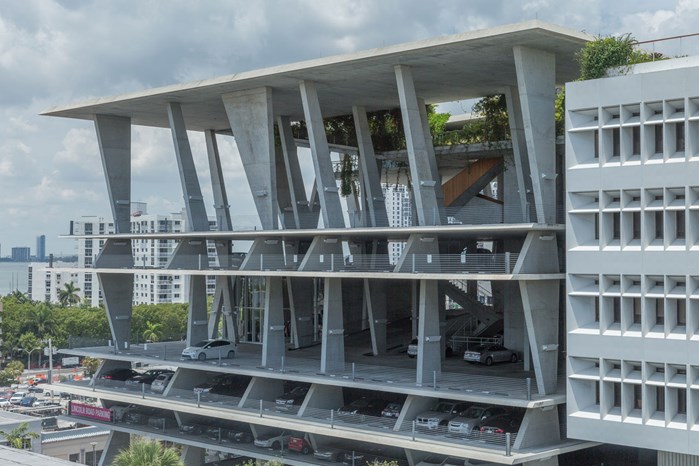 Established in Basel, Switzerland in 1978, Herzog & de Meuron was founded by Jacques Herzog and Pierre de Meuron and employs an international team consisting of some 500 collaborators, and has earned global recognition for its stunning diverse projects around the world, ranging from private residences to large scale public facilities. The firm creates magical landscapes in collaboration with local landscape designers at the locations where their famous structures reside, including here locally (read on).


Arquitectonica GEO
ArquitectonicaGEO is the Landscape design arm of Arquitectonica, one of Miami's most influential architectural firms, whose Latin-inspired signature style favors clean, modern design with bold tropical accents (read more about them here). In addition to its many other local projects, Arquitectonica GEO worked alongside Herzog and de Meuron on the design of the gardens and landscaping at the Perez Art Museum Miami (PAMM).  Native trees, shrubs, vines, and groundcovers were selected to complement the museum's green design and sustainable building materials, as well as its clean geometric architecture, providing a striking backdrop for the dramatic vertical gardens, designed by botanist and landscape artist Patrick Blanc, which serve as this project's pièce de résistance.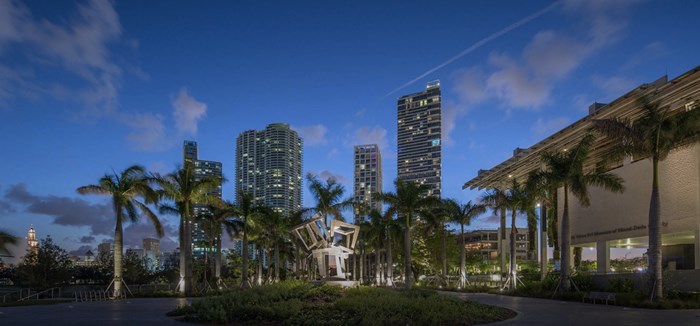 Gardens and landscaping at the Perez Art Museum Miami (PAMM)

The Bayfront landscape design at PAMM features irrigation systems designed to capture and recycle rain water and A/C condensation to provide irrigation for the garden, conserving the local supply of freshwater. Large trees provide nourishing shade for surrounding local species, selected for their hardiness and ability to weather the South Florida climate, while providing a supporting living stage for the museum's collection of outdoor sculptures. 
Completed in 2013, the landscape design at PAMM won the 2014 Florida Chapter of the American Society of Landscape Architects (FLASLA) Award of Excellence and the Frederic B. Stresau Award, bestowed by The Cultural Landscape Foundation.


Raymond Jungles
Raymond Jungles is a transplanted Miamian hailing originally from Nebraska, who has been transforming public spaces since 1981, with projects that extend from Mexico to Montana and New York City.  A Coconut Grove resident, the bulk of Jungle's work is right here in Miami, at such sites as the Faena House, Apogee, Grove at Grand Bay, Jade Signature,The Confidante, Soho Beach House, and the urban oasis of a park at the Miami Beach Botanical Garden.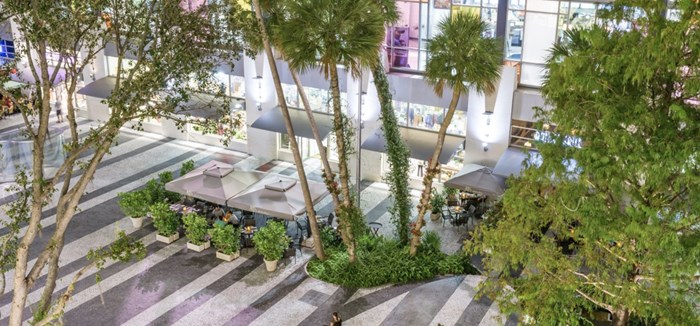 1111 Lincoln Road - Raymond Jungles

Jungles, who couldn't have picked a better name, also worked with the prestigious Herzog and de Meuron on the design of the landscaping surrounding their iconic parking garage at 1111 Lincoln Road, where Jungles created a "habitat for people" inspired in the beauty and plant species of the Everglades. Jungles infuses his Miami landscape designs with his passion for the city. "I love this city, and the diversity of the people, the plants and the animals," he stated in a recent Miami Herald interview. 
Inspired by his mentor, the late, world-renowned Brazilian landscape artist and designer Roberto Burle Marx, Jungles has worked with such renowned design groups as Foster + Partners, Bjarke Ingels, Lake Flato, OMA, Chad Oppenheim, and locals such as Rene Gonzalez.


Fernando Wong
Fernando Wong studied architecture and interior design in his native Panama before emigrating to the U.S., where he found himself digging ditches on a landscaping crew. When his boss saw him doodling on the job, he hired him to come up with landscape designs. Fast forward, and the Miami Beach resident has been named "one of the most influential landscape designers in America" by Elle Décor, and Garden Design Magazine described him as "a genius with the soul of a poet," and Forbes called him a "landscape legend," while Architectural Digest named him "the creative mind behind Miami's lushest landscapes." Today, Fernando Wong Outdoor Living Design, a firm run by Wong and his partner Tim Johnson, has projects all over the world.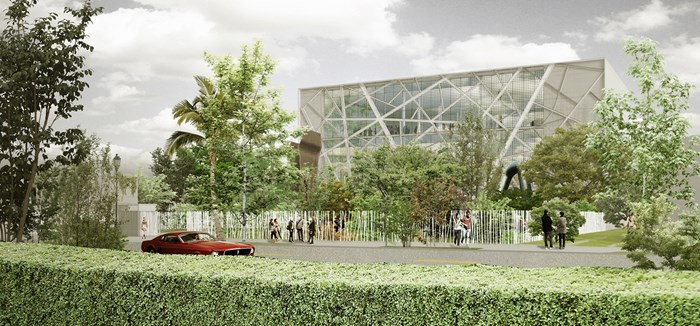 Wong doesn't claim a signature design style. Instead he draws inspiration from each site to create his lush, tropical outdoor worlds in. Indeed, an iconic local Fernando Wong project is the sculpture garden at the Institute of Contemporary Art (ICA) Miami in the Design District. There, Wong created the breathtaking, 15,000-square-foot Petra and Stephen Levin Sculpture Garden, which includes a series of hidden outdoor enclaves, each hosting a sculpture amid a quiet display of native plantings. Wong's intention for the space was to create a living canopy that visually links the museum to "the unlimited sea of Miami trees."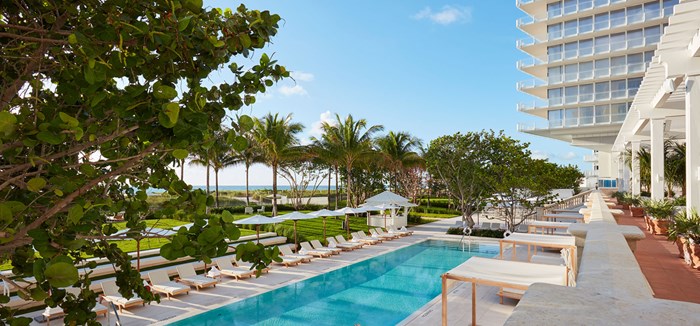 The firm's newest signature project in Miami is the luxurious Surf Club Four Seasons Hotel and Residence in Surfside, which features 240 new palms and 250 shade trees, many of which were slated for demolition but were saved. Wong and his firm often work in spaces where stately trees are already in place, and they incorporate these into their best designs.


Enea
World-renowned landscape architect Enzo Enea has designed over 1,000 unique gardens and outdoor spaces for hotels, spas, and museums around the world, as well as private gardens for the Queen of Bahrain and Prince Charles of England. Enea has worked alongside some of the world's top architects, including the famed Zaha Hadid, providing the landscape design at Hadid's famed One Thousand Museum condo in downtown Miami.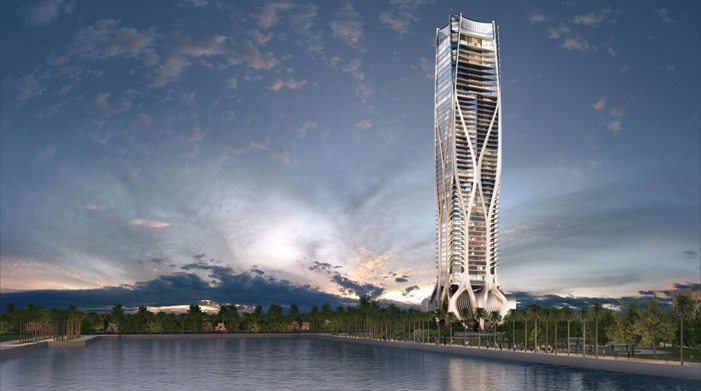 In 2005, the Swiss-based landscape designer opened Enea Garden Design, Inc. in Miami, which serves as the United States headquarters of his international firm. His team, consisting of talented global professionals specialized in architecture, landscape architecture, biology, and construction, has developed a number of projects across the Americas and the Caribbean, ranging from residential and commercial projects to master planning and public facilities projects, for which the firm has received recognition from the Florida Chapter of the American Society of Landscape Architects.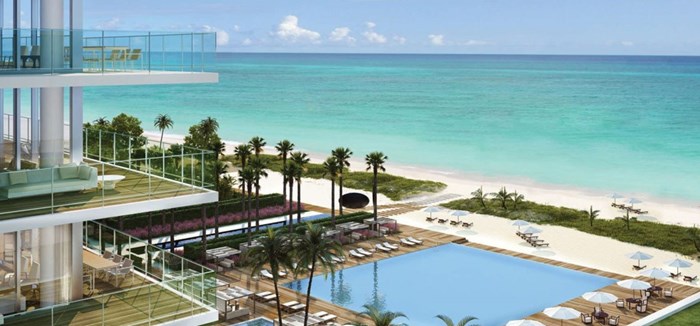 Oceana in Bal Harbor

Among the firm's other local residential projects are Park Grove in Coconut Grove; One Ocean in South Beach; Oceana in Bal Harbor; Marea in Miami Beach, and other such locations as Fisher Island, and public facilities at Brickell Park.


West 8 
The Dutch design firm, West 8, has brought its unique style to several Miami landmarks, including Soundscape Park at the New World Center, which has some one-of-a-kind features such as the hand-fabricated aluminum pergolas along the edges of the park, inspired by local cumulus clouds. These structures provide shade while supporting a canopy of bougainvillea vines. Completed in 2011, this project won a Frederic B. Stresau Award, bestowed by The Cultural Landscape Foundation.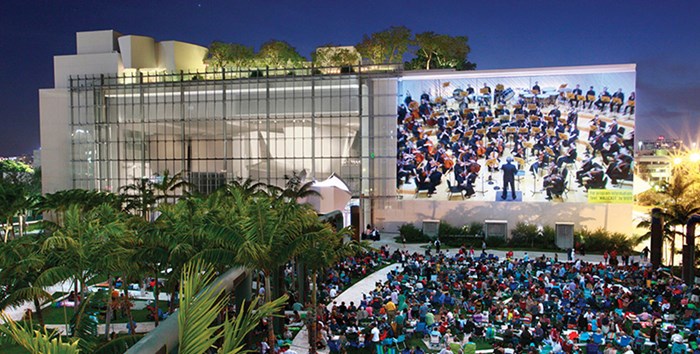 West 8, led by creative director Daniel Vasini, is also responsible for the redesign of the 30-acre North Shore Open Space Park in North Beach, in partnership with local landscape architect Calvin, Giordano & Associates (CGA).


Savino & Miller
Founded in 1986 by Adriana Savino and Barry Miller, Savino & Miller Design brings a collaborative approach to their array of architecture, landscape architecture, urban design, and regional planning projects. This firm's early projects included small private gardens, patios, terraces, and courtyards in Miami Beach's Art Deco District, complementing and enhancing the local architecture while "uplifting the role of nature," a concept that has been essential to their  practice from the very beginning. Over time, the firm has come to specialize in preservation and sustainability projects. In addition to an assortment of local private gardens, Savino & MIller's landscape design work is featured at such local landmarks as the beloved and sprawling South Pointe Park and the historic, 14-acre Pinecrest Gardens.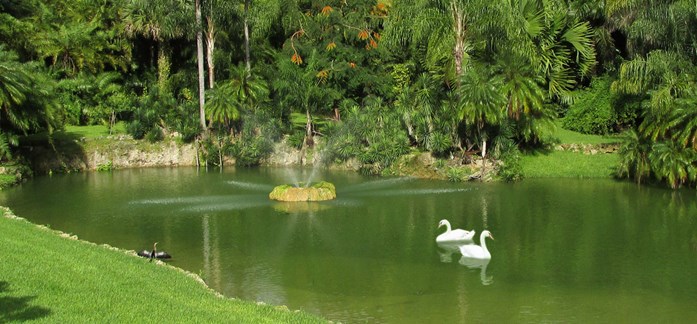 Next time you're enjoying the beauty and ambiance created by South Florida's swaying palm trees, fragrant flowers, and lush canopies, remember the landscape architects that create magical Miami landscape designs and keep our outdoor surroundings inspiring and beautiful, as natural extensions of the unique ecosystem we call home, and the vibrant, subtropical soul of Miami.
Share your thoughts with us
Sign up now
Get news and updates delivered to your inbox