Who Would Have Thought Parking Garages Could be This Awesome? 5 Amazing Miami Parking Garages
Sep 16, 2019 September 16, 2019
While new developments are making Miami more walkable every day, the city still maintains a solid car culture. With its characteristic penchant for a laid-back, low-stress lifestyle, Miami has become a leader in pushing forward a construction agenda that provides ample and convenient new parking spaces for the city's multitude of vehicles. The local fascination with cutting edge architecture and design has pushed that agenda even further, as Miami becomes a showcase for some of the world's most unique and innovative parking garages. Below is a list of some of Miami's recent construction projects that focus on sheltering local vehicles.
  
Museum Garage
NE First Avenue and NE 41st Street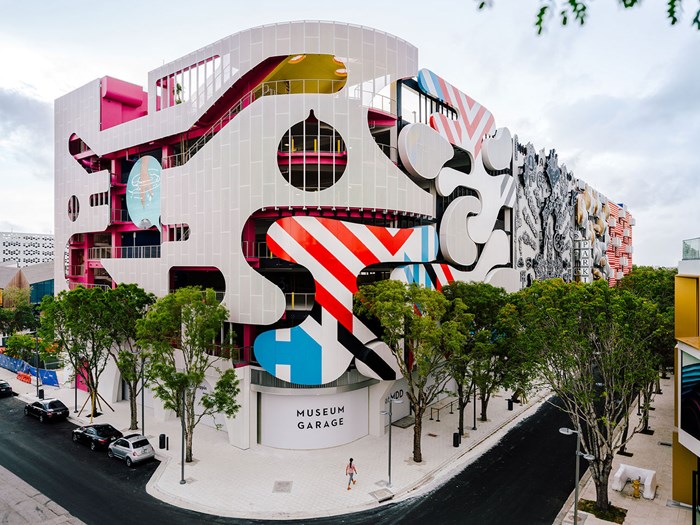 Architects, artists, and fans of bold, cutting-edge design are raving about Miami's delightfully offbeat Museum Garage, set in the heart of the bustling Design District. A concrete structure housing seven stories, the garage holds about 800 vehicles as well as retail and commercial space on the ground floor. The building, designed by architect and renowned art curator Terence Riley, can almost be described as a sculpture with a wildly textured surface, designed by an artistic team consisting of 5 international architects, including WORKac, J. Mayer H, Clavel Arquitectos, Nicolas Buffe and his own firm, K/R. The building's surface is designed as an "Exquisite Corpse" - an artistic concept that allows for disassociated images created by different artists to be combined into a unique whole. This whimsical artistic creation must be seen to be believed and is bound to become a landmark in Miami architecture.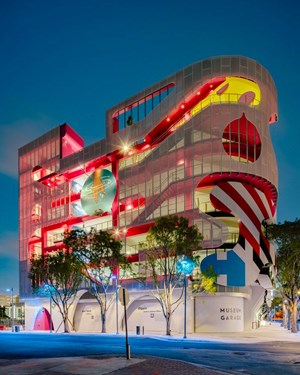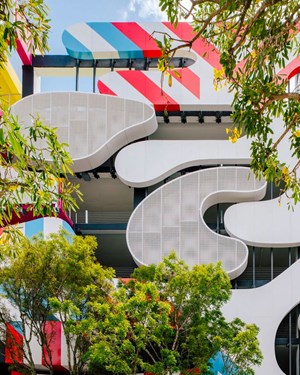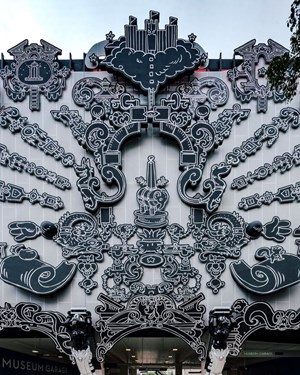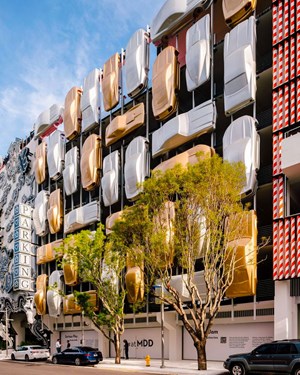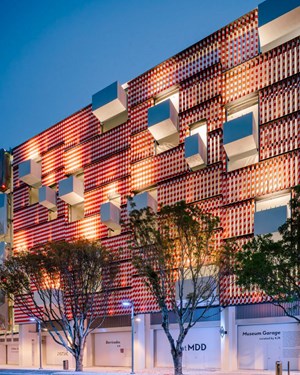 1111 Lincoln Road Garage
1111 Lincoln Road, Miami Beach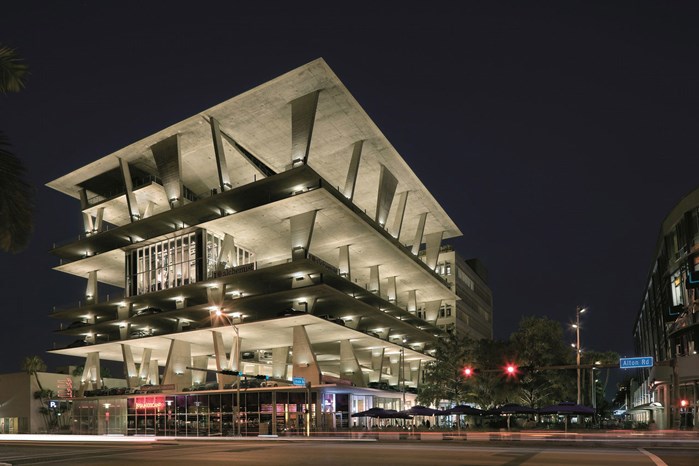 The famed Swiss team of architects Herzog & De Meuron is beloved in Miami, particularly for their amazing design of the Perez Art Museum Miami (PAMM). But they may have outdone themselves with the highly iconoclastic design of the garage at 1111 Lincoln Road, at the corner of Lincoln and Alton Roads, adjacent to the Lincoln Road Mall in the heart of South Beach.  The project is a futuristic architectural masterpiece that is visually stunning when viewed from within or from street-level. With an exposed concrete frame, dramatic tapered floor slabs, and varying ceiling heights, the building creates a visual display of the movement of cars moving inside. The concept for the garage is also unique in that it contains shops and restaurants on the ground floor, along with additional retail on the fifth floor, rental spaces for large events, private condo residences, and a penthouse with glass walls and skylit terrace on its rooftop.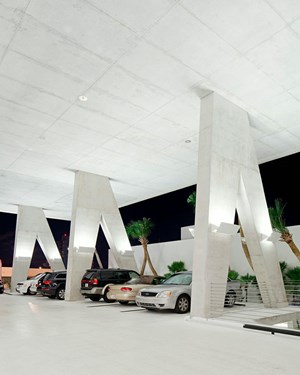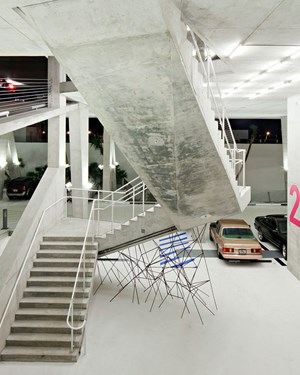 City View Garage
3800 NE 1st Ave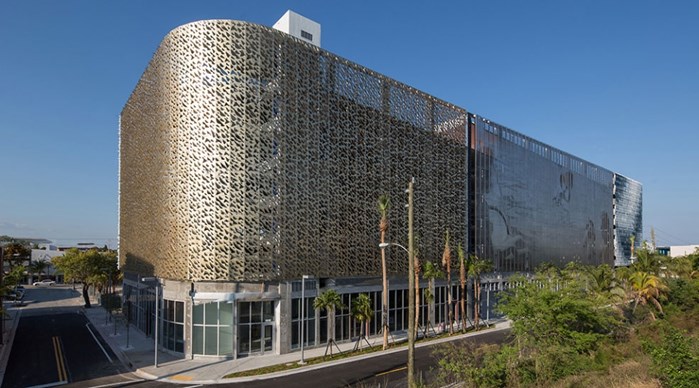 The City View Garage is an impressive 283,000-square-foot building featuring 599 parking spaces along with ground-level retail, located adjacent to the Design District, and near the off-ramp of Highway I-95. The building features different textured facades made of perforated metal panels, designed by IwamotoScott and Leong Leong, in collaboration with artist John Baldessari. These facades act as design elements that also serve the function of keeping the building ventilated.  The garage is also a multi-purpose structure with retail space on the ground level.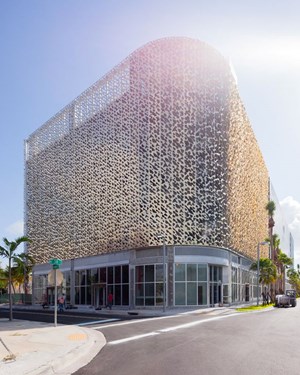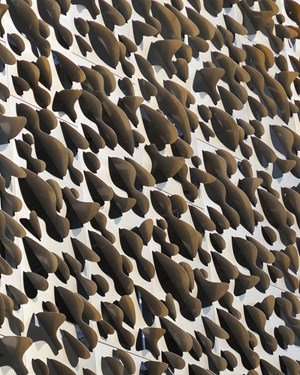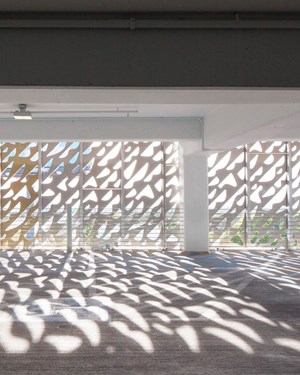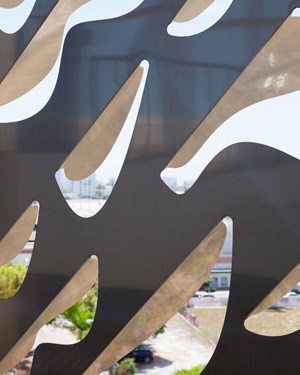 Wynwood Garage
321 NW 26th St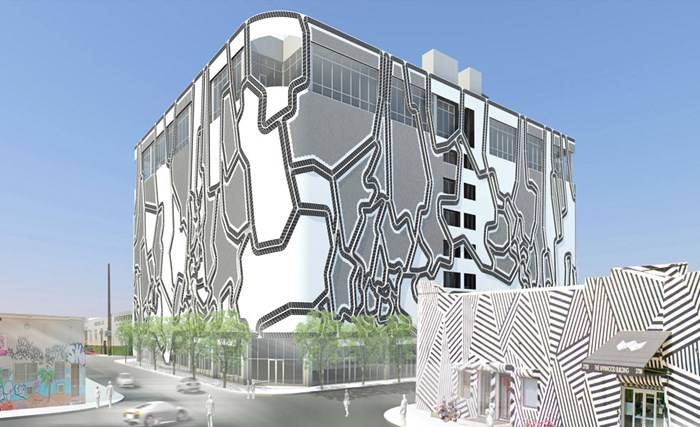 Wynwood Garage, located in the heart of Wynwood and designed by Wolfberg Alvarez & Partners, is one of my personal favorites, as I can see it from my window. The 8-story building features a facade or "skin" designed by Faulders Studio and includes ground-level retail spaces, offices on the top floor, and 6 stories of parking spaces. The skin is designed as a two-sided canvas, meant to be seen differently from the interior as well as from the street.  The perforated facade allows light and ventilation into the interior, while creating the illusion of a solid plane from the building's exterior.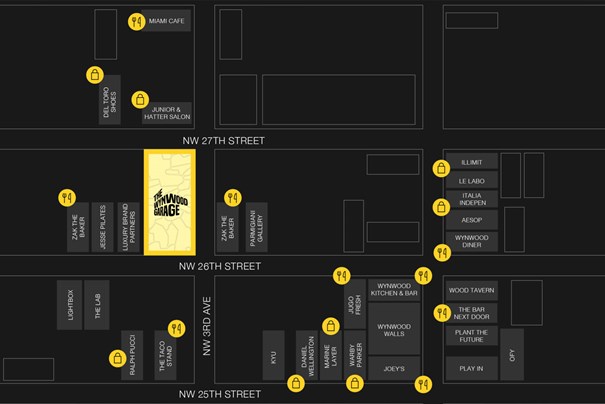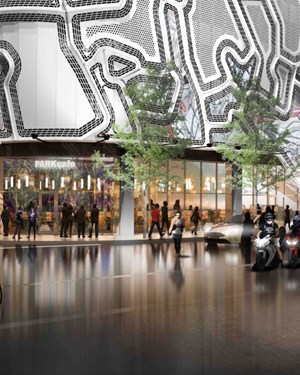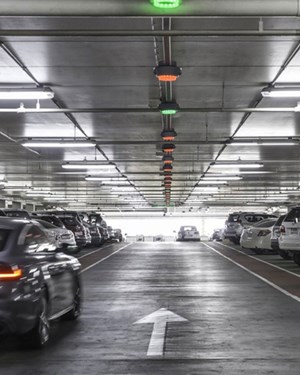 Alfa Romeo Faena Park
3201 Collins Avenue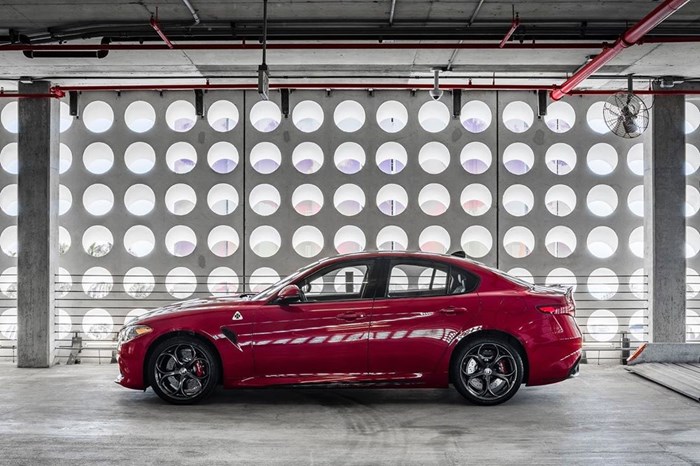 This unique parking lot in the Faena District accommodates 81 vehicles, but its more important function is to accommodate 28,000 square-feet of retail space. The building's concrete facade directly reflects the design of the Faena Forum. Located between the Faena Bazaar and Casa Faena hotel, Alfa Romeo Faena Park is as the brainchild of OMA, an acclaimed architecture firm led by Pritzker Prize winner and globally celebrated architect Rem Koolhaas. The 28,000-square foot structure features a concrete façade marked by circular openings that deliver natural ventilation while providing a visual display of reflections of the cars moving inside the garage. Not to be outdone by other fabulous garages, the Faena also features amazing views of the ocean and an automated self-parking system that provides efficiency and convenience. Its partnership with the Alfa Romeo brand provides extra perks such as the Alfa Romeo Thrill Ride program and a vehicle showroom showcasing the latest models produced by the famed Italian car maker.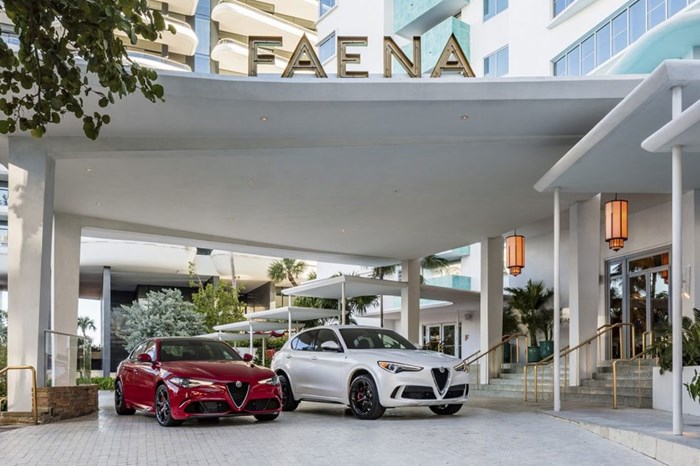 For a city with as many cars as Miami, it is certainly a pleasure to see so many parking garages taking the function of vehicle storage to the next level.  This array of showy parking garages is just one more quirky feature of Miami's unique and edgy architectural spirit!
Share your thoughts with us
Sign up now
Get news and updates delivered to your inbox