Will New Miami Beach Ordinance Protect Historically Significant Homes Or Is It Simply a Nuisance?
Oct 06, 2015 October 06, 2015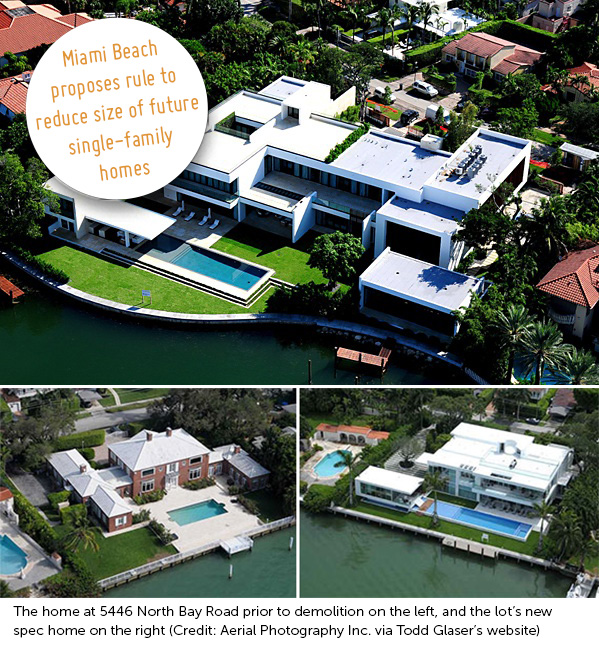 Less than two years after Miami Beach created a law limiting the size of single family homes, the city proposes an additional policy further restricting home size.
Joy Malakoff, city commissioner, proposed a new ordinance that passed the Land Use Committee hearing recently. Proponents and opponents of the new law crammed the room to battle over the ordinance. Now, the law proceeds to the city commission for discussion before the planning board reviews it.
The ordinance reduces the maximum unit size of homes in single-family districts to 45%, down from 50%. To put that into perspective, the regulation states that any plans for 5,000 square-foot homes on a 10,000 square-foot lot must be reduced to 4,500 square-feet to accommodate the new policy. In addition, lot coverage will be reduced from 30% to 25% in the same districts. The entire building including covered projections counts toward lot coverage.
"It reduces the incentive to demolish the older homes just for pure profit because you are not going to get as big a home," Daniel Ciraldo of the Miami Design Preservation League said, "It also ensures that even if homes are demolished, the new homes are a little more in scale in terms of an established neighborhood context."
Previously, the ordinance enacted a size restriction from 70% to the 50%. However, preservationists do not believe it has stopped the demolition of many architecturally significant homes built before 1942. Miami Beach's Design Review Board is not able to stop the demolition of a pre-1942 home deemed architecturally significant, but it is able to look over plans for new homes built on the plot. Homes that are deemed historic are considered under the authority of the Historic Preservation Board.
Source: therealdeal.com
Photo credit: therealdeal.com
Share your thoughts with us
Sign up now
Get news and updates delivered to your inbox