Will Robots Soon Replace Valets in your Building?
Nov 21, 2013 November 21, 2013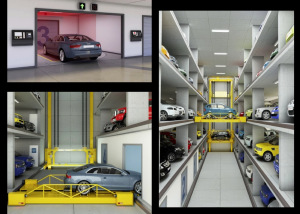 South Florida buyers are becoming more particular about the amenities they desire in the homes they purchase. Having spent the last few years on the sidelines waiting for the local real estate market to recover, those buyers now have plenty in their savings accounts to splurge on the design features and amenities they want. Many local builders have already discovered that the laundry list of desired add-ons can be quite extensive. Among the most commonly requested amenities are updated security systems that provide homeowners with the opportunity to access live video footage not only from separate living quarters but also in a completely remote fashion. Such systems offer more convenience for homeowners on the go while at the same time providing more peace of mind.
One condo building currently under construction is already tapping into desire by buyers for the latest technological features. The Brickell House condo will be home to an automated parking garage complete with robotized platforms that will move vehicles up and down elevator lifts into parking slots. Although the feature is coming in at the cost of $6.5 million, the revolutionary parking garage will give residents the ability to actually summon their vehicles by simply sending a text message.
Capable of holding more than 480 vehicles, the nee garage will be staffed with five lifts and 30 robots to assist in parking and retrieving vehicles. Users are assured that they will have their vehicles within three minutes of issuing requests via their smartphone or tablet. When users are ready to park, they will simply drive into a central loading area and park their vehicles, thus eliminating the need to drive up and down ramps and search endlessly for an available space. Users can also say goodbye to forgetting where they parked their vehicles. The new system also presents a more environmentally friendly approaching to parking.
As the South Florida real estate market continues to evolve and become even more competitive, there is a strong chance that buyers will see the introduction of even more technologically advanced amenities and features.
Share your thoughts with us
Sign up now
Get news and updates delivered to your inbox