Wynwood Celebrates this Cycle's First New Condo Project Completion
Nov 03, 2015 November 03, 2015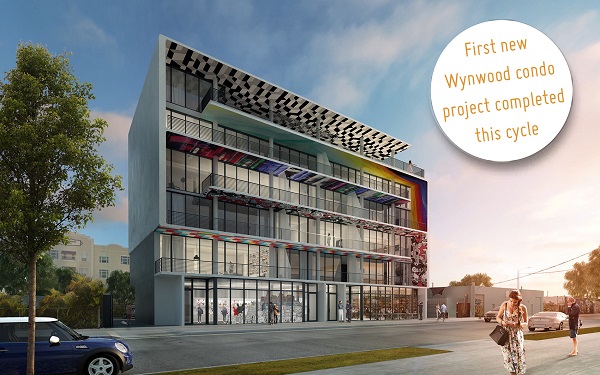 The Wynwood story continues. The neighborhood now sees the completion of the first of a new line of Wynwood condo towers since this South Florida real estate cycle began in 2011.
Wynwood 250 LLC developed the project with David Polinsky and Bradley Carlson in hopes of renovating Wynwood and further popularizing the area. The six-story building with only 11 residential units is located on the 200 block of Northwest 24th Street in the Biscayne Boulevard Corridor in Greater Downtown Miami. So far, two units have been purchased, totaling $1.8 million at an average of around $535 per square-foot.
250 Wynwood is just one of the area's 71 new condo projects during this real estate cycle. Over 21,400 local units have been announced in Greater Downtown Miami and many of them are already completed. In other neighborhoods, eight condo buildings are finished, totaling over 1,900 units. With an additional 22 towers under construction, we're waiting on about 6,200 more units.
Source: therealdeal.com
Photo credit: 250wynwood.com
Share your thoughts with us
Sign up now
Get news and updates delivered to your inbox