Wynwood Yard: The Art District's Newest Little Secret
Jul 31, 2016 July 31, 2016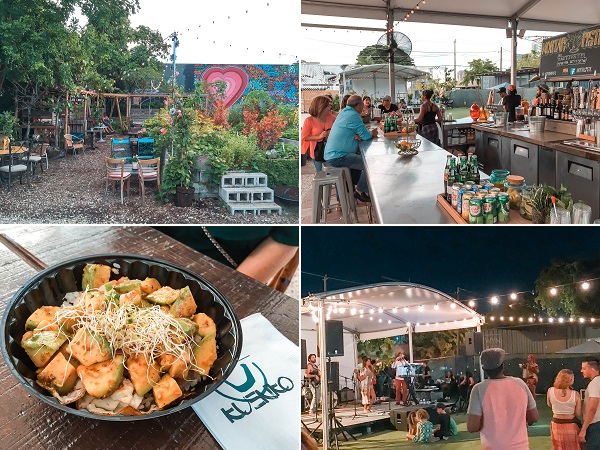 Miami's Wynwood is bustling with creativity and new, high quality approaches to things, and as a lover of variety and quality, nothing excites me more. This time a friend's suggestion and my curiosity brought me down to Wynwood Yard. The official website claims it to be a "pop-up entrepreneurial hub with creative food, drink, design and more" – so I simply had to go see for myself.
It is a very cool place that allows singles, couples, families with kids, people with dogs - pretty much anyone and everyone - to just come out and enjoy really high quality, creative food and drink. It offers a great atmosphere both day and night with live music, lots of open spaces, greenery and more.
It's a well-groomed lot with the highly rated (by Yelp users) Della Test Kitchen anchoring it. Freshly foraged fruits and herbs from the backyard get used in the food Della serves. There's also covered bar right in the middle of the lot with a pretty neat menu. Also, a number of food trucks line the back as well as sides, which I am told rotate in and out and are not necessarily always there. If this is true, it creates a great element of surprise.
The night I was there I saw a sushi food truck that took reservations only. I didn't catch the name, but… what a cool concept?! We had the pleasure of ordering from the Kuenko truck. Its recipes and techniques come from Michelin-rated chef Ricardo Sanz. I also ordered fish and loaded chips (cheese for the fries was grated from a cheese block - how gourmet!) from a neighboring food truck (again, my bad, I don't have the name) whose chef I believe had a Scottish accent, and it was incredibly tasty. There was also a Mr. Bing's Taiwanese shaved ice cream truck, though I didn't get to it.
Once it got dark, a reggae band with a Latin vibe came out and added new life to the Yard. I have a boy and a pregnant wife, so we left, but there was a lot of life still to be had probably pretty late into the night (I wonder how late they are open?)
Food trucks offer a great, no nonsense food and drink experience in general. Generally speaking, food trucks don't have a giant staff or huge overhead to worry about, so they can focus on making great food - these guys appeared to well curated and the cream of the gourmet food truck crop.
All in all, it was a cool night, and I hope that rising rents don't push these kinds of places out, or make them too expensive to afford for the creative folks who've created the very unique vibe to begin with!
Share your thoughts with us
Sign up now
Get news and updates delivered to your inbox