Your Extensive Guide to Art Basel Miami 2014
Dec 01, 2014 December 01, 2014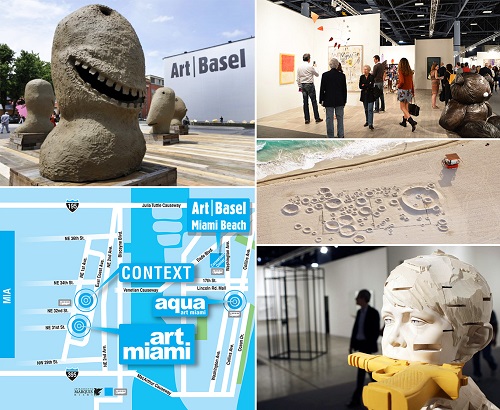 From the connoisseur to unconditional art lover and even the less initiated, each year Art Basel throws open its gates to one and all to come and experience the finest of art from across the globe. The tents are up and scene is set to treat everybody to 2014's winter art extravaganza with a collection from the biggest names to the wonders-in-waiting.
This year, devour all the art you can handle with a one-day ticket for $45 or permanent pass to the convention center for $100. Also, if you're a student, senior or part of a group of 10 or more, you can get your one-day ticket at just $30. And, since organizers want to engage young minds at the earliest, they're offering free admission to children under 16 when accompanied by an adult.
While there's no arguing that all the action's going to be focused at the Miami Beach Convention Center, but fact remains that there's going to be loads of satellite fairs and events across Midtown, Wynwood and Miami Beach that are definitely worth a visit.
As usual, Scope, NADA and Art Miami are the satellite fairs to watch out for. This year, while Pulse is shifting base from its Ice Palace Studios residence to a tent in Mid-Beach (next-door to Eden Roc), the Select Art Fair is also moving out of the Catalina Hotel to spread its wings in the more spacious North Shore Park in North Beach. The fairs that will be deeply missed this year are Arts Kuala Lumpur, Brazil Art Fair and Miami's original satellite fair – the Fountain Art Fair.
Read on for what's going up where and when:
Miami Beach

Midtown/Wynwood

Downtown/Brickell

Art Basel in Miami Beach

Where: 1901 Convention Center Dr., Miami Beach
When: Dec. 4-7
Admission: $45 one-day pass, $100 permanent pass

Art Miami

Where: Midtown Miami, 3101 NE First Ave., Miami
When: Dec. 2-7,

Wednesday-Saturday 11 a.m. to 8 p.m., Sunday 11 a.m. to 6 p.m.

Admission: $35 one-day pass, $75 multiday pass

Concept Art Fair

Where: SeaFair, Chopin Plaza, Miami
When: Dec. 2-7,

Monday-Saturday 1 to 10 p.m., Sunday 1 to 6 p.m.

Admission: $15 one-day ticket, $25 multiday pass

Aqua Art Miami

Where: Aqua Hotel, 1530 Collins Ave., Miami Beach
When: Dec. 3-7,

Thursday noon to 9 p.m., Friday/Saturday 11 a.m. to 9 p.m., Sunday 11 a.m. to 6 p.m.

Admission: $15 one-day pass, $75 multiday pass

ArtSpot Miami

Where: Midtown Miami
, 3011 NE First Avenue at NE 30th Street, Miami
When: Dec. 3-7,

Wednesday 6 to 10 p.m., Thursday-Saturday 1 to 9 p.m., Sunday noon to 6 p.m.

Admission: $5 general admission, $25 preview and weekend pass

Fridge Art Fair

Where: Third Street Garage, 300 SW 12th Ave., Miami
When: Dec. 4-9,

Thursday 2 to 8 p.m., Friday-Monday 1 to 9 p.m., Tuesday 1 to 3 p.m.

Admission: N.A.

Design Miami

Where: Meridian Avenue and 19th Street, Miami Beach Convention Center
When: Dec. 3-7,

Wednesday/Thursday 10 a.m. to 8 p.m., Friday 11 to 8 p.m., Saturday noon to 8 p.m., Sunday noon to 6 p.m.

Admission: $25 one-day pass

Context

Where: Midtown Miami, 2901 NE First Ave., Miami
When: Dec. 2-7,

Wednesday-Saturday 11 a.m. to 8 p.m., Sunday 11 a.m. to 6 p.m.

Admission: $35 one-day pass, $75 multiday pass

Miami River Art Fair

Where: Miami Convention Center, 400 SE Second Ave., Miami
When: Dec. 4-7,

Thursday-Sunday noon to 8 p.m.

Admission: Free with printed pass

Ink Miami Art Fair

Where: Dorchester, 1850 Collins Avenue, Miami Beach
When: Dec. 3-7,

Wednesday noon to 5 p.m., Thursday 10 a.m. to 5 p.m., Friday/Saturday 10 a.m. to 8 p.m., Sunday 10 a.m. to 3 p.m.

Admission: Free

Miami Project

Where: Midtown Miami, NE 34th Street and NE First Avenue, Miami
When: Dec. 2-7,

Wednesday/Thursday/Saturday 10 a.m. to 7 p.m., Friday 10 a.m. to 8 p.m., Sunday 10 a.m. to 6 p.m.

Admission: $25 one-day pass, $35 multiday pass

Prizm Art Fair

Where: Miami Center for Architecture & Design, 100 NE First Ave., Miami
When: Dec. 4-7,

Thursday 7 to 10 p.m., Friday 10 a.m. to 6 p.m., Saturday/Sunday 10 a.m. to 7 p.m.

Admission: Free

NADA Art Fair Miami Beach

Where: The Deauville Beach Resort, 6701 Collins Ave., Miami Beach
When: Dec. 4-7,

Thursday 2 to 8 p.m., Friday/Saturday 11 a.m. to 8 p.m., Sunday 11 a.m. to 5 p.m.

Admission: Free

Pinta Miami

Where: 3401 NE First Ave., Miami
When: Dec. 3-7,

Wednesday 5 p.m. to 8 p.m., Thursday-Saturday 11 a.m. to 8 p.m., Sunday 11 a.m. to 5 p.m.

Admission: $20 one-day pass, $45 multi-day pass

Pulse Miami Beach

Where: Indian Beach Park, 4601 Collins Ave., Miami Beach
When: Dec. 4-7,

Thursday 1 to 7 p.m., Friday/Saturday 10 a.m. to 7 p.m., Sunday 10 a.m. to 5 p.m.

Admission: $20 one-day pass, $25 multiday pass

Red Dot Miami

Where: Midtown Miami, 3011 NE First Ave., Miami
When: Dec. 2-7,

Tuesday 6 to 10 p.m., Wednesday 11 a.m. to 5 p.m., Thursday-Saturday 11 a.m. to 8 p.m., Sunday 11 a.m. to 6 p.m.

Admission: $15 one-day pass, $25 multiday pass

Scope Miami Beach

Where: Scope Pavilion, 910 Ocean Dr., Miami Beach
When: Dec. 2-7,

Wednesday-Sunday 11 a.m. to 8 p.m.

Admission: $30 general admission

Sculpt Miami

Where: 46 NW 36th St., Miami
When: Dec. 4-7,

Wednesday-Sunday 11 a.m. to 8 p.m.

Admission: Free

Select Art Fair Miami

Where: 7200-7300 Collins Ave., Miami Beach
When: Dec. 2-7,

Wednesday-Saturday 11 to 8 p.m., Sunday 11 a.m. to 6 p.m.

Admission: Free

Spectrum Miami

Where: Midtown Miami, 3011 NE First Avenue at NE 30th Street, Miami
When: Dec. 3-7.

Thursday-Saturday noon to 9 p.m., Sunday noon to 6 p.m.

Admission: $10 general admission, $25 multiday pass

Untitled Art Fair

Where: Ocean Drive and 12th Street, Miami Beach
When: Dec. 3-7,

Wednesday 3 to 7 p.m., Thursday-Saturday 11 a.m. to 7 p.m., Sunday 11 a.m. to 4 p.m.

Admission: N.A.

Zones Art Fair

Where: Edge Zones Project, 8325 NE Second Ave., Miami
When: Dec. 2-7,

Tuesday-Sunday noon to 5 p.m.

Admission: Free
Source: miaminewtimes.com
Photo credit: House - scmp.com ami-james.com mysweetcharity.com miamiandbeaches.com
Share your thoughts with us
Sign up now
Get news and updates delivered to your inbox