Your Virtual House Hunting Checklist and Pro Tips!
Jun 16, 2020 June 16, 2020
In the modern world we live in, virtual real estate showings are becoming more and more standard. By and large, these guided showings have made it easier to tour a property you would want to buy -- they're faster than driving from property to property, and they help you narrow down your search. And hey, you can do it from the comfort of your own home! 
So, what started as a recommendation by the National Association of Realtors at the peak of the pandemic, virtual house hunting has turned into the choice for many buyers who are looking at properties from another state or country, or who simply want to be safe and minimize contact with others. And it makes sense -- virtual property showings can be an effective and convenient way to see a condo. 
But before heading out for your virtual house hunting adventure, let's first look at the three most common ways to view and tour properties online:

GOOD: Virtual Video Tours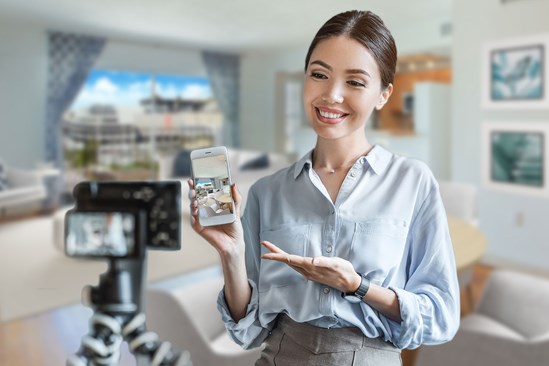 Now, these are pre-recorded videos of a property for sale. These will usually include all the highlights you may have read about on the listing. You might have seen such videos on YouTube or your agent may have already shared an email or Dropbox link for you to view.
These video tours will mostly take you through each living space in the house and show off the views and exterior as well. However, since they are pre-recorded, there is no room to ask to pause to see something specific or make a special request for details or any other sort of personalization. Nonetheless, they are definitely better than plain photos, where you need to piece images together to understand the layout and property.

BETTER: 3D Virtual Reality and Interactive Tours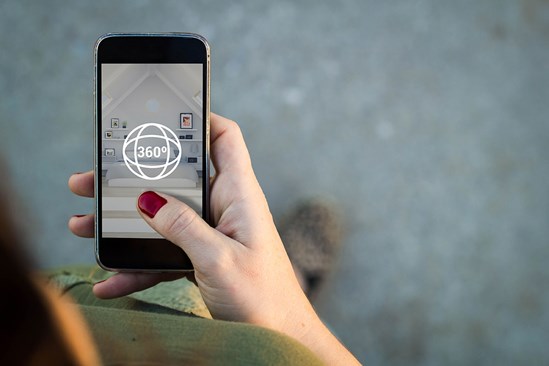 A step up from the simple video tour, these augmented reality tours lend much more control and authenticity to the home viewing process by recreating a vision to the scale of the property. With a 3D headset, you can easily look around and see things almost like you're inside the home. It also gives utmost control on navigating through the living spaces, and to check out different angels you otherwise cannot on a recorded video. 
Some 3D tours will even let you interact with the living space, giving you the option to switch between furniture settings or change some things around in the room.

BEST: Virtual Showings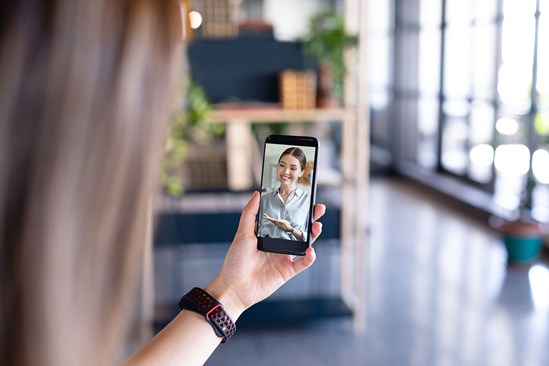 Often confused with virtual tours, which are photos, pre-recorded video or 3D tours of a property, virtual showings are live, one-on-one, viewing sessions (video calls) organized by the seller or real estate agent. Virtual showings are the gold standard of online house hunting. They're not only convenient in terms of social distancing, but also because there's no extra equipment required - a simple smartphone with an app like FaceTime, Whatsapp, Skype, Zoom or Google Meet gets the job done. 
Since these are live sessions, you can easily ask your host to focus on areas that interest you and have a personal touch to the entire experience. And, of course, while a virtual showing is not the same as seeing a property in-person, the following checklist will make sure you get it as close to the real thing as virtually possible. 

Virtual House Hunting Checklist
So, here are the top 9 things buyers should ask for when doing virtual showings:

1. Ask for Floor Plans in Advance
First, ask your realtor if floor plans are available and make sure you get them ahead of your scheduled showing so you can get a sense of how the property is laid out and your showing will flow. If it is a very large property, discuss the course of your tour in advance with your agent, so you'll have a smooth virtual experience and won't feel lost mid-call. Also test whatever app or technology you'll be using ahead of time to be sure everything is working for you and your realtor.


---

✅ Pro Tip
Begin with a wide-angle view of the front door and then going with the natural flow of the house - moving through the main areas, kitchen, and then heading into the bedrooms - makes it easier to understand any layout. This will give you a better sense of how each living space is positioned in relation to other rooms.
 
✅ Pro Tip
Multiple Floors or Entrances? Ask to backtrack to the point of entry and then move on to the next level for better spatial understanding. Picking the right viewpoint in a room is important, too. While the center of the room may seem like the ideal spot for a 360-degree look around, walking around the perimeter of rooms, as you might in person, is also good.


✅ Pro Tip
Ask your virtual host to stop at entrances, near windows, in hallways, and on landings, replicating the natural stopping points of an in-person showing for a better experience.


---

2. Ask for a Dusk Appointment – Natural Vs. Artificial Light
Lighting plays a very crucial role when it comes to virtual showings. Seeing your next home in natural light is always better than the artificial alternative. While this might have you believe that morning or noon showings are best, remember that the glare of white light during the day will interfere with the clarity of your visuals. This is why it's highly recommended to pick an evening slot if possible to get the best camera view.


---

✅ Pro Tip
Have your host open up the curtains, doors/screens, and windows for a good indoor-outdoor view. This will give you a good sense of how much light the house gets. Since you'll be opting for an evening tour, also ask them to switch on all the lights to see whether there is consistent lighting throughout. 
 
---

3. Ask to See the Details
Just like in a regular showing, you shouldn't shy away from looking into details. Ask your host to open up kitchen cabinets, drawers, closets, etc. to get a good idea of the kind of storage space you're getting. If there's a particular type of backsplash mentioned in the kitchen, ask for a closer look. What's not okay, is asking to get into the seller's dresser drawers or other personal furniture drawers. Further, you should also ask for a closer look at the materials used in the kitchen, baths, and flooring too, since these would be easy to notice in-person but not so much online.


---

✅ Pro Tip
Don't be shy! Ask to see inside A/C closets, under cabinets, and any appliances. In the bathrooms, check grout, vanity tops and light fixtures.


---

4. Ask to See the Views
While most hosts will remember to show you the main views (and take pride in showing them) like those from a balcony or out the front door/building, you should ask to look at the views from bedroom windows, the backyard, and even the street and the neighboring buildings. These will help you get a good feel of the property, just as you would on an in-person showing.

5. Ask to See Your Favorites
Remember the things that first made you fall in love with the property? Maybe it's that chef's kitchen with a wet bar, summer kitchen on the terrace, marble flooring, Italian furniture, or the spa shower - whatever it may be, make a note of your favorites and keep the checklist handy to tick off as your online showing progresses.


---

✅ Pro Tip
If you have any oversized furniture or need to know the space of a room, be sure to ask your agent or host to bring a tape measure, and measure the areas of interest. This is especially important if you don't have the floor plans.


---

6. Ask About the Community
While this is something most people will remember to ask or investigate in a regular showing, it often gets overlooked when touring online. Always remember to ask what's the general lifestyle of the building or neighborhood. Also, be sure to ask your realtor to tour the common areas of the condo building as well as the street view to get a sense of what the neighborhood is like and who your neighbors might be. You can also get a sense of any major repair or improvement work that might be going on in the area or in a nearby building, parks, restaurants or other valuable community amenities. 

7. Ask about Defects or Material Issues with the Property
When going property shopping, online or in-person, it pays to be upfront. So, during your virtual showing, make sure to ask if there are any major defects or flaws in the property. Considering it is easier to overlook issues not plainly visible during virtual showings, this one question can save you from plenty of hassles later on.


---
✅ Pro Tip
Ask about any undisclosed issues during your virtual one-on-one and save yourself from last-minute disappointments.


---

Also, you should know that even though sellers are not required to fill out a property disclosure form under Florida law, they are required to disclose any material property defects. Significant or material defects are those that can have a negative impact on the property's value or the buyer's readiness to purchase. Some examples include faulty electrical wiring, infestations, mold, vicinity to public utility plants, and plumbing leaks.  

8. Ask to Record the Virtual Showing
In case the seller doesn't already have a video of the property in question, ask them to record the showing, so you can go back for a second look. This will come in handy especially when a spouse or family member can't house hunt with you and when you're choosing between multiple properties with the same number of rooms and baths, or condos within the same building. A last-minute video walk-through to jog the memory, or to show other family members can be of great help when making a decision.


---

✅ Pro Tip
Before the virtual showing is over, request a copy of the floor plan if you don't already have it, photos, digital brochure, or any important documents or disclosures of the property, particularly any Homeowners Association (HOA) information if you're looking at condos.


---

9. Give Feedback and Ask 'What's Next?'
As you get ready to end your virtual showing, be sure to give your realtor feedback, and revisit any points or areas outstanding in your mind. Ask to double-check any areas or details you want to see again. And then, make sure to ask your agent for the next steps. Irrespective of whether you want to move forward with the purchase or not, a simple discussion on what to do next will give you and your agent perspective and a positive direction to move forward.


---

✅ Pro Tip
As real estate showings are part of Miami's reopening, we'll be more than happy to accommodate any in-person walk-through requests for your next condo purchase. And for those who aren't in the Miami area or if you want to continue avoiding contact, we'll be happy to arrange virtual showings for your property of choice.


---

We would also like you to know that we are adhering to all social distancing requirements and other safety protocols set out by Miami-Dade County for our in-person as well as virtual showings to make the process as smooth and safe for you as we can. Contact one of our real estate experts today to arrange a showing at (786) 930-4220.


Checklist of Things to See before Your Virtual Real Estate Showing is Over:
🔲 Front yard
🔲 Back Yard
🔲 A/C Blowers, Condensers
🔲 Washer/Dryer Location
🔲 Garage
🔲 Side yards
🔲 View of the House from the Street
🔲 View of Neighboring houses
🔲 Kitchen
🔲 Every bathroom listed 
🔲 Every bedroom
🔲 Closets
🔲 Any storage space
🔲 Common areas, gym, pool, clubhouse 
🔲 Street, Neighboring buildings or Neighborhood
Share your thoughts with us
Sign up now
Get news and updates delivered to your inbox