Miami Condo Market and Lifestyle Updates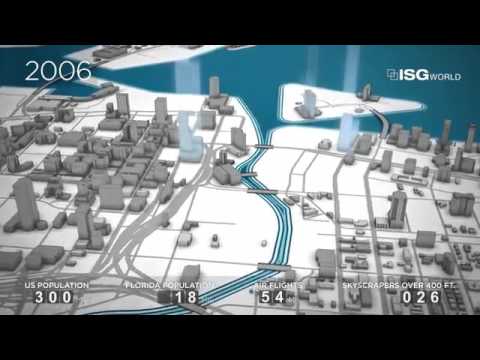 Watch Miami Evolve From Swampland to Massive Metropolis in 2 Minutes
by Sep Niakan | December 15, 2015
With so many new highrise towers, it's hard to imagine Miami as anything but a bustling city. That wasn't always the case, however. Back in the 1900's, Miami was nothing but a swampland and slowly boomed into the paradise it is today.
Thanks to work from the International Sales Group, you can watch an animation of how Miami evolved. From its humble beginnings, growing steadily toward the metropolis it is today.
The video goes all the way back to 1914 – the year following Henry Flagler's death. Flagler is known as the father of Miami and developed the area. Additionally, International Sales Group added graphics showing the population growth of both the United States alongside Miami's.
The animation also shows the 2006 development of 26 skyscrapers that were over 400 feet tall and the many flights of millions of tourists from all around the world. The video ends by showing the projected future in 2020, when projects that are being built currently, or are in the concept phase, are planned to be completed.
Source: therealdeal.com
Video credit: therealdeal.com
Recent posts
by Sep Niakan | May 22, 2017
How much is the fee to have a knowledgeable and licensed Miami real estate broker help me select the right property? How much of my money does developer use during construction? What are the penalties if I decide to cancel my pre-construction...