Condo Painting Dos and Don'ts
Jun 30, 2020 June 30, 2020
Painting your home can be a daunting prospect. From color selection to the clean-up mess! However, when done right, a good paint job can give your condo a well-needed facelift. Believe it or not, painting is actually quite a complex procedure. I mean, who knew there were 52 shades of white?! And whatever color you do end up choosing will dictate the mood and feel of your entire condo - so no pressure!


What Color? Which Room?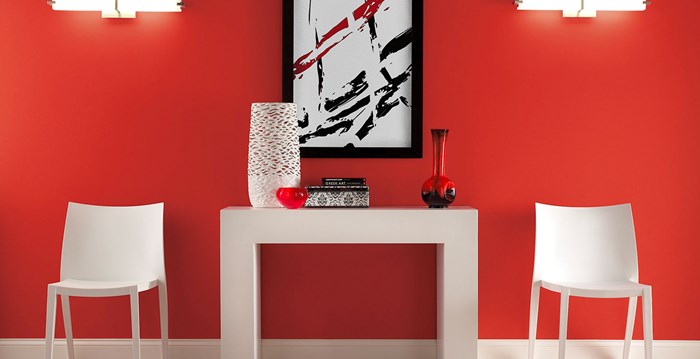 At the end of the day, you should paint your house in whatever color floats your boat! You have to live there after all. That being said there are definitely good and bad paint colors. The colors and combinations you chose will ultimately have an impact on the look, and more importantly, the feel of your home, and this can be pivotal when it comes time to sell. 
For example, you might love a dramatic dark indigo wall, but houses with dark walls have historically sold for less than ones painted in lighter and more neutral tones. So it is important that you determine your long-term plan for the property to prevent you from having to re-paint again down the line if you're planning on selling any time soon. According to Benjamin Moore, warm colors add energy and cool hues create a more calming atmosphere, while saturated color can create a cozy environment and pale shades lend to an airier feel. Working within a color scheme or palette, can help ensure that the interior colors are balanced and unified.
So how do you choose what the right color to paint your interior is? What colors go with what rooms? The right color of paint is determined by a number of factors, such as your interior as well as the room you are painting. It is always safe to go with lighter tones as these tend to create an illusion of more space and bring light to a room. It's also worth noting that neutral colors make it easier for the buyer to envisage themselves in the property. More dramatic colors, while certainly making a design statement, can be distracting for future buyers.
A good rule of thumb from our experience when choosing paint colors is the following:
Whole Interiors: Neutral colors are typically the color of choice when painting a whole interior. According to Benjamin Moore, their most popular colors for interiors include

gray, beige, white, and earth tones, and specific paint colors, like

White Dove

,

White Heron

,

Swiss Coffee

and

Calm

can be

seen here

.

Living Rooms: For living rooms, a light grey or a soft beige is always a good bet. These colors are crisp and offer a clean feel without the danger of small marks showing too clearly. After all, you don't want to be cleaning your walls 24/7. These tones are also neutral, making them a safe option for sellers. 

Bathrooms: Houses with blue bathrooms nearly always sell for more. In another

article

where we discuss quick and easy home renovations we find that properties with blue bathrooms sell for as much as $3000 more.

Kitchens: Kitchen colors can be influenced by several factors, including the colors of your cabinets and countertops, the style of your kitchen, e.g., modern and sleek or traditional and warm, and how much natural light the kitchen has, as well as if the kitchen is open and connected to the living space. 

Bedrooms: Bedrooms can be a place to play with a little more color and express yourself. Benjamin Moore suggests f

or an easy-going vibe in the

bedroom

, try cooler colors such as pale blues and greens like their

Instinct AF-575

or calming

Anjou Pear AF-425

.

A pastel blue has also been mentioned for bedrooms as it is apparently soothing. 
If you need help visualizing what a color could look like in a certain area of the house, Behr Paints has a color visualizer you can try out by room, and also this color suggestion tool based on room and style.


---
DO:
Use nice neutral tones. This will create space and resonate with buyers. 
DON'T:
Use dark colors or extreme hues. Extreme colors distract people from the house. Dark walls make the rooms feel smaller and the ceilings lower.
DO:
Think about painting a ceiling as a contrast statement to a room. Sherwin Williams has this fun video with tips on how to paint a ceiling.

---

Choosing the Right Finish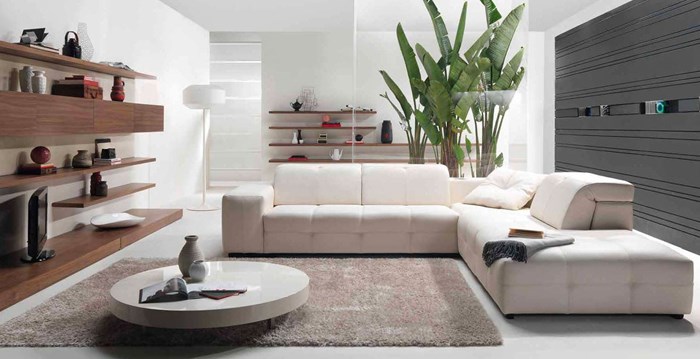 A common question asked when painting is which finish is best for my interior? When painting, there are about three to four standard paint finishes - Flat, Eggshell, Satin, Semi Gloss/High Gloss. Which paint finish is best depends on a few things, particularly what area of the house you are painting as well as the material you are painting.


Flat Finish/Eggshell
Matte and flat finishes are great for interior walls and ceilings. These finishes do a great job of covering up imperfections thanks to the lack of sheen. One thing to bear in mind, however, is that they tend to get dirtier much quicker. They are also much harder to clean. Scrubbing can quickly get rid of the finish if you're not careful. 


Satin Finish
The satin finish is often affectionately referred to as the 'eggshell finish' due to its distinctive glint. Satin finishes reflect a lot more light when compared to a matte finish. This is a really good choice for the focal points of the house i.e the kitchen and bathrooms. When you're entertaining you want that reflected light that provides sparkle and energy. On the other hand, you want to avoid a satin finish in bedrooms and living rooms. Here a more subdued finish might be better suited.


Semi-Gloss/High-Gloss
The thing that really sets Semi-Gloss and High Gloss paint apart is its resistance to moisture. This makes it a favorite for Kitchens and Bathrooms where the walls are far more susceptible to mold. Semi and High gloss finishes are also much tougher compared to Satin and Flat, this means you can clean and scrub it without having to worry too much about removing the coat. 

Painting Doors and Trim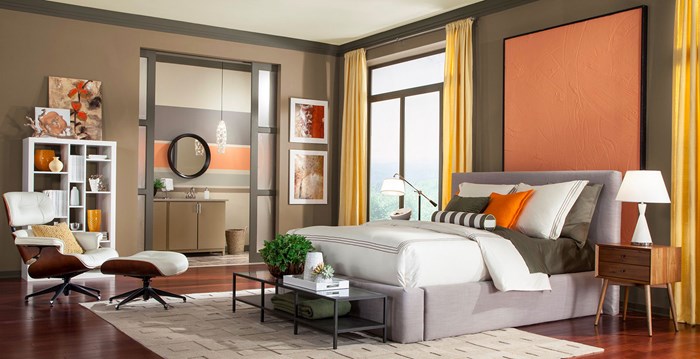 When it comes time to paint doors the main question you should be asking yourself is do I want them to stand out or blend in? If you want your doors to be highlighted you should be looking for colors that accentuate the feature. It is also worth asking yourself whether it is even worth it. If it is a wooden door a coat of varnish might prove to be equally as attractive. 
If however, you do want to paint your interior doors and trim, it's important that you find a similar tone that you used on the walls and ceiling. Even if you are only off by a few shades the door will stand out like a sore thumb. Also, remember to finely sand down your doors and trim if they are not primed before painting. This will ensure an even spread of paint.
Finish is important when painting doors and trim. The most popular paint finish is a Semi Gloss paint is recommended for doors due to the amount of traffic they receive. Higher gloss paints have a tighter molecular structure so it's harder for dirt and other messes to stain the paint. 
Also, trim and finish can be oil-based, which is the traditional trim paint. Many interior decorators will recommend using this to make the glossy, finish last, however, it can take longer to dry and requires good ventilation. The alternative is a water-based, acrylic-latex blend, which doesn't produce quite as shiny of a finish, and will show brush marks, but dries faster and is much easier to clean up. Either way, remember to do a minimum of two coats to get an even appearance.


---
DO
:
Sand down your doors and remove any imperfections before painting
DON'T
:
Use the wrong tone on the door. It will stand out and look sloppy!
---

Different Rooms need Different Paint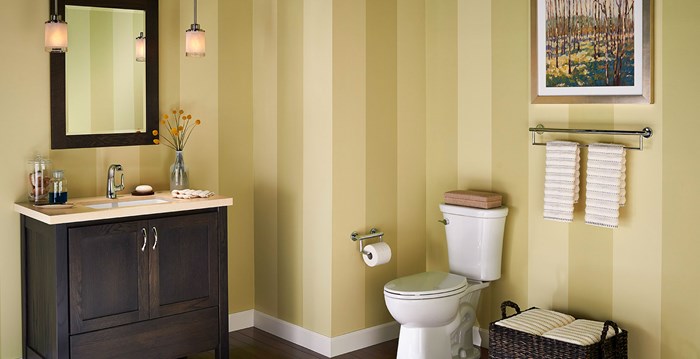 Bathrooms -  In addition to different paint colors, finishes and compositions, there are also different kinds of paint for different uses. Primarily, paints that will be used in more damp or wet areas need mold or mildew-resistant paint. Most manufacturers offer bathroom paints with mildew protection, for example Benjamin Moore's Aura Bath and Spa paint is specially made for high moisture areas, while Sherwin William's Emerald line of paints offer similar protection. Also, experts recommend using a moisture-resistant primer first to prevent the paint from peeling if you're not using an all-in-one paint and primer.
Playrooms & Living Rooms - In addition to moisture resistant paints, almost all paint companies offer washable paints, which really can be valuable for families with children and pets. Washable paints repel and release stains more easily. Valspar's Ultra line of all-in-one paint and primer is an acrylic-based formula that provides protection from everyday scuffs, marks & wear making it easy to wash off.

How & Who?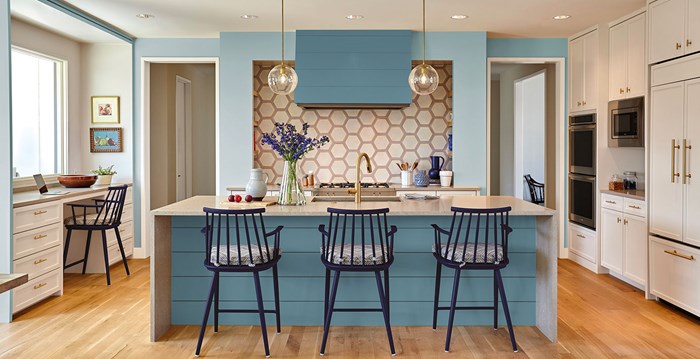 There is a lot of work that goes into painting a house, you can't just slap on a coat and call it a day. There is a saying that painting a house is 90% preparation. This is because the paint won't hide imperfections in the wall, if anything it brings them out. Also, good painting takes time - sometimes one room can take seven hours -- so plan your painting job so that certain rooms can be rearranged and allowed to dry.
And while painting can certainly be fun and a family affair or a nice zen escape, if you're interested in selling soon, or want to paint trim and doors, it may be worth the investment to hire a professional painter or skilled handyman to do the job. Once your painting job is finished and done well, it can be highly rewarding and lead to an immense level of satisfaction, as well as a great return on your investment!


---

Thinking of selling your home or condo? Need help finding a good vendor? Reach out to us and we will be happy to help you.

All photos courtesy of Behr.com
Share your thoughts with us
Sign up now
Get news and updates delivered to your inbox